Doc of ages
Michael Apted reels in the years in 49 Up.
By Melissa Anderson Thu Oct 5 2006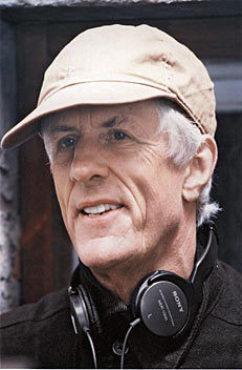 SEVEN-YEAR ITCH Apted listens intently to his subjects. Photograph: Nils De Coster
"Give me the child until he is seven and I will show you the man," goes a Jesuit maxim, one that inspired Tim Hewat, the producer-founder of the British TV series World in Action to test its veracity in 1964 in a one-off special called Seven Up. Assembling 14 seven-year-old children of vastly different socioeconomic backgrounds, the program was meant to critique Britain's deeply entrenched class system, setting out to answer the question, What will England look like in the year 2000? Michael Apted, who was 23 when the show aired, worked on the program as a researcher. But seven years later he helmed its sequel, following the lives of the same subjects at age 14. He's directed all installments of the unprecedented "Up" series ever since, returning to film them every seven years, in between directing other documentaries, as well as narrative features like Coal Miner's Daughter (1980) and The World Is Not Enough (1999).
The seventh installment of the series, 49 Up, finds Apted's subjects—remarkably, 12 of the original 14 are still participating—approaching their half-century mark. Yet what began as an indictment of the U.K.'s stratified classes has become more existentially a chronicle of people's happiness; many of the participants, regardless of class background, have had the same life trajectory: love, marriage, children, divorce and now grandchildren. "I think the series has outgrown the politics, and in some ways English society has outgrown that rigid class system," Apted, 65, says by phone from London. "It wasn't until 28 Up that I brought the series to America, because I didn't want people to misunderstand it. I thought, How could you get the film if you had not grown up in the system? Then people did like it here, and I realized maybe I had been making a document about things that are much more universal."
If the scope of the "Up"series has changed, one aspect that's remained constant over four decades is that the director has retained his subjects' trust. "One of the burdens of doing these longitudinal films is that you have to behave yourself as a documentarian, because you want to be asked back," Apted explains. "I don't think I've ever lied to them. That's the litmus test with these unusual films: if you do what you tell your subjects you're going to do. I can be the most charming, delightful, persuasive person, but if I had lied to them and said, 'You know we won't use that if you don't want us to use that' and had used it, that would have destroyed the trust built up over the years."
Tracking the same people's lives for so long has also led to a sense of family. A "good friend" is how Tony Walker, the scrappy East End boy in short pants in Seven Up who now drives a taxi, describes Apted. "Recently I was in hospital and Michael called me from Hollywood and asked how I was," Walker recalls via e-mail. "I must say the phone call made me cry. Even when I don't see him for several years and he comes back to interview me, it's as though he never went away."
But not all of the participants share such sanguine feelings. "You will edit this program as you see fit," former East Ender Jackie Bassett angrily says to Apted in 49 Up; John Brisby, now a Queen's counsel, disparagingly compares the series to reality shows like Big Brother. The director takes it in stride, however, noting that the anger and anxiety are completely justified. "I think Jackie's points about documentaries and editing are well taken, and I think I'm obliged to answer," he says. "If they want to see a cut of the film before I lock it, well then, so be it. What am I going to say? No? I mean, I am slightly at their mercy."
Can we look forward to 56 Up and beyond? "I would only stop for two reasons: if enough of the subjects dropped out or if the series stopped being interesting to audiences," Apted says. "I used to worry that people would get bored and stop looking. But I think audiences like tracking the emotional developments [of the participants], so in my mind, the series seems to get richer and richer as it goes on."
49 Up opens Friday 6 at the IFC Center.