Emily Mortimer
We cannot understand a word this woman says!
By Alison Rosen Wed Feb 13 2008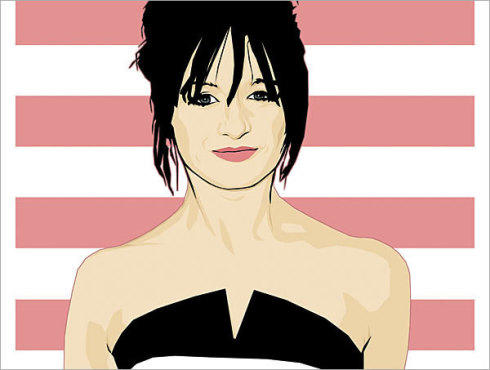 Illustration: Rob Kelly
A self-professed shy child, Brit thespian Emily Mortimer was first drawn to acting for what she calls the "fatuous" qualities. "I loved the air kisses and putting on makeup together—the community of it," she recalls. In 2001, around the time she moved to Los Angeles with her future husband, actor Alessandro Nivola, the Oxford grad began rethinking her commitment to the profession itself. It was then, she says, that the types of roles she was getting began changing—they were suddenly more interesting—starting with her part as an insecure actor in the drama Lovely and Amazing and leading up to now, where the 35-year-old actor is preparing to make her American theater debut as a kleptomaniac wife in Jez Butterworth's Off Broadway play Parlour Song.
TONY sat down with Mortimer, a Boerum Hill resident (she, her husband and their young son moved there a year ago), in an echoey little room just off to the side of the Chelsea studio where Song is rehearsing. We talked about the stage, "rubbers" and the weird shit her husband says.
Tell me about the play.
I think it will hopefully give anyone who's married or in a committed relationship a kind of worried, tingling feeling in their feet while watching it. It's about a guy who thinks his wife is stealing his possessions. He starts to become convinced that it's happening, and—without giving too much away—stealing is used as a symbol for adultery or betrayal in a marriage.
Have you ever stolen anything?
I stole this little—are you familiar with Mr. Men? It was a series of books—there was Mr. Happy, Mr. Sneeze, Mr. Tickle, Mr. Strong, Mr. Forgetful—and I stole a Mr. Tickle rubber. Well, what we call rubbers, you call them erasers.
Yeah, we definitely don't call them rubbers!
I know! There's this whole area of children's lingo—it comes up with my son all the time. Like, when he's patting a dog I'll say, "I bet the dog likes you stroking him," and then it sounds like something terrible is going on! But anyway, I stole a Mr. Tickle eraser, and I made the terrible error of showing my mother as we were walking out of the shop. She made me take it back to the salesperson and it absolutely cured me. It was so embarrassing.
So that was the end of your five-finger discounts?
Well, I still steal my mother's knickers. My sister and I are always taking stuff from my mom. She finds it extremely offensive.
You steal knickers? That's underwear, right?
Yeah. Thus, she never has underwear. We're just such lazy cows we never do our washing.
I read an interview where you mentioned the word shart. How did it come up, and has this ever happened to you?
Oh God. I've got such a loose tongue and I've really had to train myself in interviews. I made the mistake once of telling an interviewer from the U.K. Observer a story about something worse than a shart. And as I was telling him I was thinking, This is weird. I should talk to someone about this—what is happening is some sort of masochistic thing. And yet I had to keep going until I got to the end. I said this punch line, which was gruesome and he didn't even laugh, and after about three seconds he said, "Out of respect to you, Emily, I shall never repeat that story."
Does this mean we aren't going to be talking about sharting?
To feel good about myself, I'm not going to tell you a story about my sharting. My husband's taught me all these words. I can't tell if they're part of everyday parlance or if it's just weird shit that he says.
Run some by me.
Well, he used this phrase That really chaps my anus.
We don't say that. I've heard chaps my ass, though.
Yeah, I thought it was an Americanism, so I said it to my agent when I didn't get a job I wanted. This explains why they had no idea what I was saying!
Parlour Song starts previews Fri 15 and opens Mar 5 at the Atlantic Theater Company.
See previous The Hot Seat
Share your thoughts