Helena Bonham Carter
The Sweeney star talks about singing; gives birth.
By Smith Galtney Thu Dec 27 2007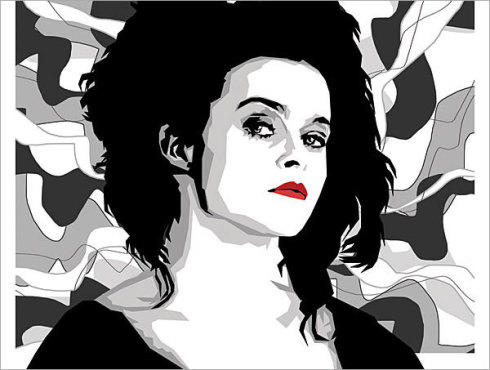 Illustration: Rob Kelly
As British icons go, Helena Bonham Carter's up there with Tony Blair and clotted cream. Simply pronouncing her name is enough to make you feel refined and dignified. But the 41-year-old actor sure as hell doesn't suffer from stiff-upper-lip syndrome: Talk with her for 30 minutes and chances are you'll blush and crack up, then hope she'll become your lifelong friend and/or lover.
Preparing for the role of Mrs. Lovett in the long-anticipated, megaviolent film version of Stephen Sondheim's morbid musical Sweeney Todd: The Demon Barber of Fleet Street, Bonham Carter faced the biggest challenge of her career: training for two and a half months with famed vocal coach Ian Adam, who died one week after filming wrapped. Envious rivals will assume she got the part by sleeping with the film's director, Tim Burton—the father of her son, Billy-Ray, and the man she shares adjacent homes with (they connect via hallway) in London. Bonham Carter is quick to emphasize she was chosen by Sondheim.
TONY talked to the actor on the phone from London, just days before she gave birth to her second child with Burton. By the time you read this, she'll be up to her porcelain chin in soiled bibs and poopy diapers.
How do you feel? Are you nervous about the birth?
It's all been a bit stressful with the movie coming up. My real worry is that I won't be able to hold off until Tim gets back from the States. But other than that, no—not really. Truth be told, I'm rather looking forward to the epidural.
Not a fan of going au naturel?
Oh God, no. Besides, if someone offers you drugs, and it's free and legal, and there's a good reason for it, and it's good quality? Why would you not get high?
Are you the breast-feeding type?
I think it's wonderful. You know you're providing a real service. After carrying around your boobs for so long, it's nice to know they have an actual purpose.
Surely there's a dark side, too.
Well, Billy was a bit of a succubus. It gets to a point where you feel awkward. If they can crawl up and reach for it, perhaps it's time to move on.
What tricks did you learn while training for Sweeney Todd?
Smile when you want to hit a high note. When you want to go high, think low, and vice versa. I also got a flat tummy without once going to the gym.
Thanks to breathing exercises?
You've got to sing from your "front bottom," as it were. Although Ian wouldn't call it that, he'd just shout, "Sing from your cunt!" He was also fond of emphasizing exactly where that was, so he'd scream, "You're not singing from your cunt!" Then he'd storm over and molest you.
So in polite company, I could say, "So-and-so is quite the front bottom"?
That's what I do, but not Ian. He goes straight for the c-u-n-t.
That makes for a fitting segue into asking what Broadway snobs think of your performance.
People are going to think what they want. Both Johnny [Depp] and I kept singing high and enunciating sharply, but Tim discouraged that. He was like, "Don't do that Broadway thing!"
How do you maintain an "office romance"?
I'm afraid I don't have anything positive to say about that. Being involved with people you work with is not a very good idea. To make it work, Tim and I had to lay down some commandments, set some rules.
Such as?
For me, it was a matter of learning to shut my mouth, because my initial instinct is to talk and talk and go on about what I think. And he's not very forthcoming with compliments, so I needed a bit of reassurance here and there. And no talking about [work] at home, of course.
I bet you're fun to hang out with.
That's very sweet. Unfortunately, I won't be hanging out with you or anyone else for the next week or so. Something will be hanging out of me, that's for sure.
The miracle of birth.
Yes—very wet, with lots of blood and gore and bodily fluids. Just like Sweeney Todd, really.Sweeney Todd is now playing.
Sweeny Todd is now playing.
See previous Hot Seat