Interview: Felicity Jones
The starlet woos new fans with Like Crazy.
By David Fear Tue Aug 23 2011
---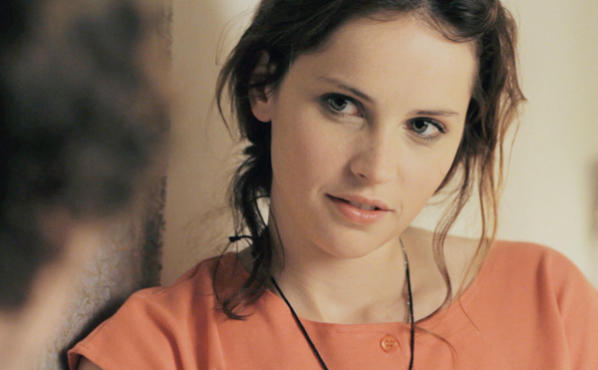 Felicity Jones In Like Crazy
Every season gets the It girl it deserves, and with any luck, Felicity Jones will be the ingenue-of-the-moment this autumn. The 27-year-old British actor has done time as a child TV star and a corset-drama supporting player, but with her turn in Like Crazy—Drake Doremus's indie chronicling the loneliness of a long-distance relationship, and the winner of the Grand Jury Prize at Sundance last January—she's poised to join the ranks of talented English roses who make larger audiences swoon.
"I was keen to explore a character who knows what she wants," Jones says. "Or [who] knows that she's found the person she wants to be with, even if things get in the way." For example, the visa problems that keep her and Anton Yelchin's characters on opposite sides of the Atlantic. The lovers struggle to maintain a connection during their postgraduation years amid bureaucratic red tape and growing pains. "The changes that you go through from the time you're 19 to 26 are huge; those are the most formative years of your life," Jones notes. "The fact that these two have to try and weather [that transformation] separately is a serious challenge."
Almost as challenging, you'd imagine, as maintaining a level head when your film becomes the toast of Park City. "The Sundance experience was...it's almost indescribable how fast it happens," Jones admits. "You spend all this time making this small little movie that you think, Well, I like the movie, so if we're lucky, at least a few other people will like it as well. Then suddenly, you're in the middle of something that's so much bigger than you. It's a dream come true and yet completely daunting."
Like Crazy opens Oct 28.
Read more
25 films to see this fall
Film: Nostalgia 2.0
Interview: Jason Segel
See all of fall's best things to do