Joe Berlinger, codirector, Paradise Lost 3: Purgatory
By Interviewed by Joshua Rothkopf Tue Feb 21 2012
Joe Berlinger, codirector, Paradise Lost 3: Purgatory
---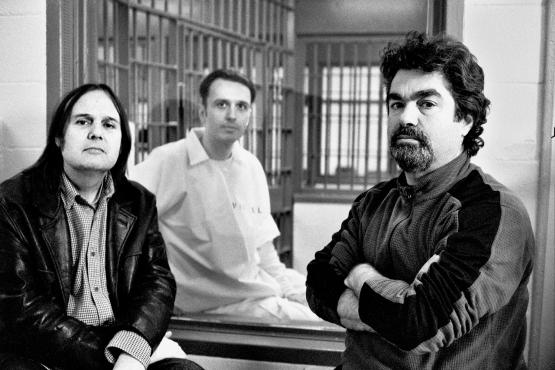 Berlinger, far right, with codirector Bruce Sinofsky (far left) and defendant Damien Echols.
It's always weird to me what gets nominated documentary-wise. I'm shocked that this is your first time.
I've scratched my head about the short list, the top 15. This is the first year that we've even hit that benchmark, an honor in itself. Modestly, I'll allow the paper of record to speak for me: In 1992, when Brother's Keeper wasn't nominated, The New York Times wrote a whole editorial—which stunned me—decrying the snub of our movie.

The West Memphis Three had a terrific reversal of fortune last year. Do you think that increased your film's chances?
The timing of the documentary with the news cycle certainly helped, but if we made a mediocre sequel, we wouldn't have been nominated. We benefitted from the afterglow of a series that had a real-world impact.

Following this case for 20 years must have put a mark on you to finish.
It was a tricky line, how involved [codirector] Bruce [Sinofsky] and I were going to get. It wasn't to pat ourselves on the back. To me, there's a much larger question that these films beg: Why does it take three HBO documentaries and millions of dollars of celebrity money to give these guys the kind of defense they deserved back in 1993?

Does making a fourth movie entice you?
Their release from prison feels like the end of an era for us. I was 31 when we started these films—I'm 50 now. We were haunted by it. Peter Jackson is making a film; he wants to solve the crime and has the resources to do it. But for us, that would feel like exploitation. Let these guys live their lives now. I'm not the one who's going to shove a camera in their face post-release.

You got a ten-minute standing ovation when your movie premiered at the New York Film Festival.
The ovation was really for them, the West Memphis Three, who were in attendance. That was one of the most fulfilling experiences of my career. I turned to my wife and said, "That was amazing." She put her arms on my shoulders and looked at me square in the eyes and said, "Remember when awards season begins—your Oscar was helping three boys get out of prison, that's your Oscar." I've been trying to keep that in my heart.