John Slattery
More questions for the maddest of men
By Time Out editors Tue Aug 11 2009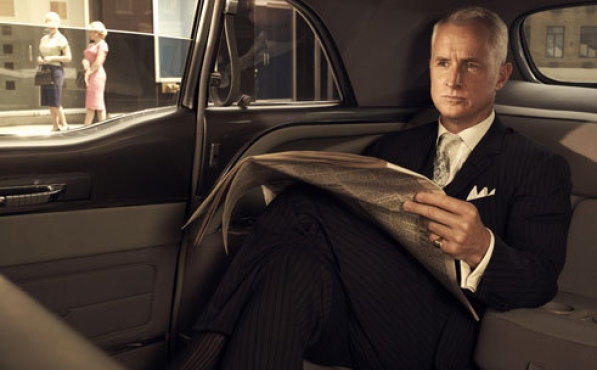 Photo: Frank Ockenfels/AMC
We talked to Mad Men actor John Slattery about his role on the '60s-set show back when the second-season DVD was released. To prepare for the upcoming third-season premiere, we got in a few more questions about everyone's favorite gin-swilling, secretary-bedding boss, Roger Sterling. Find more Mad Men coverage here.
What's happening in the new season of Mad Men?
It's the same, only better. Does that sound like bullshit? It's good to be back, actually.
What's the set like?
Everyone's kind of over the whole clothes thing. That took a while. It's kind of like an exoskeleton—you put them on and you walk a certain way.
What would Roger Sterling like be in a 21th-century office? A sexual-harassment suit waiting to happen, or a CEO?
I think he'd be a CEO. He's smart enough to change with the times. He might still think the same evil shit, but he wouldn't act on it as much.
Do you drink on set?
Constantly. If we're shooting late, no one here is averse to having a drink. At the drop of a hat. Really, across the board, I don't think there are too many teetotalers. The crew, the whole vibe is that way.
Is Roger going to become a hippie in the third season?
I wish. I big Afro. A big white Afro. I will tell you that it does not go as far into the future as Woodstock. There are obvious things that happen in 1963. Does everybody know that? I hope I don't get into trouble.
It's not really a spoiler that 1963 was a big year in history.
Yeah, either you're really going to ignore the hell out of it...
You're recognizable because of your gray hair. Does it dictate your roles?
You know, you look back and it's sort of disturbing. You don't want to be defined by any one thing.
Between you and Anderson Cooper, who's a bigger silver fox?
Totally Anderson Cooper. He's got much better hair, he's got more of it. And you know what? He's a better dresser. He gives Roger Sterling a run for his money.—Interviewed by Allison Williams
The third season of Mad Men premieres on AMC Aug 16.
Write your own review