Miranda July talks about The Future
The performance artist turned filmmaker takes a big step forward in her mature new movie.
By David Fear Mon Jul 18 2011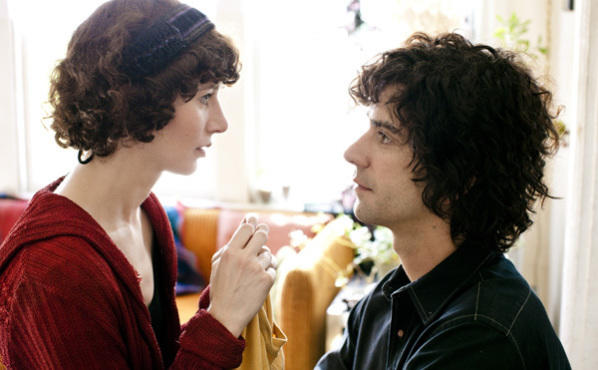 "Oh, I locked him in a closet for five hours." Miranda July pauses for a second, contemplating her answer to a question about getting to know a costar. Then she lets loose a fluttery giggle that echoes throughout the open-air courtyard where we're sitting. "Actually, I'd locked both of us in a closet, consensually, for five hours. Let me stress that. It was set up very nicely, with candles and food. We brought lots of pictures from our past and shared secrets. I'd compare it to a slumber party, at which you tell the other person everything there is to know about you in a very short time." There's another pause. "A slumber party that was held in a small closet." The giggle returns.
When you consider that the 37-year-old performance artist, writer, actor and filmmaker's latest project, The Future, features a talking moon, a character who can stop time, a dance piece involving an XXL T-shirt named Shirty and narration from a crippled cat, the fact that July resorted to some Patty Hearst--type preproduction shenanigans is one of the least strange things about this multimedia Renaissance woman's sophomore feature. What will shock both her detractors and fans of her first movie, the 2005 Sundance-feted whimsical romance Me and You and Everyone We Know, is the elegiac turn her extraordinary follow-up film takes. As a hipster dream couple—played by the director and her former closet captive, Hamish Linklater—descend into a midlife funk while waiting to adopt a feline, The Future shows that more grown-up topics are now on July's mind: loss, regret, mortality and the inescapable feeling that time keeps on slippin', slippin', slippin'....
"It probably has something to do with getting older," she admits, regarding this turn toward mournful maturity. "But I'd been wanting to explore the feeling that people grow distant and things fall apart, wanting to push under the shiny surface a bit more, for a while. You can be happy and still sense this lonely feeling beneath that, and you wonder, Why is that? Where does this come from?" The genesis of The Future properly started, she claims, during press duties for her first movie. "I'd just done a million interviews for Me and You, and was becoming keenly aware of the 'critic's voice'—those descriptions of who you are and what you do that are dictated back to you. It made me feel self-conscious, so I decided to go back to the world of performance, as that's where I'm most comfortable." Her resulting stage piece, titled Things We Don't Understand and Are Definitely Not Going to Talk About, ended up being a trial run for her tale of two thirtyish people dealing with identity problems, compulsive infidelity and drifting apart. "We staged it five times at [downtown venue] the Kitchen; when we'd finished, I thought, There could be a film in this after all."
"She's actually very specific about what she wants," says Linklater, sitting in the same spot later that afternoon. "I remember her asking me, 'Well, how would you stop time?' I told her I'd shake around, maybe, or I'd put my finger to my temple. Her reply was, 'No, it'd be exactly like this.'" The actor starts to throw his arms forward, as if he were shooting lightning bolts from his arms. "The funny thing is, after she explained it to me, I thought, Yeah, actually, that probably is how you'd do it! She has a sensibility that's very unique, very much her. If you've read her short stories and have seen her work, you almost want to meet her for the first time as a Miranda July character."
That particular sensibility has earned July a reputation as an artist whose work is commonly dubbed—and too often dismissed—as quirky or twee, and while The Future won't necessarily alter that perception, the way it threads darker, more deeply introspective tangents into her eclectic worldview suggests she's boldly going where she's never gone artistically before. "This certainly wasn't made in response to that criticism, but yeah," she says. "Those terms can get annoying. It's like, I'm living and dying up here, and the best you can come up with is quirky? If that's what you get for wearing your emotions on your sleeve and being a little weird, though, I'm okay with that. If you're going to do something different and not dare to actually care about it, why do it at all?"
The Future opens Fri 29 at IFC Center.