Q&A: Vera Farmiga
The actor goes with God for her directorial debut, Higher Ground.
By David Fear Mon Aug 22 2011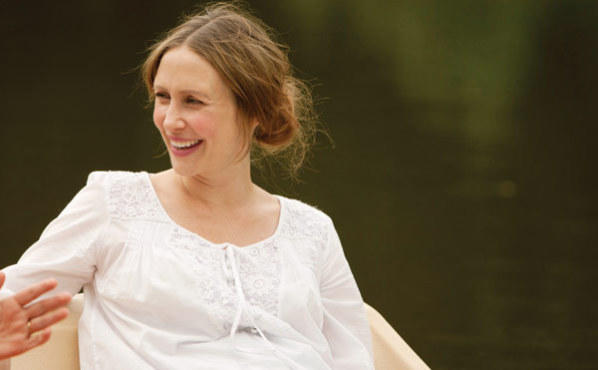 Actor-director Vera Farmiga
Her edgy, emotionally fearless turns in Down to the Bone and The Departed—not to mention her Oscar-nominated role in the recession dramedy Up in the Air—have turned a legion of moviegoers into true believers. Now Vera Farmiga is about to win over more converts with her second coming, as a director: Higher Ground finds the 38-year-old star doing double duty as an actor and filmmaker, tracing several decades of the spiritual evolution of a woman named Corinne as she struggles to find her place in a tight-knit Christian community. Farmiga spoke to TONY right before her compelling, character-driven debut played the Tribeca Film Festival last spring.
You were originally attached to the project solely as an actor, right?
Yeah, I'd signed on to play the part with no intention of directing...not just this, but anything at all, really! [Laughs] But I'd been involved with the development process from the beginning, working with [cowriters] Tim Metcalfe and Carolyn Briggs; the story is loosely based on Carolyn's memoir, This Dark World. I had a lot of ideas about how to approach the material, so while we were waiting to get financing, they kept saying, "Why don't you direct it? This is your movie; make it exactly the way you want to."
Making your first film is hard enough, but given that you chose to focus on such a divisive subject...
Is your question "Am I a masochist?" [Laughs] There's no shortage of opinion about religion, that's for sure. I knew people would have a very visceral gut reaction to the topic; I mean, how could you not project your own spiritual path onto the story of someone else finding theirs? That certainly presented a challenge, because I really did want people to look at Corinne's journey in a unique way, and tell her story with a sense of humor.
But you don't mock her journey, and none of the characters are being judged, really. How does one make a movie about faith without playing to one side or another?
There really are three types of "religious" movies: the ones that make fun of it, the ones that vilify it and the ones that literally preach to the converted. What I wanted to focus on was the aspect of yearning that comes with faith. I've never felt the breath of God—you can take that statement literally or metaphorically—more than when I was yearning for a personal, intimate connection to something bigger than me. The movie isn't about casting away your faith, it's about casting away inauthentic notions about your faith. Have you seen The Apostle?
The Robert Duvall film? I have.
I kept using that film as a reference point, because it's such a great example of a film that feels like it's in the community, as opposed to being above it or looking down on it. The Apostle is not about whether or not Christianity is the end-all of religions; it's about a seeker, which is what Corinne is, I think.
She's also a woman who runs up against patriarchal obstacles in her faith, wouldn't you say?
She does, though you have to remember that a lot of this film takes place during an era [the 1970s] when women were struggling against obstacles everywhere: in society, the workplace, at home. Corinne deals with sexism in her community, but let's be honest: The church did not have a lock on that.
Have your thoughts about organized religion changed since making the film?
Someone once told me that religion is like a knife: You can stab someone with it, or you can slice bread with it. I believed that before I made the film, and I still believe it now. I've always had a deep respect for all religions; I'm the sort of person who can walk into any house of worship and derive a sense of peace from being there. I just hate one-dimensional portrayals of religion; it's too cheap and easy to do, and ignores the nuances that go into having a belief system.
When the film premiered at Sundance last January, you seemed reluctant to answer questions regarding your own spiritual bent. Do you still feel uncomfortable with that question now?
Oh, I just didn't want people to think this was a biopic about me! [Laughs] I mean, how has making the film affected my own spiritual journey? Lord, I have no idea yet! Corinne has a notion of where she's headed spiritually by the end. Every time I talk about the movie, I feel like I'm taking a few new steps down my own path. It's still ongoing.
Follow David Fear on Twitter: @davidlfear