Testing their metal
After 30 years of being almost famous, Anvil inspires a documentary about resilience.
By Joshua Rothkopf Thu Apr 9 2009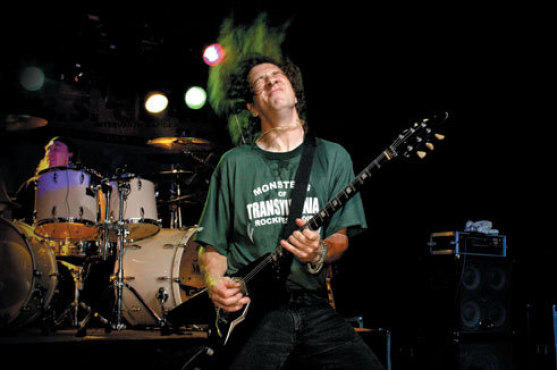 THE COMMITMENTS Kudlow, right, and Reiner rock Eastern Europe.
Dream on (and dream until your dreams come true), sang Aerosmith's Steven Tyler, while AC/DC's Bon Scott warned it's a long way to the top if you wanna rock & roll. That's pretty much the entire spectrum—from hope to pragmatic cynicism—that a young person feels when they strap on a guitar and fire up the Marshall stacks. But what if the dream doesn't come true? And what if the way to the top is more than just long—like decades?
"How can I give up?" shrugs Steve "Lips" Kudlow, the lead guitarist and singer for veteran thrash act Anvil, talking to TONY in a lounge at the Bowery Hotel. "I'm an artist. It's like a racehorse being put in the stall. It doesn't mean that the racehorse can't run. I have everything that it takes to make it, other than the machine behind me. It's really not my fault." Kudlow looks exhausted. It could be the demands of the press tour for Anvil! The Story of Anvil, a warts-and-all documentary of enormous empathy, that's kept him on call since its rapturous Sundance premiere in January 2008. Then again, it could be the effort of hefting something even heavier.
Anvil began in a Toronto basement in 1973, when the then-teenaged Kudlow and drummer Robb Reiner jammed their way out of doing homework. Five years later, a proper lineup coalesced, and their independently recorded album, 1981's Hard 'n' Heavy, led to a label deal. Bigger stages beckoned. And then, just as they seemed ready to grab the mainstream's brass ring, Anvil started to be eclipsed by its peers: Metallica, Slayer, Anthrax. They've been in the shadow for a while now, taking day jobs, borrowing money, fighting and making up.
"Some people see my movie as a tragedy," says Anvil! director Sacha Gervasi, 43, speaking in his suite overlooking the East Side. "As if to say: 'These guys should have quit. It just wasn't working out for them.' But I think those viewers are mistaken." Gervasi has the self-critical gab of a former journalist; he's now a Hollywood screenwriter (he did Steven Spielberg's The Terminal). "Anvil survived. They have families. They stayed true to the thing they love. They made 13 records. So they haven't made millions of dollars. Look at all the bands who have—they're miserable fuckers. Really, what is success and failure?"
The London-born Gervasi approaches the question seriously—and the band as a friend. The superfan met them backstage at age 15 and even went on tour with them at the peak of their early-'80s heyday. Gervasi doesn't blanch at the idea that his doc is something of a thank-you: "When I interviewed Withnail & I's Bruce Robinson, he told me, 'When you make your first film, make sure it's a project that you're the only person on earth who could direct it.' And I'm the only person who could have made an Anvil movie in quite this way."
It's a sensibility that has resulted in a surprisingly sweet profile, one with inevitable points of likeness to the 1984 fakeumentary This Is Spinal Tap (no band member spontaneously combusts, but there is a great in-studio flare-up) but also, more tellingly, to last year's never-say-die drama The Wrestler. "But we're showing the world the real truth, not just a character," drummer Reiner says. "Half our critics don't even understand us. We can't exactly give up on ourselves."
Kudlow, sitting next to him, nods. The real subject of Anvil! is the quiet bond between the two men that has taken them this far, even if their destination is nowhere in sight. "We're underdogs," he says, reflecting on the duo's shared Jewish heritage. "We were taught as little kids [In a thick, Polish accent]: 'It's a goddamn bastard world! Ya gotta fight for what you love!' It's ingrained in us. My motivation to get through my bar mitzvah was that I was going to get a Fender guitar out of it."
There is no need to ask the guys the hardest question, because they already know what's next, regardless of the doc's success or failure. "Talk to Sebastian Bach of Skid Row," Kudlow insists, suddenly animated. "Probably one of the biggest Anvil fans of all time. We watched that kid grow up, become a massive star, and he still treats us with the same respect that he did when he was a kid. That's everything. That's my payment."
opens Fri 10.