The vow factor
All My Children says "I do" to hosting daytime TV's first lesbian wedding.
By Beth Greenfield Thu Feb 12 2009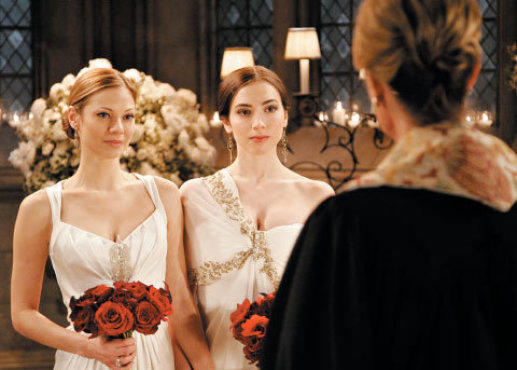 DAYTIME DYKE DRAMA All My Children characters Reese and Bianca tie the knot—and then the craziness begins.
Gay story lines on nighttime network TV have, happily, started to feel a bit ho-hum by now. But when it comes to daytime, same-sex action is still rare enough to cause a stir. And the latest queer soap-opera brouhaha happens this week on All My Children, when lesbian lovebirds Bianca Montgomery (Eden Riegel) and Reese Williams (Tamara Braun) tie the knot in daytime TV's very first same-sex wedding.
"This is a milestone for daytime drama," notes GLAAD president Neil Giuliano. "It's a celebration of love, commitment and family, and we're thrilled that All My Children's viewers will be able to experience the joy of that day right alongside them."
Other soaps have also included LGBT drama in recent years—including As the World Turns, which in January featured a sex scene to punch up the much-lauded gay-male romance between characters Luke and Noah. All My Children, though, has been the leader of such milestones, featuring the first lesbian character (in 1982), the first lesbian kiss (between Bianca and ex-girlfriend Lena) in 2003 and the first transgender character in 2007, not to mention a couple of gay-male story lines during the 1990s.
"I think it's a trademark of the show," says All My Children executive producer Julie Hanan Carruthers of the show's socially aware plots. "And I think the challenge is to do it in a way that is not political, but from character—to take the audience on a journey of getting to know people for who they are, without being preachy. That in itself teaches a huge lesson."
This latest story revolves around sweet and bubbly Bianca, who came out to diva-mom Erica Kane (Susan Lucci) in 2000. Since then, she's been raped and impregnated by a lover's angry ex-boyfriend (to much public controversy), had her baby kidnapped for a year, was spurned by her best friend, fell for transwoman Zoe, and then moved to Paris with her daughter. That took her off the show for a year, and when she returned this past fall, viewers learned she had met and fallen in love with Reese and that she was pregnant once again—this time by Zach, the husband of Bianca's sister, Kendall, who agreed to be the sperm donor for the lesbian couple. Now they'll be married, on Valentine's Day, becoming a picture-perfect, legal family. "The natural progression here was to make it official and get them married," Carruthers says.
As is typical in soapdom, though, the bliss won't last long. The wedding only leads to more over-the-top drama, including Bianca finding out that Reese cheated—with the man who was their sperm donor! But everything does work out in the end, Carruthers assures.
"I'm like everybody else—I don't like all this stuff," says Riegel, chatting with TONY in her dressing room on a recent morning about all of Bianca's traumas. "But it's dramatic, and we're going to have some cool scenes to do." The actress, who recently got married to a man in real life, says that All My Children wooed her back—albeit temporarily—with a story line that would finally allow Bianca to have a true relationship.
"I was like, lesbian wedding? Sign me up!" she says. "Given that this is a big issue right now, I wanted to show people a healthy same-sex relationship." Part of what's been positive this time around has been all of the public displays of affection between the two characters—including a steamy in-bed scene that was another first of its kind. "I thought it was hot," Riegel says.
Carruthers, who joined the show's staff right after Bianca's first same-sex kiss, says their approach has evolved. "They made a big deal of it then," she says. "But now we're just using the same parameters as we do for the straight couples, and I think we've done it tastefully."
Braun, who previously portrayed a psychopathic kidnapper on Days of Our Lives, says she was thrilled to take on the role of Reese. "I so wanted to play this character because it's so important, so timely, so socially relevant," she says. As for all of the postwedding drama, she adds, "It's a soap, and nothing's perfect. But to portray daytime's first lesbian couple as perfect? Maybe that doesn't really exist."
Bianca and Reese's wedding airs on All My Children Fri 13 and Mon 16 at 1pm on ABC and at 8pm on SOAPnet.