Toronto: Halftime report
The festival finds room for Megan Fox, the Coens and plenty in between.
By Joshua Rothkopf Tue Sep 15 2009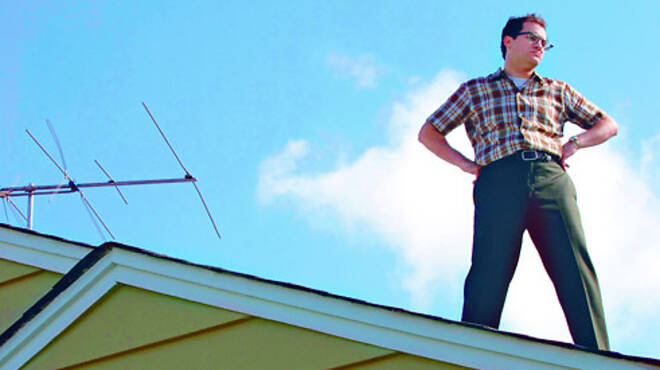 Michael Stuhlbarg has high anxiety in A Serious Man.
A perfectly emblematic moment from the Toronto International Film Festival, now under way: Two men argue on a suburban lawn. One's a math professor, the other is the father of a student who has failed his course and resorted to bribery with an unmarked envelope of bills. They can't fully understand each other, owing to the latter's heavy Korean accent and the stubborn fact that this is Minnesota in the 1960s. "Culture clash," the dad says. (It sounds more like the name of an exotic appetizer.) Little progress is made. Finally, a suggestion is voiced by the paterfamilias, shocking in its clarity: "Accept the mystery," we hear.

RECOMMENDED: Full coverage of the Toronto Film Festival

Because this is the Coen brothers' Barton Fink–like latest, A Serious Man, the first response is laughter, but profundity follows. Could there be a more fitting credo for an edition of a fest loaded with economies in transition? It's a year in which bizarre, cynical takes on the American Dream dominate in unlikely permutations. The Oscar-winning Coens have found a way backward to their own Jewish boyhood, but also to a strange parable about outsiders uncertainly striding through the goyish heartland.

Meanwhile, Matt Damon hides his criminal intentions under layers of carbed-up chirpiness in Steven Soderbergh's sly The Informant! (which made its North American debut here), while a scary future market of blood sold over the counter like Starbucks lies at the heart of the stylish vampire flick Daybreakers.

The heroes of these films are all spies in the house of success: Peeping Toms staring at their nude neighbors, embezzlers and toothy execs sickened by their own neck-chomping. Welcome to the cinema of the Great Recession.

Michael Moore, as always, has hope: Capitalism: A Love Story transcends its initial sourness (and a messy structure) with that director's most sustained coda of laborcentric positivity. Moore calls for a workers' revolution, raising the specter of Franklin Roosevelt and his Second Bill of Rights that never came to be. But can utopian dreams of a happy workplace have a chance in the same environment that sees hatchet men as attractive as George Clooney flying cross-country to fire your ass in Up in the Air? The latest from Juno's Jason Reitman will attract similar criticisms of cuteness, but its director is showing himself to be committed to the strains of the working world.

The fest itself seems mostly unhurt by the economic meltdown, its midnight screenings packed to capacity, all the better to see Megan Fox tear into boy flesh in Jennifer's Body. (Some appetites never go away.) Though a few films have taken the zeitgeist to heart: The bored gang of Harmony Korine's off-putting Trash Humpers gets its low-budget kicks from tossing fluorescent bulbs in the air and watching them explode on the pavement. Even at the end of the world, in the staggeringly bleak postapocalyptic drama The Road, there is a can of Coke: a red diversion in a field of gray, and a sign. Will we survive? Accept the mystery.
You might also like
---
Film events calendar for New York City
Time Out videos
---
---
Tweets by Time Out NY
Tweets about "@timeoutnewyork"
@TimeOutNewYork
Subscribe to Time Out New York on Spotify for playlists and recommendations from our Music team.


Check out New York's best restaurants, hottest street style, cool apartments and more.