Toronto International Film Festival 2012: Cloud Atlas and more
The fest yields a cornucopia of crazy from the Wachowskis and Brian De Palma.
By Joshua Rothkopf Sun Sep 9 2012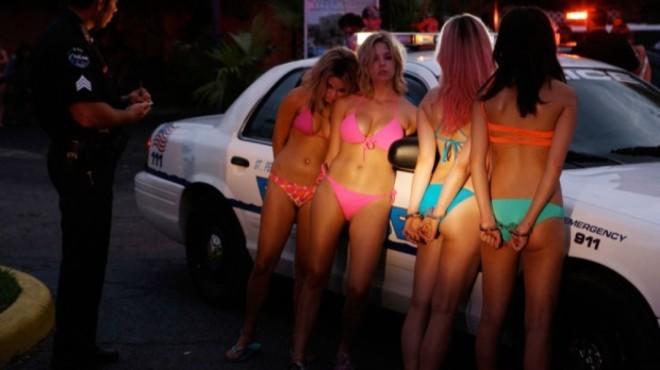 Spring Breakers
So many lovable kinds of crazy compete for a TIFF-goer's attention this year—and not exclusively in the midnight section. After lining up for hours, a viewer can be forgiven for giggling through some of the fest's more anticipated offerings, as gaga goofiness and horror-chic increasingly define the "serious" movie season in ways that should warm a genre lover's heart. Epic in scope and silliness, the monumentally ambitious centuries-spanning Cloud Atlas mystified its first Toronto press audience, judging from the postscreening blushes of mild embarrassment mixed with did-we-actually-just-see-that euphoria. The return of the Wachowskis (collaborating with Run Lola Run's Tom Tykwer) has many Matrix-like moments: futuristic Asian waitresses bred and disposed of in a gigantic machine, elegant floating spaceships and uncomfortable-looking facial tattoos. It also has the extraordinary Jim Broadbent as a sea captain and plummy book dealer (the actors play several roles in different eras); he's the only cast member who magnifies the essential playfulness of David Mitchell's sci-fi novel. Elsewhere, Tom Hanks shelters his family—and speaks some "true true" ridiculous slang—in a cannibalistic postapocalytpic endgame, while Halle Berry struts through a '70's-paranoid blaxploitation episode. What does it all mean? The usual stuff: Freedom, true love, etc. The amount of money spent on so colossal a pop-revolutionary canvas (and so pervy a directorial sensibility, impressively violent and sexy) was hot.

RECOMMENDED: Full coverage of the Toronto Film Festival

Poor Brian De Palma, who chose this moment to make his fussy, fusty return to the psychothriller with Passion, based on Alain Corneau's underwhelming 2010 original, Love Crime. Once upon a time, De Palma had no peer when it came to stylish nonsense, splitting screens and throats with a frenzy. Now his mise-en-scène is filled with an overreliance on sleek Apple products, timid lesbian flirtations (courtesy of Rachel McAdams and a pained-looking Noomi Rapace) and a careless distraction with suspense beats. A gooey score by Body Double's Pino Donaggio provides a potently retro frisson for the fans, yet the vigor this director once lent to the sleaze is gone. Dream sequence after dream sequence, you've seen it all before (and better). My depression was palpable.

Thankfully, a dose of state-of-the-art TMZ-ready trash was at hand with Harmony Korine's devastatingly funSpring Breakers, borne on a whisper campaign of stupefied critics. Last seen at Toronto with the execrable Trash Humpers, Korine now takes a page out of the playbook of his Kids' collaborator Larry Clarke, dramatically improving his visual language with a florid, Floridian fantasy loaded with jiggling flesh, squelching dance beats and a deeply irresponsible quartet of criminal coeds. A sold-out public screening at the fest's cavernous Ryerson Theatre was preceded by outdoor shrieks for costar Selena Gomez, whose goody-two-shoes presence thankfully vacates the movie in the first hour. What follows is hard to fully appreciate on the page: DayGlo Miami Vice shoot-outs melded with Girls Gone Wild skankitude and a leering, instantly quotable turn by a grill-toothed James Franco as a wanksta potentate. Tongue in cheek but bereft of irony, the film has to be some kind of vapid joke, but I haven't seen another film here yet that's transported me to such bliss. Lots of festival left, however, so, to quote Franco: Spring break…spring break, forever.

Follow Joshua Rothkopf on Twitter: @joshrothkopf
You might also like
---
Film events calendar for New York City
Time Out videos
---
---
Tweets by Time Out NY
Tweets about "@timeoutnewyork"
@TimeOutNewYork
Subscribe to Time Out New York on Spotify for playlists and recommendations from our Music team.


Check out New York's best restaurants, hottest street style, cool apartments and more.