Toronto International Film Festival 2012: Silver Linings Playbook and more
David O. Russell and Sarah Polley connect as the fest heats up.
By Joshua Rothkopf Sun Sep 9 2012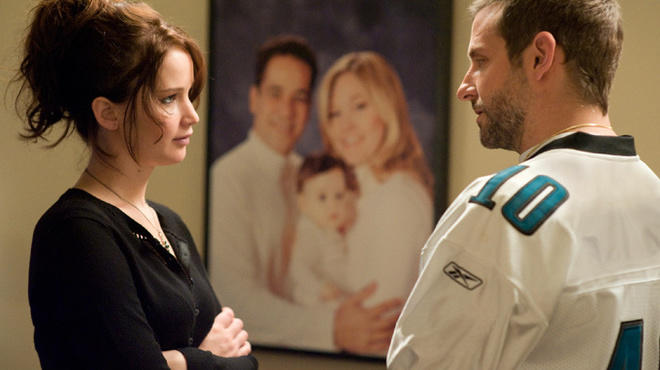 Jennifer Lawrence and Bradley Cooper in Silver Linings Playbook
Infusing the tired docu-memoir format with explosive revelations and an evolving sense of forgiveness, Sarah Polley's Stories We Tell is proving to be the beating heart of the festival for me. Fans of her sullen onscreen work (The Sweet Hereafter) are making room for an increasingly dominant directorial career, one that's inspired big-name actors to deliver their most complex work. These days, I look forward to Polley's behind-the-camera efforts with as much passion as the top rank. Now, for the first time, she turns away from the subject of romantic breakups (becoming a crutch for her) to explore a family secret, her own. Before you flinch at the potential for navel gazing, know that this Toronto multihyphenate has a doozy of a tale to tell, mainly focused on her exuberant, late mother Diane, a stage ingenue and scattered soul. Setting up her interview cameras and sitting behind a huge mixing board, the cerebral younger Polley at first comes off like a scientist, hoping to suss out a certifiable truth with her "interrogation process" (yes, that "o" in process is long and Canadian). But reality slowly tips over as her parentage comes into question. Treated with Super 8 filters and visual scuzziness, Polley's dramatic recreations—scenes from her own late-'70s and early-'80s childhood—are riveting: moments of seismic change and intimacy. Still, the doc isn't just a look-what-happened-to-me shocker; it gets around to a difficult truth about selfishness with little demonizing, even when it might be merited. As a director, Polley's definitely the real deal; this Agnès Varda-rich self-portrait, comic and unresolved, proves it.

RECOMMENDED: Full coverage of the Toronto Film Festival

Meanwhile, the classic tale of a wayward mom, Anna Karenina, finds new expression in Joe Wright's swirling, elaborately choreographed version of it—a headache for all its vividness. Keira Knightley definitely has the cheek and jaw for the character's romantic boldness ("Murderer," she whispers between unfaithful bedsheets) and her Pride & Prejudice director has an unerring ability to soften up his muse. But sliding theatrical sets and excessive cleverness (a horse race on an indoor stage?) add a surreal strain to Tolstoy's heartbreaker that's not right for the material. Seriously, filmmakers: Russian literature doesn't require so much heavy lifting. Wintry naturalism isn't as boring as you might think. Anyone upset over the delay of Baz Luhrmann's The Great Gatsby, pushed back to 2013, will have their ADD itch scratched.

Splitting the aesthetic difference between Polley's faux-doc home movie and Wright's gushing-heart glitz, David O. Russell's Silver Linings Playbook continues in the sincere vein of The Fighter, this time with a Philly-authentic tale of losers in ascent. Bradley Cooper has never impressed me much. His turn here, as Pat, a post-psych-ward schoolteacher always on the cusp of a neurotic attack, is more likably unhinged than glib. But the package around him is flattering: a Moonstruck-warm slice of Italian-American domestic noise, with an unusually fine Robert De Niro as its football-obsessed patriarch. The jewel in the cast is Jennifer Lawrence, aching to Cooper's confusion and needing redemption herself. She's similar to one of those toughies from The Fighter (sans the hairspray), never too brittle or precious, unafraid to sling sass or, in one knockout monologue, cut loose with a slew of gridiron stats. Russell's newish mode of Scorsesian empowerment drama is nothing like his breakthrough film, Three Kings, but he's accessing big emotions: His latest movie is easy to hug, easy to know.

Follow Joshua Rothkopf on Twitter: @joshrothkopf
You might also like
---
Film events calendar for New York City
Time Out videos
---
---
Tweets by Time Out NY
Tweets about "@timeoutnewyork"
@TimeOutNewYork
Subscribe to Time Out New York on Spotify for playlists and recommendations from our Music team.


Check out New York's best restaurants, hottest street style, cool apartments and more.