Toronto Q&A: Marjane Satrapi and Vincent Paronnaud
By David Fear Sun Sep 18 2011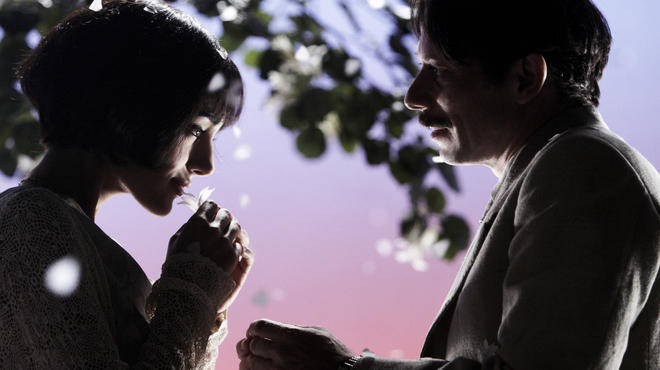 Golshifteh Farahani and Mathieu Amalric in Chicken with Plums
When graphic novelist Marjane Satrapi decided to adapt her multi-part magnum opus Persepolis into a film—alongside French comic artist Vincent Paronnaud—in 2007, it made sense to translate her spare but expressive drawings into animation. The result garnered awards, praise and a host of new fans for its co-directors, but when it came time for a follow-up, the duo decided to get real...sort of. Chicken with Plums finds Satrapi and Paronnaud working from another one of Satrapi's original works (a 2004 graphic novel), this time blending animation and live-action while telling the story of a master violinist (Mathieu Amalric) who experiences a profound heartbreak late in life. Having decided that he has now has nothing to live for, the musician decides to slowly end his life over the next eight days. Thanks to a blend of realism and Amelie-like flight of fancy, however, this story of shuffling off this mortal coil is nowhere near as dour as it sounds. Satrapi and Paronnaud spoke to TONY after screening their latest at the Toronto International Film Festival.

RECOMMENDED: Full coverage of the Toronto Film Festival

The film is based off another graphic novel you wrote, Marjane...where did the story come from?
Marjane Satrapi: I'd visited an uncle of mine who was living in Germany, and he'd showed me a family album full of various relatives on my mother's side—notably my great-uncle, who was a famous, talented musician who'd committed suicide. That was the only thing I knew about him. But he was extremely handsome, and supposedly had a very romantic outlook on life. Tragically so, from what I gathered. So it started with that album, really. When I began writing the graphic novel, I was at a moment in my life where I wanted to talk about death, and life, and the nature of being an artist—all that heavy stuff, you know? By the time Vincent and I made the movie, I was in a bit of a lighter mood, which undoubtedly shows in the film.

Did you both decide early in that you wanted to make the movie as a live-action story, instead of an animated film?
Vincent Paronnaud: When were in the midst of finishing Persepolis, we already knew we wanted to make our next movie a live-action feature, regardless of what it would be. But when we decided to take Marjane's novel on as a project, it was very easy for us to see how it could work as something where we could create a fully realized world that incorporated real actors and bits of animation into it.
MS: With Persepolis, it made sense to make it as animated film, because it was about the Iranian revolution—which is a very specific topic that I was worried might alienate people. But if you tell that story through animation, it suddenly felt very accessible even if you were being hyperrealistic about the situation in Tehran in the '70s and '80s. With Chicken with Plums, it made sense to blend both live-action and animation, since this is a story that has elements of the realistic and the fantastic in it.

Using magical realism in literature is one thing, however, and trying to pull it off in a movie are completely different things. How did you both come up with a balance of those elements that you felt worked?
VP: We just tried to stick to the feeling of Marjane's work as much as possible. I mean, I agree with you, it is harder to do something like this in the movies...
MS:...but in real life, you laugh and you cry, things seem very normal and then they seem fantastic. So even if you're telling a story in which the angel of death shows up or the characters suddenly seem to be in a bad American sitcom, you have to keep things grounded in certain respects—while creating a contained world in which it makes sense for the magical and the realistic to co-exist. You do have to find a balance, but I think that's true of any art form when you try to do several things at once. People get weird when something isn't one thing. Or when you try to be sincere about romance.
VP: "So you're being really ironic about romance here, right?"
MS: [Laughs] Yeah, we've had to explain several times: No, we're serious. He's in love, his heart is broken, he wants to die. Just because you laughed a few minutes earlier at something doesn't mean we're joking about that.

Given that that sequence you just mentioned, where you parody American sitcoms, you must both really hate our TV shows.
MS: It's funny how everyone brings that scene up. We don't think they're all that bad, no.
VP: Some of them are great!
MS: But imagine if you were growing up without knowing any English, and you saw those shows. They really would seem like these outlandish, exaggerated things where everyone talks loudly and makes crazy gestures. It was just another thing we felt like we wanted to throw in there, to represent this world where anything could happen. It's done with affection, though.
VP: They can be a little cartoonish.

How has your working relationship changed since Persepolis?
MS: It hasn't really changed...we still fight a lot. We're still both coming from very different places, and I'd say that we still both complimenting each other in very positive ways, wouldn't you say?
VP: Definitely. I'm not really comfortable, say, telling love stories or being very outwardly emotional in my work. They aren't the type of things I gravitate to when I set down at the drawing board. But if I'm working on something Marjane has given me—and she's really good with telling those kinds of stories—than I feel perfectly fine adding my sensibility to it.
MS: I give him license to be romantic.
VP: And I give her license to be dark and depressing. [Laughs]

Did you have Mathieu Amalric in mind originally for the violinist? It's funny how much resembles the character in your novel, Marjane.
MS: I did; if he had said no, I wouldn't have made the film. Period. I'm so happy he said yes; there were actually a list of actors that we wanted for the roles, and they all said yes. We were incredibly lucky.

Did you find the transition of going from "I can just draw this character to do what I want" to telling someone "I need you to do this" to be difficult?
MS: No. I mean, it wasn't like we were doing something that required everybody to go all Actor's Studio here: "You must smell this shirt in order to find the character! You must sleep on a bed of nails to know real pain!" [Laughs] We were dealing with a lot of universal notions here: love, death, sorrow, happiness. We had great actors at our disposal, which makes things a lot easier for directors like us. Everyone instinctually got the fable-like tone we were going for.

Do you feel people in the comics world treat either of you differently now because of your work in film, or that film people treat you differently because of your work in comics?
MS: No one has ever asked that, actually. We certainly haven't burned our bridges with the comics' crowd, and the advantage of working in France is that people don't make such a huge distinction between artists who start making movies or moviemakers who start drawing comics. What do you think, Vincent?
VP: I think everyone in comics thinks we're rich.
MS: Actually that is true. They think that because we've done two films now, that we're filthy rich. When in fact, we're probably as poor as ever and in need of drawing comics to make a living. It's easier to draw on paper than make a movie. It's a lot faster.
VP: Still, everyone keeps asking when we're going to move to Hollywood.
MS: Yes. I always tell them I'm leaving tomorrow. And that the next time they see me, I'll have dyed blond hair, and fake puffed-out lips and fake breasts.
VP: Me too.

Follow David Fear on Twitter: @davidlfear
You might also like
---
Film events calendar for New York City
Was Showgirls really that bad? What really went do...

Enter fan Valhalla and feast your eyes upon more t...

Losing a trivia battle about your favorite Coen br...
1

more event »
Time Out videos
---
---
Tweets by Time Out NY
Tweets about "@timeoutnewyork"
@TimeOutNewYork
Subscribe to Time Out New York on Spotify for playlists and recommendations from our Music team.


Check out New York's best restaurants, hottest street style, cool apartments and more.