Obstacle course races coming to the New York area: Fall 2013
We analyze the latest fitness trend—obstacle course races like Tough Mudder—and recommend fitness classes to help you prepare.
By Rebecca Fishbein Tue Sep 10 2013
Photograph: Rodrigo de la Parra
Fitness classes to help you prepare for obstacle course races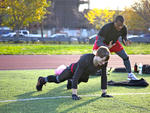 Beastanetics Boot Camp
Punk Rope creator Tim Haft's high-intensity workout builds stamina, strength and speed, along with other obstacle-conquering attributes like balance. During 12 sessions over six weeks, you'll perform short sets of sprints, jumps, squat thrusts and other power and agility moves, mixed with rest periods and cooldowns. The exercises at each one-hour workout get progressively harder (and you have to hold positions for longer)—expect to approach macho-man or -woman status by the end. If you can't commit to the whole regime, Haft also offers drop-in sessions at the Cobra Club (6 Wyckoff Ave between Jefferson and Troutman Sts, Bushwick, Brooklyn; Thu 7:30pm; $13), and virgin Beasts can get one free trial class at either session. McCarren Park soccer field, enter at Bayard St and Union Ave, Williamsburg, Brooklyn (beastanetics.com). Tue, Thu 6:45–7:45am, 8–9am; $144. Oct 15–Nov 21.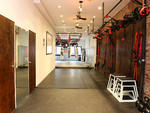 Spartan-inspired workout at Epic Hybrid Training
Submit your butt to a kicking with interval training that will get you ready to open a can of whup-ass on obstacle courses. Hour-long sessions will send you to a number of conditioning stations, where you'll climb ropes, swing on monkey bars, perform power jumpers, walk on a balance beam and do the dreaded burpee. But you're in experienced hands: This summer, Epic Hybrid owner Alexander Nicholas won a Spartan Race, another of the major endurance races, in Hawaii. Nicholas also co-leads two-hour runs along the East River for trainees looking for an extra workout outdoors. 230 E 53rd St between Second and Third Aves (646-450-2405, epichybridtraining.com). Schedule varies; monthly membership $199–$250.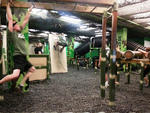 Tour of Duty at Pure Power Boot Camp
If you're serious about dominating these races, enlist in this hard-core program that's tailor-made to prepare you for punishing courses. Expect to make a commitment of four days a week for six weeks, or three days a week for eight weeks. The 60-minute sessions are packed with fast-paced cardio, plyometrics, resistance training and fat-burning exercises, and you'll learn how to tackle these types of obstacle courses without injury. Plus, former Marines guide you along an indoor obstacle course, where you'll climb through tunnels, traverse walls and jump hurdles. 38 E 32nd St between Madison and Park Aves, third floor (212-414-1886, purepowerbootcamp.com). Schedule varies; six weeks $929.
---
Fitness classes to help you prepare
You might also like
---
Events calendar for New York City
The newest addition to AMNH's Hayden Planetarium l...

On the 50th anniversary of the Fab Four arriving s...

Treat your eyes to some much-needed color therapy ...
335

more events »
Time Out videos
---
---
@TimeOutNewYork
Subscribe to Time Out New York on Spotify for playlists and recommendations from our Music team.


Check out New York's best restaurants, hottest street style, cool apartments and more.