Bars in New York for summer drinks: Your summer drinking guide
Find where to cool off with a summer drink near NYC's best hot-weather attractions, including the Met's rooftop bar.
By Time Out editors Tue Jun 5 2012
The Creek and the Cave
Thirst for summer drinks no more. Your alfresco boozing itineraries are here! We've rounded up the best outdoor bars to toss a drink back in NYC—all within walking distance (or a quick subway ride) of some of the city's most beloved summer attractions, including Governors Island, Prospect Park, the Brooklyn Flea, the High Line and the Met's rooftop bar.
Rooftop bars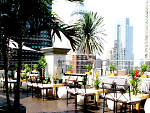 Booze with a view of New York at our favorite hotel-toppers and decks—from lounges with tough doors to affordable, no-hassle picks.
Summer parties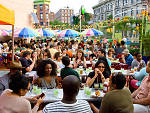 Fort Greene's popular Cuban restaurant has tweaked its weekend blowouts again, featuring the same summer sunshine and booty-shaking tunes by resident DJ Juice E, but with new rotating guest spinners and a family-friendly Kid's Corner from noon to 4pm. (But don't let that scare you off; booze will still be served all day.) Kelso draft beers are only $2.75 and buckets of Coronas or Sols are $17, or you can wash down the Mexican corn ($2.50) with a margarita ($8). Show up early to take over one of the umbrella-covered tables, but don't forget the sunscreen.
757 Fulton St, (at South Portland Ave)
More info
See more outdoor summer parties
Share your thoughts