Best beer gardens and beer halls in New York City
Brewhounds agree that Gotham's beer garden and beer hall scene has taken off in recent years, but which spots are real beer gardens and which are just bars?
By Gloria Dawson Tue Mar 19 2013
Photograph: Anna Simonak
Best beer gardens and beer halls in New York City
Inwood Local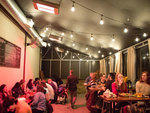 Inwood Local Wine Bar and Beer Garden
Our take: Owner Gus Anton says it's hard to get small distributors to the northernmost nabe in Manhattan, but the 16 craft taps and 50 bottles and cans he serves demonstrate his powers of persuasion. The industrial bar in front is the perfect place to get cozy when it's cold, but the tented area in back was made for spring temps. Take in the rarefied uptown air as you sample a Bailey's Blonde ($7), a citrus ale from Massachusetts's Cisco Brewers, or Tiger Eyes Hazelnut brown ale ($7) from Bridge and Tunnel Brewery. If there's still a chill, warm up with the cumin-spiced Middle Eastern meatballs ($9), served with a sweet tomato sauce. On the first Saturday of the month, fork over $30 for unlimited access to all of the bar's drafts (and select wines) from 10pm to 1am. 212-544-8900, inwoodlocal.com
Chris O'Leary: It's a beer bar, not a beer garden, but they're doing some really great stuff up there.
4957 Broadway between Isham and 207th Sts
Our take: The team behind this 13,000-square-foot juggernaut didn't search far for inspiration, utilizing cinder blocks, a car lift and other discards from the previous tenant—an auto repair shop— to decorate the space. A similarly local bent appears in the suds selection: The 24 taps and 20 bottles and cans span domestic and international makers. We favor local pints of Captain Lawrence's Liquid Gold, a spicy, orange-tinged pale ale, and Brooklyn Brewery's Dry Irish stout, a light brew laced with espresso and chocolate notes ($6 each). When hunger strikes, try a beer-garden staple like bratwurst and sauerkraut served with potato salad ($7).
O'Leary: I almost want to call it a beer garden, but in truth, it's a beer bar with a really great front yard.
555 Seventh Ave, (between 19th and 20th Sts), 11215
More info
Our take: We know the BQE isn't a scenic background, but hops-heads frequent this bare-bones watering hole for the beer and the backyard—not the ambience. The 22 taps and 15 bottles include everything from Blue Point's Summer Ale, an easy-drinking American blond ($6), and Goose Island's citrusy American Pale Wheat ($6) to Budweiser (bottle regularly $4, Fri 10–11pm 25¢). The outdoor area, spanning three large decks with room for 250 people, is the biggest draw. If you can't snag a spot immediately, spend some time at the large-screen projected TV out back or play fratty games (e.g., beer pong). Edibles here tend toward pub fare, but the wings are a solid pick; try the honey-BBQ variety ($5.95).
O'Leary: This is a close call, but I'm leaning toward a beer garden. Either way, there's nothing else like it in the Bronx.
3392 E Tremont Ave, (at Bruckner Blvd), 10461
More info
Our take: The rustic interior at this resto gives way to a spacious deck and patio where a cash bar, fire pit, and projected movies and visual art entertain drinkers when the weather's mild. Choose from the rotating selection of seven drafts—we've spied Tröegs HopBack ($6), a spicy amber ale from Pennsylvania—or from a handful of bottles and cans such as warm-weather fave Porkslap ($5). A seat inside near the open doors gives you the best of both worlds.
O'Leary: I love the landscaping of this place, but it's not a beer garden. And though they've been upping their beer selections since they opened, it's not quite a beer bar.
383 Carroll St, (between Bond and Nevins Sts), 11231
More info
Price band: 2/4
Critics choice
Our take: During the colder months, the 4,500-square-foot drinkery is a cozy greenhouse, but as the weather warms, the panes of glass open to reveal spectacular views of the Flatiron Building. Enjoy inventive pints such as the Gina, a traditional American pale ale infused with thyme from the hills of Borogrose, Italy ($10). All three cask and ten draft brews, as well as the 40 bottles available, are served in pints or the restaurant's signature Teku glasses, whose shape creates the optimum flow of light and oxygen. Gather friends and toast to sunny skies around wood tables or at the marble bar while snacking on a mixed salumi plate ($21).
O'Leary: They don't even want to be called a beer garden; it's a brewpub on a roof deck.
Rated as: 4/5
Price band: 4/4
Our take: Chill out beneath the umbrellas and choose from four draft options. German suds are well represented (try the balanced, hoppy Spaten Premium lager, $7), and the menu elevates beer-hall basics, serving both brats and Hudson Valley duck-and-fennel sausages ($5 each).
O'Leary: This is right on the cusp for me. It has lots of aspects of the beer garden, like outdoor vegetation and German beer.
Louis Armstrong and Duke Ellington's old stomping ground has become a hotbed for craft brews with bars like Harlem Public and Bier International, but this is our choice outdoor-drinking hang in the nabe. The open space in front, covered with a bright red tent during the colder months, can seat nearly 300 among its communal and bistro tables. Any given day sees a diverse group of patrons watching sports, listening to live jazz or working through the list of 20 drafts and 25 bottles, which includes anything from a pint of Southern Tier's milky Crème Brûlée stout ($7) to a bottle of the more common Sam Adams ($6). Hardy entrées and snacks can soak up the suds for hours of day drinking. Ask for the subtly spicy gumbo ($9), served with yellow rice and corn bread, or the roasted brick chicken, which comes with sweet potatoes, honey jalapeños and salsa verde ($20).
O'Leary: Love the space, and there's a lot of good beer here, but it's not their focus.
2153 Frederick Douglass Blvd (Eighth Ave), (at 116th St), 10026
Book online
Price band: 2/4
Critics choice
Although this bi-level bar is only a few blocks from Brooklyn Brewery, the suds here are decidedly overseas-centric. Opt for a half-liter of the refreshing Radeberger pilsner ($6) or the slightly sweet Hacker-Pschorr lager ($7); both hail from Deutschland and pair well with a giant two-pretzel plate ($9) and other beer-hall fare. This season, the space will debut an expanded menu in addition to a remodeled roof-deck, which sports retractable glass for year-round skyline views.
O'Leary: Definitely a cool rooftop beer bar for drinking outside during spring, but the rooftop doesn't count as a beer garden.
This new beer hall and burger joint is an eclectic but decidedly luxe affair. The expansive high-ceilinged indoor room serves 16 mostly local drafts and 30 beers by the bottle. We suggest pairing the Captain Lawrence Brown Bird ale ($8) with a French-toast grilled cheese ($14), which teases out the beer's caramel essence. Regardless of what you order, head to the courtyard, where oversize plants and intricately carved furniture create a whimsical vibe. (Hint: Among the shrubbery, you'll find a taco-and-tequila stand.)
O'Leary: This one's a beer bar with serious staff who seem to know what they are talking about—still, not a real beer garden.
356 W 58th St, (between Eighth and Ninth Aves), 10019
More info
---
You might also like
---