Essential Chinatown New York: A guide to the best basics
From the tastiest $1 dumplings to the karaoke joint with the most flash, here's our guide to Chinatown New York, with the standout essentials in Manhattan, Brooklyn and Queens.
By Hana R. Alberts, Christina Izzo and Patty Lee Tue Jul 2 2013
Photograph: Alvina Lai
Fried dumplings at Kai Keng Fu Dumpling House
Most of the dishes at this den don't cost more than five dollars, but the best deal is the namesake pot stickers. For a buck, you get four pan-fried beauties, rounds of moist pork and leek stuffed into thin handmade wrappers. Four for $1.
4801 Eighth Ave, (at 48th St), 11220
More info
A good roasted-meat house is judged by the quality of its duck, and the glistening poultry at this Cantonese joint make it the Chinese BBQ king in Sunset Park. Hanging off S-hooks in the front window, the birds—with crackly, golden-brown skin and succulent flesh—always sell out by dinnertime. Arrive early, especially on weekends. $9 for ½ duck, $18 for whole.
5204 Eighth Ave, (between 52nd and 53rd Sts), 11220
More info
This chainlet—there are three locations within a ten-block stretch—plies dozens of Chinese pastries. But don't let the dizzying variety turn your attention away from the classics, like this round tartlet with a luscious eggy filling and flaky puff-pastry crust • 5408 Eighth Ave between 54th and 55th Sts, Sunset Park, Brooklyn (718-853-9888) • 5711 Eighth Ave between 57th and 58th Sts, Sunset Park, Brooklyn (718-853-8188) • 5910 Eighth Ave between 59th and 60th Sts, Sunset Park, Brooklyn (718-567-9288) $1.
The first of its kind to open in Sunset Park's Chinatown, Ten Ren continues to be the go-to store for both tea leaves and bubble drinks. The iced sippers shaken by baristas at the green marble counter, include the classic zhen zhu nai cha, a creamy black milk tea packed with chewy tapioca balls ($2.50). Shelves lined with golden tins fill the rest of the space, where a vest-clad shopkeep spoons out leaves by the ounce.
5817 Eighth Ave, (between 58th and 59th Sts), 11220
More info
A dim sum fixture gets the street cart treatment at this stand, open daily at 7am. Normally parked outside HSBC, the husband-and-wife owners heap ladles of milky white batter onto metal trays with a filling of your choice (we were smitten with the pork and scallion combo). In under five minutes, they'll hand you a clamshell of silky noodles drizzled lightly in soy sauce. $1.50.
There's a market on practically every block, but Fei Long—located on the upper end of Brooklyn's Chinatown—is the best one-stop shop. On weekends, customers from all over the borough flock to the expansive supermarket, stocking up on produce and meat as well as snacks. Refrigerators are filled with frozen goods, including steamed buns, fish balls and ice-cream mochi. Need to refuel? There's a food court showcasing regional specialties like Cantonese roasted meats and Shanghainese dumplings.
6301 Eighth Ave, (between 63rd and 64th Sts), 11220
More info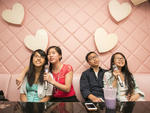 Karaoke: 100 Fun KTV Bar Lounge
No matter how deep you're rolling, this roomy joint can accommodate you. The 32 rooms are decorated by theme (such as Angry Birds, Hello Kitty, mah-jongg tiles) and range from four- and six-seaters ($10–$40/hr) to two lounges with spacious balconies that fit 50 people ($50–$200/hr) and offer a catered outdoor barbecue ($20 per person). The 80,000-strong song library should keep you busy until the 4am close; but if you must have the latest G.E.M. jam, you can request that it be downloaded. Fair warning: Ask about minimum charges after 9pm on Fridays and Saturdays. 718-436-8883, 100funusa.com.
932 60th St between Fort Hamilton Pkwy and Ninth Ave, Sunset Park, Brooklyn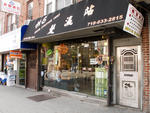 Blowout: Hair Station
Join the waiting masses fiddling with their iPhones under the TV (tuned to a Chinese channel, of course) in this popular salon, decked out in black with splashes of lime green. Once you've settled into one of the dozen chairs, prepare to shell out a mere $10 to $16 for a blow-dry (depending on the length of your hair), with an extra $2 charge tacked on for the use of a flatiron or curlers. 718-633-2815. Cash only.
5118 Eighth Ave between 51st and 52nd Sts, Sunset Park, Brooklyn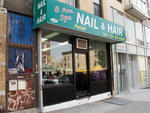 Nails: 8th Ave Spa
Canisters of multicolored glitter line the walls of this space, but it's no mere neighborhood spot: Customers flock here for Allen Xia, a nail artist who embellishes cuticles with intricate designs, charms and assorted bling (check out some of the salon's work on Instagram at @SandyLipingSu). If you're not one for flashy fingertips, opt for the basic manicure ($5) or pedicure ($11), dispensed while you perch in a massage chair. 718-438-8200.
4206 Eighth Ave between 42nd and 43rd Sts, Sunset Park, Brooklyn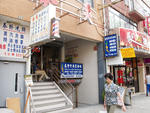 Massage: Tai Shuang Spring Resort
There's no English sign to help you find this massage parlor and salon; look for a short flight of stairs next to Ying Fong Hong Trading. The lobby's dim lighting, red paper signs, water features, bamboo plants and fake birds in cages give the place an eclectic yet unmistakably Asian feel. Opt for a full-body massage (60mins $35), a composite of Chinese and Thai practices, or a treatment that zeros in on feet, back, neck, head and arms (60mins $28). 718-686-6111. Reservations recommended.
820 54th St between Eighth and Ninth Aves, second floor, Sunset Park, Brooklyn
---
You might also like
---
Food & Drink events calendar
Time Out videos
---
---
@TimeOutNewYork
Subscribe to Time Out New York on Spotify for playlists and recommendations from our Music team.


Check out New York's best restaurants, hottest street style, cool apartments and more.