James Beard Awards: The 2012 rookie class
Get to know the local talent that will be repping NYC for the first time this year.
By Time Out editors Wed May 2 2012
---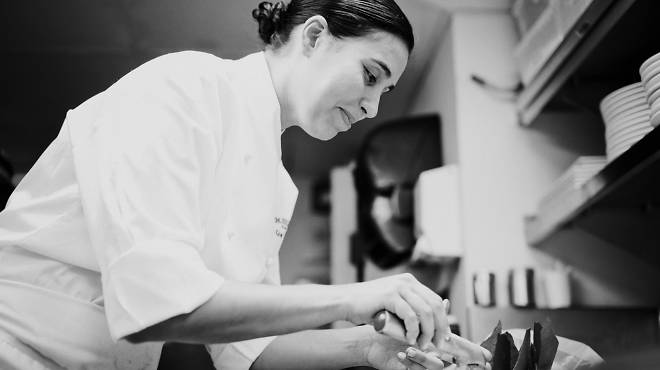 Ghaya Oliveira Photograph: Evaan Kheraj
Ghaya Oliveira, Boulud Sud
Nominee: Outstanding Pastry Chef
This is your first James Beard Award nomination. How did you react when you heard the news?
I was out shopping for a farewell gift for a dear coworker when I received a message that almost put me in a state of shock. Suddenly I let out an involuntary yelp of joy, scaring everyone around me. My immediate reaction was to call my family, my team, the restaurant family, all of them all at once.… The news completely overwhelmed me. The next day when I got to work, my pastry team was jumping for joy, and the kitchen staff started applauding me, so I applauded them back, because the nomination is really the result of our teamwork, every single day for the past 11 years.
If you won, this would be the ninth Beard for the Dinex Group. What is the relevance of a Beard Award these days, and what would it mean for you?
Given the abundance of food buzz these days, a James Beard Award, with its industry recognition from your peers, is of particularly great value. I arrived in New York City in 2001 and immediately landed at Café Boulud, so I've been fortunate to work in kitchens where the standard of excellence is high. Now more than ever, I can feel I contribute to that. With Boulud Sud's Mediterranean menu, there's also a note of personal pride, creating desserts that reflect my own Tunisian culture and origins. Baklava, anyone?
What's something you're doing now that you don't think you could have pulled off in the early days?
As I was growing up, I would watch the ladies in my family gather together to make the Tunisian sweets for big holidays. It would take them days to put these together. I never thought that I would have the chance to reproduce these sweets at a restaurant level, not to mention in another country, in a different world really.
It's been a banner few years for pastry chefs, between Top Chef Just Desserts and people like Christina Tosi racking up name-brand acclaim. Do you feel like there's a changing conception of pastry chefs?
It's been a banner few years. But I've had a sense things were evolving. One day my mentor, chef Eric Bertoia, said, "You will see; in 50 years the pastry world will take over." It seems like it's already on its way.
What happened during the past year that you think caught the eye of the Foundation?
It's the whole Mediterranean thing: earthy ingredients, with pure ingredients and flavors, from the good olive oil to the variety of nuts and different combinations of spices. The Mediterranean inspiration has also enabled me to evoke desserts from my own culture, dishes that really have a soul for me.
Where can we see the influence of your heritage on the menu?
Actually it pops up in a number of places, some subtle and some more evident. The grapefruit givré—our most popular dessert—is French and Turkish in origin. The rhubarb mousseux, is provençal in origin, but the rose gelato I serve it with reminds me of home when my mom makes the rose jam. The closest to home is the pistachio baklava on our Mediterranean sweets plate, and above all the ourta, a multilayered torte of caramelized brick dough layered with Sicilian pistachios, almonds, pine nuts and hazelnuts, and topped with warm orange-blossom cream.
If you win, how will you celebrate?
I am sure our dear sommelier will saber a methusalem of Cristal! It's his thing.

Mark Ladner | Ignacio Mattos | Seamus Mullen
Ghaya Oliveira | Jim Meehan | Audrey Saunders