Japanese gastropubs take off in New York City
Casual Far East eateries are having a moment right now. TONY tracks down the best spots around town.
By Mari Uyehara Wed Oct 31 2012
Photograph: Dominic Perri
The Japanese restaurant scene in New York is flush with options for sushi and ramen. But recently a new set of restaurants—including Japanese gastropubs, izakaya and casual canteens—have debuted, broadening the options for Japanese dining. Check out our favorite of the bunch.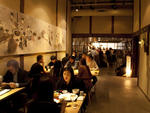 Japanophiles rejoiced last April when a 62-seat branch of the popular Tokyo chain—which counts more than 300 locations in the homeland—debuted in Chelsea.
The scene: Ootoya may be the Japanese equivalent of the Cheesecake Factory, but you wouldn't know it from the inviting modernist digs at its first stateside outpost. The cool, lofty space—handsomely appointed with two blond-wood counters, dark beams and serene paintings in neutral tones—draws a crowd of expats and neighborhood locals, who wait up to an hour for a casual meal. Sit at the curved back bar with a view of the yakitori station and recessed kitchen, or nab one of the tables on the balcony overlooking the buzzing back room.
The booze: The spot is a teishoku—an eatery specializing in homestyle composed meals—not an izakaya, but it still wields a sake list of 27 different selections ($7.50–$22 per cup). Breweries range from the widely available Dassai to the lesser-known Minowanon.
The grub: The sprawling menu features sushi, noodles and Japanese comfort-food dishes that range from the classic (a meaty slab of pork loin katsu with a crunchy panko coating, $13) to the less familiar (the Hanabiwan sashimi features a mix of raw fish, avocado chunks, fermented soybeans and barely cooked yolk; $18). Shima hokke—the restaurant's signature grilled mackerel dish—was moist inside and caramelized at the edges ($15), a soulful meal remarkable for a chain-restaurant kitchen. And the yakitori selection was also top-notch, particularly the tsukune (pillowy oblong chicken meatballs slicked with a tangy soy-based sauce, $5). • 212-255-0018
8 W 18th St, (between Fifth and Sixth Aves), 10011
More info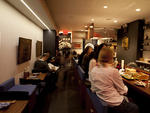 Last March, Tokyo native Gaku Shibata, along with his wife, Christy, quietly opened this paean to the sake taverns (izakaya) of his hometown.
The scene: The husband-and-wife team brought on star architect Richard Bloch (Masa, 15 East) to design the stylish 30-seat hideaway—a second-floor space reached by buzzer, in between grungy LES dives—as a showcase for their beautiful collection of sake ware. The narrow, intimate space features immaculate detailing, like smart Japanese indigo aprons on the servers, and attracts an equally fashionable crowd, who perch on cushioned two-seat mahogany benches at the counter.
The booze: The 50-bottle sake list (6oz carafes $13–$20) highlights poetically named breweries—such as "Mirror of Truth" Masumi Okuden —all organized from the premium-grade daiginjo down to the more workaday honjozo. There are a few unusual selections, such as Ginsumiyoshi taruzake, a cedar-barrel-stored variety that takes on the wood's flavors, and Kenbishi koshu—a sake style that is unique for being aged.
The grub: Pristine plates—yakitori, simmered dishes and sashimi—arrive in handmade wooden boxes, shiny porcelain bowls and rustic clay pots, some delivered with a little tableside flourish. For the barbecue duck ($14), a courtly server melts duck fat on a cast-iron skillet before cooking slips of organic breast meat and scallion nubs in front of diners. DIYers can barbecue the hoba miso ($15) themselves over a grill-covered clay vessel decorated in kanji—turning the mix of Wagyu beef strips with tiny brown mushrooms, delicate green stems and an umami-rich miso sauce, until the meat is browned and the hoba leaf underneath has perfumed the dish. • 212-777-7253
151 Rivington St, (between Clinton and Suffolk Sts)
Book online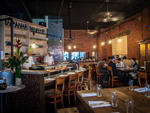 Chef-owner Joshua Smookler reopened this former sushi restaurant—a Tribeca standby since 1981—as an izakaya update last fall. The former Bouley wine director traded in his corkscrew for a chef's knife to helm the joint's kitchen.
The scene: The capacious eatery remixes Western restaurant design trends (Edison lightbulbs and a rough-hewn communal table) with Eastern touches (samurai chalkboard drawings and glossy tables artfully painted in red, gold and black). A roomy space and an out-of-the-way locale translate to easy reservations, meaning that larger groups can get seated on the fly and linger over ramen bowls without catching dirty looks from the impatient diners standing in line outside.
The booze: Smookler used his sommelier background to build an 80-bottle sake list ($8–$14 per cup) with helpful tasting notes—our favorite was Ryo's pauseworthy description: "fresh, smooth and luxurious as it enters, leading to subtle bitterness." Order a full bottle, and you can choose your sake cup from a pretty selection of porcelain, glass, crystal and clay vessels presented tableside in a wooden box.
The grub: Like the spot's decor, the menu is an East-West mash-up, spotlighting cross-cultural dishes such as katsu milanese ($10)—a thin pork cutlet topped with baby arugula, grape-tomato halves and two anchovies. Traditional sushi and ramen are also well represented. An oversize chalkboard menu boasts of a 48-hour cooking process for the ramen broth, but our bowl of spicy miso ($12) was overpowered by pickled red ginger. Stick with the hot kitchen plates: A simple dish of grilled nasu (eggplant, $8) was tender enough and kissed with nutty miso, while the tempura-fried tofu ($8) revealed a lush, creamy interior, perked up by vinegar-cured mushrooms and eggplant. • 212-233-3287
77 Hudson St, (between Harrison and Jay Sts), 10013
Book online
---
You might also like
---