Restaurant and bar openings: April 25–May 1, 2013
Falansai, MP Taverna and more debut in New York.
By Christina Izzo and Patty Lee Mon Apr 22 2013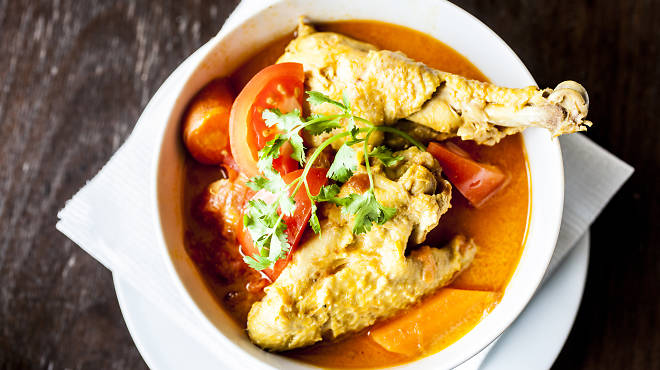 Spicy tomato-coconut chicken at Falansai Photograph: Krista Schlueter
The following venues are expected to open by May 1st. Always call ahead, as openings can be delayed.
Bareburger A burger joint grows in Brooklyn—with ten locations in Manhattan and the outer boroughs, the organic patty-pushing chain expands into Cobble Hill. Grab a stool at the reclaimed steel counter for combo favorites like the Big Blue Bacon (Wisconsin blue, fried onions and bacon marmalade); the Habanero Express (pepper-jack, poblano pepper, habanero-chipotle mayo); and the California (sharp cheddar, Hass avocado, salsa verde). Each burger comes with your choice of protein (grass-fed beef, buttermilk-fried chicken, ostrich) and bread (brioche, wheat-flour wrap, tapioca rice bun). Round out your meal with sides like butter pickle chips and house-made Carolina slaw, an all-natural shake (peanut butter, raspberry) or a local brew (Sixpoint, Ommegang). 149 Court St between Atlantic Ave and Pacific St, Cobble Hill, Brooklyn (347-529-6673)
The Beach at Dream Downtown Dine on Latin-inspired eats from a Top Chef alum at this Chelsea hotel's cabana-decked beach club. Drawing on his heritage, Manuel Trevino (Marble Lane) creates festive South of the Border fare to match the sand-covered oasis by a 550-square-foot pool. Expect spiced plates such as chipotle honey-glazed salmon with ribbons of zucchini and yellow squash, and charred octopus tostadas topped with a chili vinaigrette. Beverage director William Ward crafts fruity tipples using fresh summer produce, while Smorgasburg favorite Kelvin Natural Slush offers up natural or spiked versions of its icy treats. Watching your figure? There's also a selection of fruit and vegetable smoothies. 355 W 16th St between Eighth and Ninth Aves (212-229-2336)
Burger Joint Find the cult emporium's juicy patties from the Parker Meridien in a 74-seat location outfitted with a full bar. The kitshy decor remains (Simpsons posters, bobblehead dolls and a wooden monkey), as does its sparse nine-item menu. Order your burger straight up or with a slice of melted American cheese—the only other fixings to choose from are lettuce, tomato, onions and sliced pickles. 33 W Eighth St between Fifth and Sixth Aves (212-432-1400)
Clarke's Standard This spin-off of P. J. Clarke's brings classic diner fare to the Financial District. The downtown location, outfitted with butcher-block tables and enamel stools, serves six types of patties, including the Standard (American cheese, tomato, red leaf lettuce) and the Brooklyn Au Poivre, topped with cracked-black-pepper sauce. Hot dogs come smothered in condiments like tangy white sauerkraut or hearty butcher's chili. SoCo Creamery ice cream—choose from a daily rotation of mint chip, salted caramel and malted milk chocolate—is served in vintage Dixie cups. 101 Maiden Ln at Pearl St (212-797-1700)
Falansai Chef Henry Trieu brings a little Vietnam love to Bushwick. The San Francisco import—who imbued traditional Vietnamese flavors with fine-dining finesse at Charles Phan's acclaimed Slanted Door—roots through the street food of his childhood for this 54-seat joint. Named after his Chaozhou-bred father's mispronunciation of the world français, Trieu's cross-cultural restaurant unites Vietnamese and French standards. Hanoi street-cart staples like pho bo (Vietnamese beef noodle soup), banh cay (spicy yucca fritters) and cha ca la vong (dill-flecked fried cod) share menu space with Gallic bistro classics like escargot in garlic butter and steak frites. Settle into a reclaimed-wood table for curry goat and a Vietnamese beer snagged from the tile-covered bar. Repurposed trappings fill the restaurant—French doors recycled as windows, light fixtures left over from an abandoned Italian eatery—while birdcages hanging overhead give the space a Southeast Asian vibe. See a sample menu below. 112 Harrison Pl at Porter Ave, Bushwick, Brooklyn (347-599-1190)
Glady's For his first brick-and-mortar, Morris Grilled Cheese's Michael Jacober turns out combos like a pork knuckle sandwich smothered in apple butter and the El Dorade-O, velvety brandade topped with pickled onions and charred onion mustard. Expect boozy floats that pair rum with lime sherbet and vodka with orange soda. 788 Franklin Ave at Lincoln Pl, Prospect Heights, Brooklyn (718-622-03249)
The Loopy Doopy Rooftop Bar Fruity tipples come with a side of stunning downtown views at this drinking spot overlooking the Hudson River waterfront. The 55-seat bar, located on the 16th floor of the chic Conrad Hotel, is named after artist Sol DeWitt's 15-story art installation hanging in the airy, marble-floored lobby. The purple-and-blue painting serves as inspiration for cocktails like the Topsy Turvy (vodka, orange liqueur and white cranberry), Cool as Cucumber (gin, St. Germain elderflower and lemon) and Lime in Coconut (vanilla vodka, rum and pineapple juice). Also on offer: sangria by the pitcher, nine types of beer and prosecco-infused ice pops in cherry, orange and apple. 102 North End Ave between Murray and Vesey Sts (646-769-4627)
MP Taverna Greek-American chef Michael Psilakis made his name repping his Hellenic roots, diving into the country's coastal fare at his uptown joints, Kefi and Fish Tag. So it's no wonder the TV toque (star of BBC America's No Kitchen Required) headed to Little Greece for this modern Mediterranean tavern. An Astoria offshoot of his popular restaurants in Nassau and Westchester Counties, the 150-seat bi-level eatery whips up the same menu as its sister locations: fried calamari with tomato-yogurt sauce; Greek paella packed with shellfish and spicy lamb sausage; and garlic-imbued branzino with fingerling potatoes and cherry tomatoes. Enjoy small plates (tsatsiki with warm pita) over Santorini wine and Mythos beers at the marble bar, or hunker down for a feast of whole-roasted spring lamb, kid goat or veal shank in the rustic, wood-paneled dining room. When the temperatures rise, glass accordion doors open onto Ditmars Boulevard, offering an additional 100 seats for alfresco dining. 31-29 Ditmars Blvd at 33rd St, Astoria, Queens (718-777-2187)
Nevada Smiths Forced out of its original East Village location due to luxury-condo development (about as surprising as a LiLo mugshot), this soccer-fan watering hole reopens just a block down from where it started. Spiffed up compared with its old digs, the hooligan dive has transformed into a four-level ode to footy, with 40 flatscreens, walls lined with signed jerseys and a tiled mural boasting the bar's motto, "Where Football Is Religion." A duo of bars tap more than 30 craft brews (Goose Island, Spaten, Boddingtons), with a separate wine bar pouring European selections. Along with a VIP room and DJ booths, the megapub also offers a menu of upscale bar bites: jumbo shrimp cocktail with tomato chutney; mini lump crab cakes with chipotle mayo; and corned-beef chimichangas with Russian rémoulade. A pizza oven sling pies, while a classic Irish breakfast (a nod to owner Patrick "Paddy" McCarthy's hometown of Cork) is served on weekends, in case you want to cheer on your Rooneys and Ronaldos over Sunday-morning blood sausage and Guinness. 100 Third Ave between 12th and 13th Sts (212-982-2591)
ParkWest Chopped winner Marc Anthony Bynum oversees the menu of New American eats at this 60-seat Upper West Side spot. The eclectic menu includes dishes like Colorado lamb chops, chicken lollipops and tacos stuffed with red-snapper ceviche, turned out day to day by toque Jon Frizzell. Sidle up to the narrow ebony bar for spiced organic vodkas and picklebacks finished with a shot of house-made jalapeño-infused brines. 103 W 70th St at Columbus Ave (646-596-9700)
Pie Face The growing Australian pie purveyor adds to its Big Apple empire with a fourth location, near Times Square. The intimate 20-seat café serves its namesake classics—more than a dozen pies, both savory (minced beef or tandoori vegetable) and sweet (apple crumble or pecan), adorned with piped-on faces that hint at their filling. Other sugary treats include walnut-laced brownies and lamingtons, Down Under desserts made of chocolate-dipped sponge cake rolled in shredded coconut. Wash it all down with a shot of steaming Australian espresso and scan the high-def television screen with scrolling live tweets. 1407 Broadway between 38th and 39th Sts (646-569-6212)
Spreads This grab-and-go eatery dishes out sandwiches, soups and salads. Creative sammie combos inspired by Gotham's diversity include a fish torta made with panko-crusted tilapia and garlic aoili-topped schnitzel. To drink: Kenyan and Columbian brews from Allan Bros. Coffee and cold-pressed juices. 441 Park Ave South at 30th St (212-758-5555)
Tiny Fork New York's bivalve obsession isn't ending anytime soon—joining shucking newcomers Littleneck and Leadbelly is this bi-level oyster bar from nightlife vet Rob Shamlian (Los Feliz, Fat Baby). At the 12-seat marble-topped bar, slurp down raw-bar items like East Coat bivalves, jumbo Alaska king crabs, and oyster shooters capped with caviar, jalapeño and citrus soy. In the marble-and-mahogany dining room, the kitchen menu—overseen by James Beard Award winner Bradford Thompson (Miss Lily's)—is equally sea-focused: fried oysters on mini brioche, Dungeness crab cakes and a lobster twist on classic fish-and-chips. Cocktails nod to the nautical, with lobster stock used as the base of the Michelada (beer, tomato juice, Old Bay–salted rim), while the surfer-friendly Point Break is made with lemon-grapefruit cordial, tequila and Cocchi Americano. The wine program is finely tuned to seafood pairings, with oyster-friendly muscadet and mauzac whites available by glass. 167 Orchard St at Stanton St (no phone yet)
You might also like
---