Restaurant and bar openings: August 15-21, 2013
Bassanova Ramen, Grand Ferry and more roll out in NYC.
By Christina Izzo and Patty Lee Mon Aug 12 2013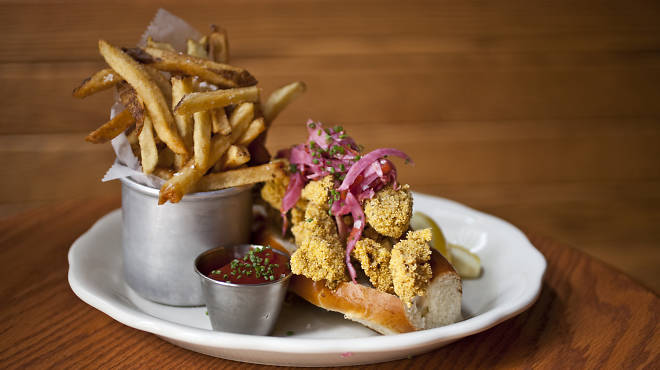 Clam roll at Grand Ferry Photograph: Virginia Rollison
The following venues are expected to open by August 21st. Always call ahead, as openings can be delayed.
Antler Beer & Wine Dispensary Scott Garry and James Hendrick (Bull's Head Tavern and Taproom No. 307) model their Allen Street wine-and-beer bar after a 1970s recording studio—fittingly, the pair shared studio time as bandmates in Possum and the Panther. In the dimly lit space—outfitted with vintage speakers and acoustic-boosting wood paneling—you can find organic and biodynamic wine four ways (tap, canned, bottled and boxed) and a range of beer available in pints, bottles or mini kegs, including Wolaver's Wit, Reissdorf Kölsch and Blue Point Toasted Lager. Among the bar bites are shareable small plates like cheese, crostini and charcuterie. A multitap dispensary complete with controls for music and lighting—designed by Hendrick—sits behind the bar, while a pair of deer antlers loom above. 123 Allen St between Delancey and Rivington Sts (212-432-5000)
Bassanova Ramen Don't let the name fool you—this renowned Tokyo ramen-ya, opening its first NYC outpost, is no noodles-by-way-of-Brazil concept. Instead, the only fusion fare you'll find is its signature Thai-inspired green-curry ramen, famed among the faithful, including Ivan Orkin. With chef Shoushin Yanaura at its helm, the steamy open kitchen also delivers two 12-hour-simmered tonkotsu bowls: The Tondaku Ramen features Berkshire pork-loin char siu, kikurage mushrooms, ginger and crushed sesame; while the Tondaku Wadashi Jilu Ramen studs a pork-loin broth with menma (fermented bamboo shoots), nori and scallions. The minimalist, all-white space is styled with wood painted the color of creamy tonkotsu, and ceramic bowls imported from the original's hometown of Setagaya, Japan. See the soft-opening menu below. 76 Mott St between Bayard and Canal Sts (212-334-2100)
Box Kite Coffee RBC alums Cora Lambert and Erik Becker roll out a Tribeca pop-up, open until October 15. The coffee counter—located inside Maslow 6 Wine Bar—doubles as a testing lab for their forthcoming East Village shop. In addition to espresso made with Madcap and Ritual beans, the duo pours coffee and beer pairings, choosing from the 40 bottles available at their temporary home. Maslow 6 Wine Bar, 211A West Broadway between Franklin and White Sts (no phone)
Brooklyn Oyster Shack Pull up a red stool at this seafood shack. At a 20-seat marble counter, slurp oysters from both coasts, including Fanny Bays, bluepoints and Malpeques. The pint-size spot—sporting whitewashed walls and old photos of the Brooklyn waterfront—also serves rolls stuffed with lobster, crab or shrimp, along with raw clams and chowder. To drink: craft beers (Brooklyn Brewery, Sixpoint) and wines by the glass. 471 16th St between Prospect Park West and Tenth Ave, Prospect Park, Brooklyn (347-844-9251)
Cerveceria Havemeyer Taco booster Felipe Mendez Candelas (La Superior) branches out with this 70-seat cantina. Slide into picnic tables crafted from bowling alley lanes for Mexican classics: shrimp or scallop aguachile, tostadas topped with grilled octopus and duck enchiladas. Mendez also offers new tacos like the Villamelon (carne asada, chorizo and avocado) and the Pescado Pibil (grilled fish, pickled onions and roasted-pepper sauce). Cool your palate with margaritas and Mexican beers. 149 Havemeyer St at South 2nd St, Williamsburg, Brooklyn (718-599-5799)
Fabipops Pick up gourmet cake pops at this charming pink-hued bakery. Former banker Fabiola Scarbrough sells a dozen flavors, including cotton candy, strawberry shortcake and amaretto-infused red velvet. The Boerum Hill shop also serves as a classroom for cake-pop tutorials. 60 Fourth Ave between Bergen and Dean Sts, Boerum Hill, Brooklyn (347-480-7677)
Grand Ferry New York's nautical craze isn't ending anytime soon—at least not if Joel Lee Kulp and John Clement have anything to say about it. The pair—of Williamsburg speakeasy the Richardson—honors a 19th-century boat with Grand Ferry, a maritime-focused waterfront tavern. Outfitted with wood banquettes, damask wallpaper and vintage Harper's Weekly prints depicting East River life, the bar features 20 Old World European wines and 14 draft beers from all-American harbor towns: Hood River, OR's Full Sail IPA, Cisco Whale's Tale Pale of Nantucket and Baltimore's Heavy Seas Loose Cannon. The seafaring-themed cocktail program includes quaffs like the Hey Sailor, which features navy-strength English gin, Salers aperitif, Aperol and lemon juice; while the Seven Seas Cooler mixes Amaro Braulio, honey, Lapsang souchong tea and 100-proof rhum agricole. Brett Ackerman (Diner, Marlow & Sons) captains the pub-grub menu, lining out a full raw bar (Ipswich clams, East Coast littlenecks), saffron-flecked clam chowder, beer-braised brisket and wild-mushroom shepherd's pie. 229 Kent Ave at North 1st St, Williamsburg, Brooklyn (718-782-8500)
Jersey Mike's Subs Get a taste of the Jersey Shore at this 40-seat sub shop, the chain's first Big Apple location. House-baked rolls are piled high with sliced to order meats and cheeses: provolone, ham and capocollo in the Original Italian, and roast beef, turkey and Swiss in the Club Supreme. All items are topped with the Juice, an olive-oil–vinegar and spice dressing concocted by founder Peter Cancro. 80 Maiden Ln at Gold St (646-833-7560)
Joe's Crab Shack The Texas seafood chain—with more than 130 locations nationwide—drops anchor in Harlem for its first Manhattan outpost. Outfitted with floor-to-ceiling windows, brightly colored surfboards and a waitstaff sporting tie-dyed "Peace, Love and Crabs" shirts, the 10,000-square-foot restaurant specializes in Southern shellfish dishes. Along with staples like fried catfish, crab buckets and coconut shrimp, the menu features seasonal items, including a summery steam pot of Dungeness crab, sausage and shrimp in a Corona chili-lime bath. 2349 Eighth Ave (Frederick Douglass Blvd) between 125th and 126th Sts (212-222-0445)
La Belle Crepe Having worked NYC street fairs for 18 years, crêpe maker Manuel Cabrera finds a home in the East Village. Choose from fillings both sweet (apple walnut, dulce de leche) and savory (ham and cheese, mushroom and spinach). 122 E 7th St between First Ave and Ave A (917-701-4796)
Mayhem & Stout The Dekalb Market sandwich vendor opens its first brick-and-mortar restaurant, in Murray Hill. Choose from four fillings (short rib and brisket, pulled chicken, pork shoulder and lamb) and house-made sauces (blueberry sriracha, horseradish crème), piled onto Caputo Bakery rolls. The 16-seat storefront—outfitted with red oak tables—also offers nonalcoholic sips from local purveyors: sodas from New Jersey–based Boylan's and tea from Brooklyn's Cup and Compass. 711 Second Ave between 38th and 39th Sts (212-986-1600)
Meltkraft Grab grilled-cheese sandwiches at this 20-seat shop, from artisanal-cheese maker Valley Shepherd Creamery. The location features gussied-up melts such as the Valley Thunder (aged cheddar, brisket, macaroni), Melter Skelter (raw cow's-milk raclette, pickled green tomatoes, jalapeños) and Brielle (Brie, cranberry chutney, pine nuts). To drink: craft beers on tap and wine. 442 9th St at Seventh Ave, Park Slope, Brooklyn (347-889-6290)
Monarch Rooftop Lounge This 5,000-square-foot penthouse lounge evokes a Scandinavian lodge, with wood-paneled walls, floral armchairs and black pendant lamps. On warm nights, slip through the sliding glass doors to an outdoor patio, where you can sip cocktails like the Monarch (gin, grapefruit juice and lavender bitters) and the Butterfly Effect (tequila, lemon juice and jalapeño honey) in view of the Empire State Building. 960 Sixth Ave at 35th St (212-630-9993)
Woodbines Knock back cold ones at this Long Island City craft-beer pub. Find 12 suds on draft, including a Brooklyn Brewery lager and exclusive pale ale by Queens' SingleCut Beersmiths. The cocktail list features drinks like the Old Woody (bourbon and orange bitters) and LIC Tea (sweet tea and blueberry vodkas with lemonade). Snag a seat at one of the reclaimed-wood tables for tweaked American classics, including lamb meat loaf with honey-ginger ketchup and beef sliders with feta and avocado. Owner Patrick Burke (Kent Ale House, Brickyard Gastropub) also honors his Irish roots with fare like bangers and mash and Scotch eggs. 47-10 Vernon Blvd between 47th Ave and 47th Rd, Long Island City, Queens (718-361-8488)
---