Restaurant and bar openings: February 21–March 6, 2013
Attaboy, Alder and more open in New York City.
By Christina Izzo and Christopher Ross Tue Feb 19 2013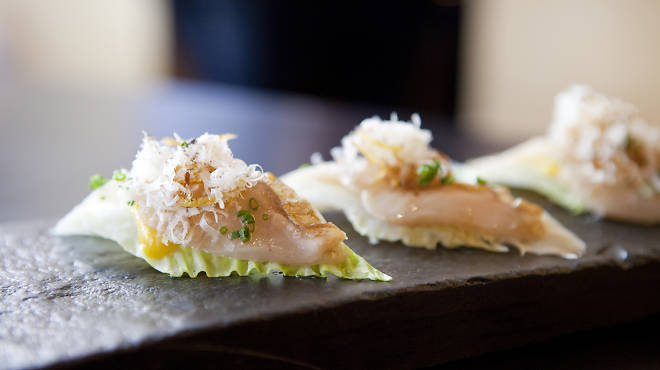 Caesar salad at Alder Photograph: Jessica Lin
The following venues are expected to open by March 6. Always call ahead, as openings can be delayed.
Alder Wylie Dufresne, the brains behind LES trailblazer wd~50, brings his mad-scientist moxie to a pub setting. This 56-seat East Village den serves innovative reimaginings of casual American pub grub: Clam chowder bobs with oyster crackers made from actual oysters; Caesar salad is transformed into bite-size mackerel nigiri topping a rib of lettuce; and port-infused pub cheese comes with chips made from Martin's potato rolls. Overseen by wd~50 alum Kevin Denton, the cocktail program has a woodsy bent: Pimm's cup gets shaken with pine-infused rum, while another tipple muddles Iranian berries with grape-musk molasses. The pub's moniker is the old-English form of Ellery, the name of Dufresne's daughter. 157 Second Ave between 9th and 10th Sts (212-539-1900)

Attaboy Like freewheeling sons of a disciplinarian father, roguish cocktail savants Michael McIlroy and Sam Ross will preserve the spirit—though not so much the letter—of the law set down by drinks impresario Sasha Petraske at his old Milk and Honey location, which they've commandeered for their new bar Attaboy. Lifting their predecessor's famous fatwas (no hats, no flirting, reservations only), the eight-year veterans of the spot will give the onetime speakeasy a contemporary revamp, including a first-come, first-serve door policy; a classically based but more seasonally oriented cocktail program; and brighter decor.The lighter, breezier upgrade from the windowless, candlelit interior features a glass pane overlooking the street and whitewashed brick walls, and the steel-topped bar has been doubled to 20 feet in length. A board, standing in for a menu, lists market ingredients—Granny Smith apples, Bartlett pears—that can be selected to tweak a bartender's-choice order. And look for house versions of rock and rye—a pre-Prohibition staple made from whiskey sweetened with rock candy—flavored with additions like cinnamon and pineapple elixir. A few French red wines, pilsners and IPAs will offer less potent sips, plus a couple cans of Coors Banquet for off-duty barkeeps. But cosmetic changes aside, Attaboy will draw upon one Milk and Honey tradition, channeling the vibe of the old postservice wind-down, when bartenders kept a few close friends in the house, a rowdy crew palling around, with the rules relaxed and the music turned up. 134 Eldridge St between Broome and Delancey Sts (no phone yet)Please make sure to run the blurb by me when it's ready. 134 Eldridge St between Broome and Delancey Sts (no phone yet)
Beverly's The LES's artsy denizens can get booze-fueled inspiration at this neighborhood bar-meets-exhibition space, decorated with wooden banquettes and a pop of pink neon lighting. The scaled-back digs display a rotating selection of works, like a video animation from Vancouver's Sara Ludy or a sculpture erected by local visual artist Chris Domenick. To drink, find a slim beer list featuring local standbys like Brooklyn Lager and a Sixpoint draft, as well as house red and white wines. 21 Essex St between Canal and Hester Sts (no phone yet)
Cherrywood Kitchen Pedigreed toque Chris Cheung (Jean Georges, Nobu) plates cherrywood-smoked fare at this rustic New American bistro. Fixed up like a grandfather's study, the spot features dark wood, wrought-iron sconces and library tchotchkes (old books, clocks and globes). And Cheung smokes his food like your grampa smokes his pipe: Cherrywood-torched baby back ribs are glazed in sweet chili; smoked cipollini onions bob in braised-bacon soup with winter melon; and seafood is smoldered over the namesake wood, before being topped with Chinese sausage relish. Cocktails get a similar treatment: A rye old-fashioned, muddled with bourbon-soaked cherries, is finished with a splash of liquid smoke. 300 Spring St between Hudson and Renwick Sts (646-559-2328)
Coccola Naples native Antonio Vallo mans the wood-fired oven at this airy Harlem restaurant, turning out pies topped with Italian staples like ricotta, salami, prosciutto and broccoli rabe. Diners can also tuck into seafood-focused antipasti (steamed mussels, calamari) and classic pastas (potato gnocchi, primavera penne). Pair your meal with one of the beers or wines of the Boot, with vinos hailing largely from the South. 1600 Amsterdam Ave at 139th St (212-926-0580)
Grape & Vine Styled after an old New York tavern, this 70-seat restaurant in the Jade Hotel showcases dark wood floors, antique glass mirrors and a fireplace. The menu offers French and New American plates, like red and yellow beet tartare with goat cheese, saffron bouillabaisse, and grilled tofu with spicy red quinoa and mango. For health nuts, there are fashionable juiced drinks like a mixture of carrot, red apple, ginger and lemon. Those in need of something stiffer can opt for one of the 20 cocktails, like a bubbly concoction of Grand Marnier, grapefruit juice, rose water and champagne. 52 W 13th St between Fifth and Sixth Aves (212-375-1300)

The Kubbeh Project From March 1st through 21st, Zucker Bakery transforms nightly into a Jewish-Iraqi eatery, dishing out Middle Eastern staples—like the namesake kubbeh (torpedo-shaped bulgur dumplings)—from 6pm until the kubbeh soup pots are scraped to the bottom. The brainchild of Tel Aviv chef Itamar Lewensohn and Naama Shefi (freelance food writer for The Jewish Daily Forward), the pop-up evokes the Iraqi section of Jerusalem's Mahane Yehuda Market with soul-warming fare. On Friday nights, the space will host special Shabbat dinners, featuring dishes like spicy fish balls, deconstructed sabich (fried eggplant sandwiches) and Zucker's pistachio-and-date cookies, as well as Israeli wines and cocktails, such as arrack-spiked pomelo juice with mint. 433 E 9th St between First Ave and Ave A (646–450-7034)
Marcha Cocina-Bar Named after Spanish slang for "nightlife," this Washington Heights tapas joint is geared toward hungry night owls, with modern Spanish small plates and cocktails until the witching hour. Slip into a sunny yellow banquette for bites like cocas (Catalan flatbread) layered with serrano ham and wild mushrooms, chicken-and-plantain-stuffed croquettes and crispy shrimp dipped in smoked paprika aioli, from brother-chef team Fredy and Virgilio De La Cruz (Pipa). The ten-seat bar, glowing with built-in neon lights, offers Latin-accented libations, including a caipirinha made with cashew nectar and bourbon piña coladas. 4055 Broadway at 171st St (212-928-8272)
The Saint Catherine Sara Williams (Fresh Salt) dishes out homey comfort food at this 40-seat neighborhood café-bar, outfitted with terrazzo floors and a mahogany bar. Grab a cup of Intelligentsia java or a croissant or muffin from Ceci Cela bakery by day. After sundown, dig into homemade mac and cheese, a meat loaf sandwich or soups. At the fully stocked bar, get simple cocktails like a gin and tonic, or sip on one of the wines or eight draft beers, spotlighting local producers like Sixpoint and Brooklyn Brewery. 660 Washington Ave at Bergen St, Prospect Heights, Brooklyn (347-663-9316)
Serafina Always The dark-wood-paneled flagship location of the Italian franchise—the seventh in the city—serves a menu stocked with Mediterranean staples. Rigatoni alla bolognese features meat sauce made with filet mignon and veal, while handmade ravioli are stuffed with black truffles. Diet-conscious diners can choose from nine salads, like arugula tossed with fig vinaigrette, cherry tomatoes and shaved Parmigiano. To drink, there are 20 wines by the glass, highlighting Tuscan varietals. 33 E 61st St between Madison and Park Aves (212-702-9898)
Sweetleaf Java pro Rich Nieto teams up with bar buff Richard Boccato (Dutch Kills) to expand his buzzy offerings to booze with his first café-cocktail bar, the third location for coffeeshop Sweetleaf. The 45-seat spot—outfitted with weathered-leather banquettes, faux-distressed walls and counters refurbished from old doors—plies fresh-baked staples, like blueberry-streusel coffee cake and chocolate-oatmeal sandies, as well as brewed cups of Stumptown and Ritual beans. At 6pm every night, baristas turn the counter over to bartenders, who pour out cocktails made with hand-cut ice, house-made java liqueurs and iced coffee. The caffeinated quaffs include sips like the Rocket Fuel (a New Orleans–style chilled coffee) and Voodoo Child (a Vietnamese cold brew with condensed milk). 46-15 Center Blvd at 46th Ave, Long Island City, Queens (no phone yet)
Wise Men You won't find gold, frankincense or myrrh at this Bowery resto-bar—instead you'll find a nostalgic ode to 1970s New York from a trio of women: photographer Danielle Levitt, hospitality vet Caroleyn Ng (Dream Hotel, Gansevoort) and S Magazine creative director Christina Chin. Back in the disco era, Chin's family ran a Western-style Chinatown steakhouse also called Wise Men, and Chin pays homage with a meat-focused small-plates menu, '70s-inspired trappings (kitschy marble-tiled floors, bold printed walls) and a sepia-aged photo of her groovy relatives emblazoned over the entrance. Slide into banquettes red as rare beef for Asian-accented bavette steak and peperoncini-spiked pork, or head to the 20-foot-long bar for retro tipples like a Vesper or a Rob Roy. 355 Bowery between 3rd and 4th Sts (646-590-4244)
You might also like
---