Restaurant and bar openings: June 13-19, 2013
New York Sushi Ko, the Bounty and more roll out in NYC.
By Christina Izzo and Patty Lee Mon Jun 10 2013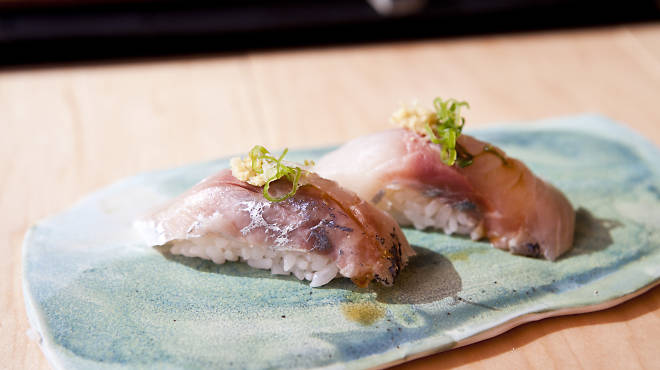 Mackerel at New York Sushi Ko Photograph: Jessica Lin
The following venues are expected to open by June 19th. Always call ahead, as openings can be delayed.
Biblio Well-worn encyclopedias and whiskey bottles line the bookshelves of this lit-themed Williamsburg restaurant, from Irish lads Graham Finn and Victor Boyd (Iona, Banter Bar). The French-American menu—headed by Vynl alum Joe Macchia—is broken down via a book index: The "table of contents" features chicken-liver mousse on house-made country bread and Gouda mac and cheese topped with bacon; crispy fingerlings are under "appendix"; and a Hemingway-inspired pot de crème laced with rum custard and lime jelly is in "afterthoughts." Sixteen craft beers are on tap at the wood-paneled bar, including locals like Ommegang Gnomegang, Brooklyn Brewery's Brewmaster's Reserve and Sixpoint Mad Scientists #14 Gratzer. 149 North 6th St between Bedford Ave and Berry St, Williamsburg, Brooklyn (718-384-8200)
The Bounty With Achilles Heel, Alameda and River Styx, the north Greenpoint waterfront has become a mini dining hub, and you can add this nautical seafood den from the Drink team to the growing list. Chef Eric Mann (Prune, Craft) focuses on sustainable fish, sourced from wild-caught schools in the Northeast: Enjoy East Coast oysters and littlenecks at the raw bar, as well as grilled dorade with shaved fennel, mussels in escabeche and house-made fettuccine with clams. Roberta's vet Kevin Ang pulls double duty, overseeing the beverage program and the bread ovens (producing burger rolls, crackers for cheese plates and crostini bread). At the green marble bar, sip classic cocktails, such as a Hemingway daiquiri, a dark and stormy, or a Tom Collins. Bolstering the maritime theme—the restaurant name refers to the ship of the famous 18th-century mutiny—an 80-foot-long ship's sail is draped across the ceiling and old whiskey barrels serve as tables, while LED lights and floors made of recycled rubber tires reflect the spot's eco-friendly ethos. 131 Greenpoint Ave between Franklin St and Manhattan Ave, Greenpoint, Brooklyn (347-689-3325)
Clinton Hall A stone's throw from its 19th-century namesake, Castle Clinton—America's first beer garden—the folks behind Watermark Bar honor the storied nabe with a 4,000-square-foot Battery Park beer hall of their own. At the marble bar, 20 taps rotate selections of hard-to-find brews: Huyghe Delirium Tremens, Van Honsebrouck Kasteel Rouge and De Halve Maan Straffe Hendrik Bruges Triple, available in pints, half pints or third pints. A flux capacitor behind the bar controls the carbonation and temperature of each tap, ensuring that pints are served at an optimal 34 degrees. Pub grub includes Bavarian fare like spaetzle, soft pretzels and house-made brats, such as an all-beef link with pickled tomato relish, and lamb sausage infused with cumin and ginger. 90 Washington St at Rector St (212-363-6000)
Dinosaur Bar-B-Que Pit powerhouse John Stage—the Harley enthusiast behing the wildly popular 'cue empire—expands to Brooklyn with this 208-seat Gowanus outpost. Along with signature dishes including dry-rubbed pork ribs and apple-brined BBQ chicken, he unveils a few new items: a "Breakfast All Day" barbecue hash with BBQ brisket and a poached egg; brisket po' boy–style; and a fried-green-tomato sandwich with pimento cheese and chowchow. At former tool-and-dye factory, this expansive honky-tonk is done up Dino-style, with exposed-brick walls, reclaimed banquette booths and sidewalk picnic tables. An installation of recycled whiskey bottles hangs from the high ceiling, and the bar is a set piece from the Russell Crowe film Cinderella Man, stocked with draft beers from Kelso, Sixpoint and Brooklyn Brewery. 604 Union St between Third and Fourth Aves, Gowanus, Brooklyn (347-429-7030)
Doris Sip craft beers and cocktails at this Bed-Stuy watering hole, playing vintage LPs (Willie Nelson, Hall & Oates) and showcasing fiber art on airy white walls. A shelf of old records hangs near the ten-seat brass bar, where owner Jason Andrews mixes four house cocktails, including a planter's punch made with Jamaican rum and a Pacifico michelada. Beer lovers can choose from brews both American (Sixpoint, Mission Blonde) and imported (Erdinger, Innis & Gunn). On warm nights, take your drink to the 45-seat garden, lined with macramé planters. 1088 Fulton St between Classon and Franklin Aves, Bedford-Stuyvesant, Brooklyn (no phone yet)
The Grand Bar & Grill The team behind Williamsburg dive Second Chance Saloon expands down the block with this 45-seat tavern. Post up at the 14-seat mahogany bar—a 19th-century counter salvaged in the Bronx—for 13 draft beers, eight tap wines and classic cocktails, like an old-fashioned and a Gibson. Find a menu of global comfort food: panfried pierogi with habanero jam; beurre blanc–topped cavatelli; and tomato-seafood stew. 647 Grand St between Leonard St and Manhattan Ave, Williamsburg, Brooklyn (718-782-4726)
The Immigrant Tap Room The Immigrant wine bar expands with a next-door beer tavern, furbished with exposed wood beams and antique chandeliers. In the train-car-slim space, choose from a rotating lineup of craft beers (Founders Red's Rye PA, Stone Smoked Porter, Left Hand Milk Stout) and all-American wines (an upstate dry riesling, a California cabernet). Post up at the 12-seat bar for a Rodenbach pint, or snag the long banquette in back for a meat-and-cheese plate (Murray's aged cheddar, dried sausage and pepperoni from Russo's). 341 E 9th St between First and Second Aves (347-224-1210)
Lady Moo-Moo Benoit Gerin—a former Jean Georges pastry chef—churns out frozen delights for his wholesale ice-cream company, including Wafels & Dinges' speculoos (a spiced Belgium cookie). Now Gerin debuts his first retail shop—a cheery yellow takeout window—offering classic flavors to Bed-Stuy locals. Choose from options like Tahitian vanilla and mint chocolate scooped into sugar or waffle cones. 365 Chauncey St between Howard and Ralph Aves, Bedford-Stuyvesant, Brooklyn (212-464-7104)
Milkflower New Jersey brothers Peter and Danny Aggelatos flip Neapolitan-style pies topped with Brooklyn Grange produce at this 30-seat joint. Wood-fired crusts are topped with creative combos like spicy sopressata and thyme honey; and brussels sprouts, farm egg and truffle oil. House-made country bread serves as the foundation for crostini slathered in ramp butter or spring-onion compote. The beer list also skews seasonal, highlighting American sips from Dogfish Head, Victory Brewing Company and Firestone. 34-12 31st Ave between 34th and 35th Sts, Astoria, Queens (718-204-1300)
New York Sushi Ko Sushi young gun John Daley earned his fish-slicing stripes at highfliers Masa, 15 East and Tokyo's renowned Sukeroku. On June 11th, the chef—whose devotion to the craft is spelled out in knuckle tats for "rice" and "fish"—rolls out his first solo venture, an 11-seat omakase restaurant, serving innovative nigiri and small plates. In addition to edomae, the traditionalist style of nigiri that calls for minimal accoutrements, the chef tops slivers of tuna and jackfish—sourced from Japan's prestigious Tsukiji and Honshu markets—with artful foams and gelées. For his tasting menu, Daley will also present composed dishes like a pork belly chawanmushi (egg custard), toro tartare with tuna chicharróns, and California uni with roe and ponzu foam—all served on plates kiln-fired by Brooklyn ceramicist Helen Levi. 91 Clinton St between Delancey and Rivington Sts (917-734-5857)
The Rusty Mackerel Uptown native James Moran (Olives, Chanterelle) plys Mediterranean small plates at this 35-seat Washington Heights restaurant. From an open kitchen, the chef sends out dishes that honor the neighborhood's diversity: stinging nettle and calabrese pepper flatbread, cod a la plancha topped with chickpea vinaigrette, and cauliflower in a golden-raisin chimichurri. Sommelier Marcella Smith (54 Below) curates a drinks list that includes a rhubarb-strawberry sangria on tap and six draft wines (cabernet franc, mourvèdre). 209 Pinehurst Ave between 186th and 187th Sts (212-928-0584)
Spina Having started as a wedding-planning firm, owners Vanessa Chinga-Haven and Paul Tsang-Diaz expanded their botanic offerings to include coffee and doughnuts at their light-wood Greenpoint storefront. When you're done perusing peonies, grab a tree-branch stool for a Blue Bottle coffee and doughnuts from Bed-Stuy bakery Dough, in flavors like mojito, dulce de leche and, fittingly, hibiscus. 107 Franklin St between Greenpoint Ave and Milton St, Greenpoint, Brooklyn (347-457-5385)
Splitty The craft-cocktail movement sweeps into Clinton Hill with this retro bar from Karin Stanley (Little Branch, Dutch Kills) and Andy McDowell (owner of Pete's Candy Store). Cork tiling outfit the camper-inspired drinkery—its moniker is the nickname for a 1960s Volkswagen bus. Behind the curved 20-seat bar, Stanley pours classics cocktails, along with Splitty specialties like the hot-sauce–laced Gordon's Breakfast and a rickey with fresh ginger juice. Boozehounds can also choose from ten draft beers (Hitachino Nest White Ale, Narragansett Lager) and 11 bottled or canned varieties (Crooked Tree IPA, Safe Harbor American Blonde Ale). Steamed buns—fillings include brisket pastrami, mushroom and onion, and banana with Nutella—pad stomachs for a night of drinking. 415 Myrtle Ave between Clinton and Vanderbilt Aves, Clinton Hill, Brooklyn (718-643-2867)
You might also like
---