Restaurant and bar openings: March 28-April 3, 2012
Aux Epices, Plan B and more open in New York.
By Caitlin Griffith and Christina Izzo Mon Mar 25 2013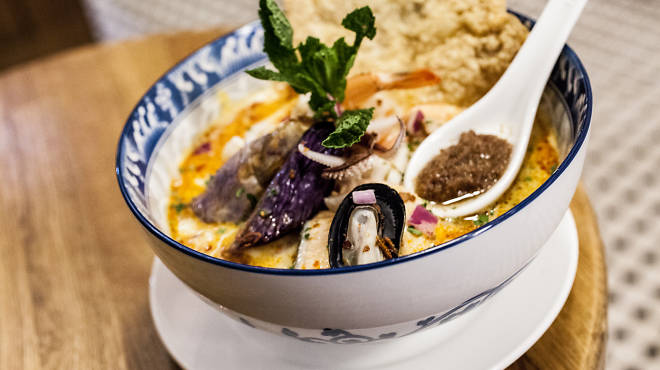 Seafood laksa at Aux Epices Photograph: Krista Schlueter
The following venues are expected to open by April 3rd. Always call ahead, as openings can be delayed.
Aux Epices Talk about a melting pot—French-Chinese husband-wife team Marc Kaczmarek and Mei Chau are dishing out traditional Malaysian to Little Italy. Chau (born to Chinese parents in Port Dickson, Malaysia) and her Parisian hubby reincarnate the East-meets-West vibe of their beloved Tribeca bistro, Franklin Station Cafe (shuttered in '08), at this bright, narrow restaurant. The teensy open kitchen supplies big portions of Malay homestyle fare, from laksa (spicy Peranakan noodle soup) to lemak (coconut milk rice, the country's national dish). Settle into the cream leather banquette for a spice-laden menu of curries (squid, mussels), turmeric-scented salmon and crispy duck rolls flavored with star anise—fittingly, the restaurant's name means "with spices" in French. The 550-square-foot spot is humbly decorated with old-fashioned tin ceilings, exposed brick and black-and-white tiled floors, with a rotating selection of Kaczmarek's own colorful photography of Manhattan street art. In springtime, the accordion front door opens onto Baxter, ideal for soaking in rays while enjoying the eatery's free Wi-Fi and sipping Malaysian brews (Tiger, Anchor). 121 Baxter St between Canal and Hester Sts (212-274-8585)
Bar Veloce Oenophilic restaurateur Frederick Twomey pulls a switcheroo, swapping in another Bar Veloce outpost in the former Bar Carrera space. Spanish wines and Basque small plates are exchanged for Italian vino and snacks. Bottles are sourced from all over the Boot (Pugliese reds, Sicilian whites, Lombardy rosé) and displayed behind the glossy wooden bar. Pair the boozy grapeage with charcuterie (air-dried beef, grana padano), bruschette (tuna and white bean) and panini (speck with cured apples and Taleggio, eggplant with anchovies and caper-mint pesto). 146 W Houston St at MacDougal St (212-253-9500)
Dos Toros Taqueria Bay Area transplants—and Cal-Mex-craving New Yorkers—can grab overstuffed burritos at this growing chainlet's first Brooklyn location. Brothers Leo and Oliver Kremer replicate the formula at their fourth taqueria: Choose your own protein—carne asada, pollo asado, carnitas or straight-up pinto beans—and fillings in any combination of rice, beans, salsa and guac, served as tacos, a gut-busting burrito, a cheesy quesadilla or a marginally lighter salad plate. At one of 18 stools, devour your meal with a Tecate or Negra Modelo at your elbow, as you watch the action on Bedford Avenue. 189 Bedford Ave between North 6th and 7th Sts, Williamsburg, Brooklyn (718-384-8833)
Duane Park Get dinner and a show—jazz, vaudeville or magic—at the burlesque venue Duane Park in the East Village, which shares its space with Bowery Poetry Club (readings are held on Sunday and Monday nights). Shrimp and grits or pan-roasted monkfish are on the Southern-inflected menu. The decadent surroundings feature crystal chandeliers, Corinthian-topped columns and a sweeping staircase. 308 Bowery between Bleecker and E Houston Sts (212-732-5555)
FIKA Tribeca & Chocolate Factory "Want to fika with me?" In New York, talk like that could get you slapped, but in Sweden, fika simply means "coffee break," and at this fifth iteration of the Scandinavian espresso-bar, you can break like a Nordic native. The 3,000-square-foot space is one part chocolate factory and one part coffeehouse, decked out with blown-up black-and-white Stockholm wall murals and sloped gray lounge seating. Score strong Scandinavian roasts, kanelbulle (cinnamon rolls) and marzipan creations during daylight hours. By night it's a small-plates bar, pouring European wines and Swedish beers to go along with bites like gravlax sliders, caviar-topped toast and, of course, meatballs. Master chocolatier Hakan Martensson oversees the factory operations, rolling out bonbons spiked with hazelnut and Himalayan salt, and hosting chocolate-making sessions that range from novice (two-hour) to expert (two-day). 450 Washington St between Desbrosses and Watts Sts (212-706-0565)
Ippin Ramenville welcomes yet another noodle den: Joining neighborhood favorites like Ippudo and Rai Rai Ken, Japanese toque Shoehi Chin (1 or 8) ladles out his own take on the Japanese staple. Along with traditional ramen varieties like shoyu (soy), shio (salt) and tantan-men (sesame sauce), Chin spices his signature bowl with dried chilies and curry, finished with a sprinkle of sesame seeds. At the white marble bar, nosh on izakaya-style small plates (octopus ceviche with Japanese yam, a sashimi-topped pancake), or watch sushi chefs roll up intricate maki rolls (the house special is filled with a salmon-yellowtail-tuna trio and topped with kani). Booze options include Sapporo beer, house wines and sakes, with 107 brews available at the bar (sparkling Hana Awaka, light Shiro Sasa). 141 First Ave between St. Marks Pl and E 9th St (646-547-1238)
Le Restaurant Ryan Tate (ex-Savoy) expands his duties at Tribeca bazaar All Good Things—where he runs two market stands—with this subterranean New American restaurant. At the minimalist spot, the toque turns out a daily-changing tasting menu—with a strict no-substitutions policy—featuring seasonal ingredients. Pastry chef Amadou Ly (Insieme, Mas farmhouse) oversees the desserts. 102 Franklin St between Church St and West Broadway (no phone yet)
Plan B With such a cheeky name, it's not surprising that this Nolita tapas joint isn't afraid to get a little naughty. Robert Hanechak (Bouley, Nobu) dispatches plates that are not for the gastronomically timid: a duck-heart duo of soufflé and pâté; python sausage outfitted with vinegared onions; and seared bull testicles with Yukon-potato mash. The digs are as, ahem, ballsy as the do-you-dare menu, looking to the edgy skate-park landscape of urban Bilbao and Barcelona for inspiration: Graffiti art brightens one wall, banquettes are covered in horsehide, while petrified barracudas and jars of octopus specimens offer a Dada touch. Chicken-wire wine cabinets house bottles of txakolina wine (also mixed into a cocktail with jalapeño tequila, pineapple, pomegranate, lemon and soda), port and sherry. Clover Club alum Ivy Mix consults on the cocktail program, employing Basque sloe-berry liqueur pacharan to lend a Spanish accent to a Pimm's cup (with ginger beer, orange, cucumber and mint). On your way out, grab a matchbook—they swap the flame-sparking sticks for condoms touting "Keep Calm and Have a Plan B." 244 Mulberry St between Prince and Spring Sts (212-775-0111)
Rex Coffee A concise menu of sandwiches—designed by former Red Rooster head chef Andrea Bergquist—is on offer at this Hell's Kitchen canteen. Counter Culture coffee supplies the beans for pour-overs and espresso drinks, while everything else is made in house—breakfast pastries, pickles for the Cubano sandwich, and cured salmon for pumpernickel-and-gravlax option. 864 Tenth Ave between 56th and 57th Sts (212-757-0580)
Sugar and Plumm Bleecker Street gains a sweets emporium, an offshoot of the uptown sugar-peddling bistro. Pastry whiz Pichet Ong and Parisian chocolatier Thierry Atlan are behind the treats: strawberry-poppy-seed macarons, ebelskivers (pancake pops), and whimsical chocolate creations in various shapes like high-heeled shoes and purses. 257 Bleecker St at Cornelia St (no phone yet)
Upright NYC The Greenpoint coffeehouse spins off a bi-level café-bar—featuring a downstairs game room with vintage pinball machines—in the West Village. In the morning, snag Ceci Cela pastries and pour-overs made with Brooklyn Roasting Company beans. At night there are 12 draft beers, featuring selections brewed in New York City, and more than 20 bottles from the rest of the country. On the menu: burgers, sausages and other beer-hall favorites. 547 Hudson St at Perry St (212-810-9944)
You might also like
---