Restaurant and bar openings: March 7-13, 2013
Montmartre, Pearl & Ash and more open in New York.
By Caitlin Griffith and Christina Izzo Mon Mar 4 2013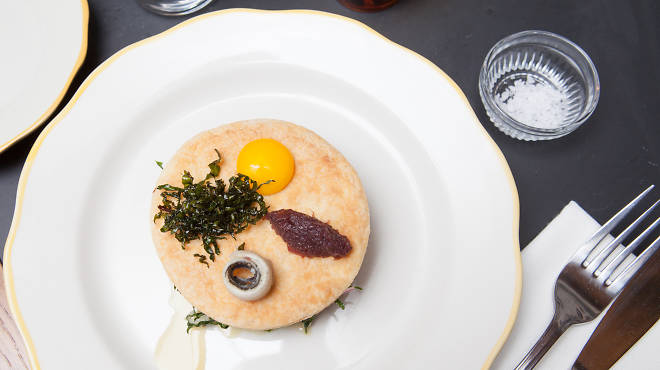 Tarte renversée at Montmartre Photograph: Jessica Lin
The following venues are expected to open by March 13th. Always call ahead, as openings can be delayed.
A.G. Bistro Spinning off of A.G. Kitchen comes this culture-crossing affair on the Upper West Side, rusticated with whitewashed brick walls, hand-painted pinup posters and dark wood tables. Consulting chef Gerry Hayden (North Fork Table & Inn) crafts a menu of cross-cultural small plates: chorizo in a blanket with saffron mustard; foie gras–stuffed prunes with Armagnac lavender honey; and mini meatballs au poivre. Cocktails are titled Tarantino-style by hue, with the Mr. Red coloring a classic Manhattan with grenadine and the Mr. Purple mixing up rum with egg whites and Parfait Amour. 520 Columbus Ave at 85th St (212-579-3194)
The Bronx Beer Hall Brothers and Bronx natives Paul and Anthony Ramirez pour local brews in the midst of the bustling Arthur Avenue Retail Market, a fixture of the area's Little Italy since 1940. The 18-foot-long reclaimed wood bar boasts five rotating drafts, featuring local Jonas Bronck's Pelham Bay IPA and Keegan's Mother's Milk, plus three canned offerings from New York state breweries. Chef and partner David Greco—also owner of Mike's Deli—serves up an eclectic menu, with dishes highlighting ingredients from market vendors, like crispy calf brains, baccalà fritters, and the osso buco– and truffle-stuffed sirloin burger. 2344 Arthur Ave at 187th St, The Bronx (718–295–5033)
Cantine Parisienne Anchoring the Nolitan Hotel, a Parisian café run by former Tartinery owners brings a breezy French attitude to downtown Manhattan. Bistro classics are given a light touch in dishes like salmon with candied fennel and carrot-ginger emulsion. 40 Kenmare St between Elizabeth and Mott Sts (212-966-2740)
Clarkson The West Village gains another seasonal, all-day bistro from small-plates authority Georges Forgeois, of Café Noir and Bar Tabac. Heading up the kitchen is chef Rebecca Weitzman, bringing along her European influences from time spent in the kitchens of 'inoteca and Thistle Hill Tavern. Booze bigwig Dushan Zaric (owner of Employees Only) supplies the cocktail menu with riffs on classics. 225 Varick St between Clarkson and W Houston Sts (212-675-2474)
Duke of Montrose The Scottish crew behind Caledonia and Isle of Skye wave their tartan flag with another whiskey-soaked ode to the motherland: a high-ceilinged space inspired by a modern distillery, all wooden beams and slate accents. Like its siblings, the Park Slope pub focuses on brown spirits hailing from the Highlands to Speyside, pouring out hard-to-say but easy-to-swallow single-malts from Glendronach, Ardbeg and Lagavulin, as well as Scottish beers like Skull Splitter and Thistly Cross. The owners enlisted art students from their hometown of Dundee to create a large Scotland-themed mural, which depicts images from the city, as well as the 15th-century dukes for which the bar is named. 47 Fifth Ave at Bergen St, Park Slope, Brooklyn (212-879-0402)
Feast The best kind of dinner party is one where you don't have to lift a finger—and that's what toque Chris Meenan (Veritas) is after with this rustic, family-style eatery. Designed with group dining in mind, the space is dominated by wooden farm tables, adorned with homey antique wares like a cast-iron stove, hay pulleys and candlestick phones retrofitted as light fixtures. The menu features three types of large-format meals: regional American (such as a New Orleans–themed affair featuring blackened sea scallops, smoked-duck gumbo and boiled crawfish); a seasonal, market-driven spread teeming with spaghetti squash, mushroom strudel and beet "frites"; and a nose-to-tail experience starring a rotating cast of beasts. 102 Third Ave between 12th and 13th Sts (212-254-8880)
Heritage Wines Charles McMickens, owner of neighborhood darling the General Greene, opens a boutique wineshop nearby. Categorized by region, the selection emphasizes biodynamic, cool-climate and high-elevation wines, in a space styled like a European wine cellar. 237 DeKalb Ave between Clermont and Vanderbilt Aves, Fort Greene, Brooklyn (718-237-1525)
Ichabod's Eric Sherman and Brian Krawitz have a serious literary crush on Washington Irving, operating two watering holes named after the Sleepy Hollow penman: The Headless Horseman in Flatiron, and this woodsy, bookish den named after Irving's timid hero Ichabod Crane right around the corner. The homage is reflected in the decor—evoking an upstate farm with reclaimed barn wood, vintage leather and exposed ceiling beams—and the rustic menu, from chef Matthew Etchemendy (Koi). Roasted duck leg is paired with huckleberries, seared brook trout is topped with hazelnuts, and flowering kale is coated in hot cider vinaigrette. The bar, supervised by Mulberry Project vet Jeremy Strawn, gives 19th-century quaffs a contemporary twist: A Sazerac is made modern with bacon-washed rye and maple syrup. 15 Irving Pl between 15th and 16th Sts (212-777-5102)
Mira Sushi & Izakaya Andrew Lee transforms his former Silk Rd Tavern space into a Japanese gastropub, decorated with vibrant triptych art and exposed-brick walls. Ex–Telepan toque Brian Tsao heads the kitchen, flexing his fusion muscles on dishes like beef bulgogi tacos made with wonton skins, and sloppy joes stuffed with Kurobuta ground pork, sour mustard and panko, as well as offering classic Japanese pub grub like yakitori (grilled chicken skewers) and gyoza (panfried pot stickers). Owen Wu, who put in nori-wrapping years at Nobu 57 and Momoya, mans a cuisine-crossing sushi menu of mango-salmon "Miami Vice" rolls and Cajun-seared tuna. 46 W 22nd St between Fifth and Sixth Aves (212-989-7889)
Montmartre Gabriel Stulman—prolific West Village empire builder—has been on a tear as of late, wrangling übertalented toques for his constellation of buzzy downtown gems: Michael Toscano at Perla, Mehdi Brunet-Benkritly at Fedora and Chez Sardine. For his sixth restaurant, he's landed the biggest name yet: Former Momofuku top brass Tien Ho (once executive chef at Ssäm Bar and Má Pêche) will make his highly anticipated return to the scene with this French-American bistro. In a departure from Momofuku's inventive Asian menu, Ho will draw on his Café Boulud days for approachable French fare, including dishes like veal blanquette served with thumbelina carrots and mustard spaetzle, and saucisson a l'ail (garlic sausage) with wild Burgundy snails and Swiss chard. Take your dinner at an oak-and-slate table, or post up at the six-stool bar for Gallic wines and eclectic cocktails (tequila and sherry with jasmine pearls; rye with herb liqueur and Amaro Montenegro). 158 Eighth Ave between 17th and 18th Sts (646-596-8838)
Num Pang Sandwich Shop The Southeast Asian sammie favorite amps up its usual bread-based offerings for this 30-seat location in NoMad. Signatures of the other locations, like colorful graffiti walls and the eponymous sandwiches (pork belly with pickled pear, coconut-coated tiger shrimp), will appease devotees. And this location is the first with a liquor license, pouring out a rotating selection of local and Asian brews (Tiger, Anchor) and ginger-infused Cambodian sangria bobbing with mango, papaya and lychee. Fizzy root beers and cream sodas, along with old-school tiling, nod to the space's roots as a 20th-century soda fountain. 1129 Broadway between 25th and 26th Sts (212-647-8889)
Pearl & Ash Richard Kuo—who made a splash with New Nordic pop-up Frej—goes decidedly non-Scandinavian with this globe-trotting LES small-plates spot. The inventive chef composes ama-ebi (spot-prawn sushi) with smoked lime yogurt and bee pollen; quail accented with pomegranate and chicken skin; and Fernet Branca ice cream sandwiches. The bar program is equally ambitious, with a 1,000-bottle wine cellar overseen by former Gilt sommelier Patrick Cappiello, and aperitif-infused cocktails (sherry with Zucca and egg yolk, stout with Pineau des Charentes), courtesy of mixologist Eben Klemm. Playing up the duality of the restaurant's name, the 62-seat space is decked out with dark subway tiles and light poplar wood, as well as old-timey knickknacks like Kodak cameras and vintage stemware. 220 Bowery between Prince and Spring Sts (212-837-2370)
Pizza da Solo Prime Grill restaurateur Joey Allaham enlisted pizza maestro Giulio Adriani (Forcella) for this kosher takeout pie joint. The spot nods to to the fried-pizza craze, with all 12 individual pies dunked in hot oil before being finished in a 1,000-degree wood-burning oven. Choose from toppings like smoked salmon and house-made mozzarella, or ricotta, arugula, truffle oil and shaved black truffles on your Orthodox round. 550 Madison Ave at 56th St (212-602-1808)

Sarabeth's Baking maven Sarabeth Levine adds an 11th location—the largest at 9,360 square feet—to her ever-growing empire of charming homestyle eateries. Along with Sarabeth's signature unfussy fare (root-beer-glazed short ribs, bourbon-braised pork belly), the high-ceilinged space revs up the late-night program of bar bites and cocktails. The sleek, 18-seat marble bar plies pickled Bloody Marys and elderflower-infused champagne lemonade, which you can soak up with chickpea fries, beef tartare and raspberry bread pudding in the plush striped banquettes. 381 Park Ave South at 27th St (212–335–0093)
Skinny Dennis Throw back a bourbon-spiked sweet tea—served in a Texas-sized mason jar—at this Williamsburg honky-tonk, from the owners of Luckydog. Imbibers can also sip the Dr. G—a Guinness-and–Dr Pepper concoction—while listening to local musicians on Mondays, Wednesdays, Thursdays and Saturdays. Sought-after seating includes a 1981 Ford F100 pickup bench and a cushioned church pew. 152 Metropolitan Ave at Berry St, Williamsburg, Brooklyn (212-555-1212)
Slide Slider flights, boozy milk shakes and cocktail-inspired cannoli are the focus of this brick-walled 50-seat spot. Iron Chef champ Madison Cowan oversees a playful menu of shareable miniburgers (ranging from classic beef to exotic game like ostrich and gator), sweet-potato fries, creamy corn pudding and spicy slaw. At the bar, salted dulce de leche shakes get jiggered with Modelo Especial and cocktails are infused with balsamic reductions and Thai chilies. The cannoli program continues the boozy theme—Anthony Fontana (Stuffed Artisan Cannolis) models his tubular pastries after margaritas and mudslides. 174 Bleecker St between MacDougal and Sullivan Sts (212-777-9077)
Tørst Denmark's indie-beer maestro Jeppe Jarnit-Bjergsø (Evil Twin Brewing) plants a flag in Brooklyn with a high-minded Greenpoint alehouse. Keyed-in drinkers can scratch their chins over 21 elite drafts, including some made exclusively for the bar by cutting-edge brewers such as Jean van Roy of Brussels' Cantillon, and experimental tinkerings from up-and-coming cult producers like De Molen (Netherlands) and Omnipollo (Sweden). Designed by voguish Brooklyn firm hOmE (Donna, Paulie Gee's), the 45-seat bar—named after the Danish word for "thirst"—reflects Scandinavian minimalism, with dark reclaimed wood and angular light fixtures. 615 Manhattan Ave between Driggs and Nassau Aves, Greenpoint, Brooklyn (718-389-6034)
Yuji Ramen Yuji Ramen—turning out noodle bowls and a seated omakase menu—pops up at the Smorgasburg Bowery at Whole Foods Market. On offer is a daily takeout selection of new ramen preparations—both with broth as a daily shoyu (soy sauce) option and without, like the bacon-and-egg mazemen. Yuji Haraguchi has also expanded his offerings to include omakase dinners: Tuesday through Friday, diners at the six-seat counter can taste menu highlights, such as his popular uni-topped ramen, brothless mazemen noodles, and inspired seafood combinations like tuna with fried chili, nori and Chinese broccoli. 95 E Houston St at Bowery (212-420-1320)
You might also like
---