Restaurant and bar openings: May 16-22, 2013
Betony, Costata and more roll out in Gotham.
By Christina Izzo and Patty Lee Mon May 13 2013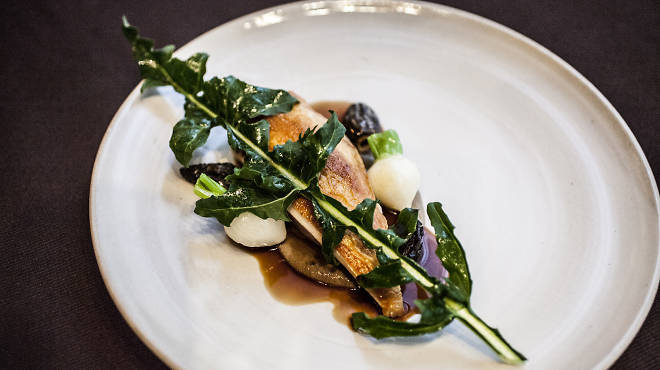 Roasted chicken at Betony Photograph: Krista Schlueter
The following venues are expected to open by May 22nd. Always call ahead, as openings can be delayed.
Betony Fine-dining heavy-hitters breathe life into the flat-lined Brasserie Pushkin space, revamped as a refined New American restaurant. Former Eleven Madison Park cohorts Bryce Shuman and Eamon Rockey (who's behind white-hot foraging dens Aska and Atera) take over the kitchen and front of the house, while EMP wine director Luke Wohlers oversees the bar. In the 85-seat dining room-styled with ornate woodwork-tuck into Shuman's composed, market-driven fare: puffed rice topped with marinated trout roe; asparagus pappardelle laced with cheese curds; and roasted chicken alongside morels and baby turnips. Breads, including cheddar lavash and caraway rolls, are baked in-house, and the coffee is made with Stumptown beans. At the mirrored bar, Wohlers helms a program of old-world wines, international beers and cocktails rooted in the classics: The Ward 8 blends bourbon, lemon, orange and grenadine, while the Desert Shandy stirs sherry vinegar, apricot liqueur, orgeat and pilsner. Large windows look onto the avenue, and street portraits from James Beard-nominated photographer Nathan Rawlinson line the walls. 41 W 57th St between Fifth and Sixth Aves (212-465-2400)
Costata Empire builder Michael White, who put in time in Italy and at Chicago's lauded Spiaggia, made his New York debut at Fiamma, located in a snug townhouse on the edge of Soho. Now White-who has since rolled out four restaurants spanning the range of Italian cuisines, from high-minded Marea to pizzeria Nicoletta-returns to that space, with this elegant 140-seat steakhouse. The bi-level spot, given a downtown edge with abstract paintings by British artist Nasser Azam, is helmed by PJ Calapa, White's executive chef at swanky hotel restaurant Ai Fiori. Calapa turns out meaty fare such as a behemoth tomahawk chop and a fiorentina prime porterhouse for two (steaks are sourced from Creekstone Farms and aged for at least 28 days). Lighter dishes include seafood crudos (fennel-spiced razor clams with soppressata, tuna lardo in aged sherry) and handmade pastas (agnolotti in sugo di arrosto). To drink: a selection of 500 wines-mostly from Italy, France and the States-and gin martinis crafted by bartender Eben Freeman. 206 Spring St between Sixth Ave and Sullivan St (212-334-3320)
The Fourth Following French charmer Tocqueville and glossy sushi temple 15 East, husband-wife team Jo-Ann Makovitzky and Marco Moreira go all-American with this Village brasserie. Off the lobby of the Hyatt Union Square, the bi-level space is divided into three sections: a café, pouring the couple's coffee brand, Café Quatrième; a bar kitted out with farmhouse benches and milking stools; and a red-hued dining room serving contemporary, seasonal fare. Fine-dining vet Michael Davis (Del Posto, Gilt) plates house-made paccherie with California uni and Montauk squid; Amish country chicken drizzled with chili-lemon vinaigrette; and roasted leg of lamb over shelling beans. Along with wide French doors that open for alfresco dining, the restaurant is outfitted with bubble chandeliers, graffiti art and a massive art installation-beds suspended by wood-carved chains hang from the 30-foot-high ceiling. 132 Fourth Ave at 13th St (212-432-1324)
Hill & Dale Sip fruity tipples at this Lower East Side drinkery filled with musical decor. The 64-seat lounge-brimming with throwback flourishes like Edison bulbs and zinc high-top tables-takes its name from a vintage recording technique that generated sound as a stylus cut up and down through a disc. Audio references are scattered throughout the space, including phonograph wallpaper and a cabinet filled with antique radios. Post up at the 15-seat mahogany bar, where a barkeep shakes up cocktails like the Dizzy Dishes (prosecco, rose-water liquor and pickled strawberries) and Menlo Punch (gin, house-made Arnold Palmer, rosemary and thyme). Chef Justin Farmer (of the Brooklyneer and Manhattan Inn) turns out updated bar snacks, such as lobster cakes, pork-belly-topped deviled eggs, and roasted bone marrow with- mushrooms and gremolata. 115 Allen St at Delancey St (212-420-1115)
Hybird Questlove ain't letting David Chang-whom he famously challenged to a fried-chicken throwdown on Late Night with Jimmy Fallon-stop him from conquering the food world. The Roots drummer makes his culinary debut with this standing-only joint inside Chelsea Market, peddling buttermilk-soak drumsticks. The chef-musician expands his offerings beyond the bird with cross-cultural dishes such as truffled-egg dumplings, coconut-and-lemongrass cupcakes, and watermelon jalapeño slushes. Grab your order from a striped counter manned by staff in stylish tees custom-designed by Filip Pagowski, the graphic artist behind Comme Des Garcons' heart-shaped logo. Chelsea Market, 75 Ninth Ave between 15th and 16th Sts (212-989-3332)
Parker & Quinn A retro-tinged American bistro serves locally-sourced regional fare in Refinery Hotel. Chef Jeffrey Forrest (Soho Grand, the Plaza Food Hall) doles out upscale comfort food: beer-spiked corn bread with coriander-honey butter; scallop mussel escabeche; and red swamp crawfish with andouille sausage and sweet corn. Mixologist Alex Ott (Buddha Bar, Sushi Samba) complements Forrest's cuisine with beer and wine pairings, and offers VIP liquor lockers for regulars to store their favorite bottles. The space has a Prohibition vibe, sporting 1920s Carrara bar tops and-yawn-a speakeasy-style hidden entrance in the back. 62 W 39th St between Fifth and Sixth Aves (212-729-0277)
Preserve24 Preserve is right-nearly every inch of this rustic American eatery is a nod to old New York. Housed in a trio of century-old Lower East Side tenements, the 145-seat bi-level restaurant is trimmed in antique trappings: Deconstructed pianos serve as the back bar, and the grand staircase is made of cast iron and glass from Soho sidewalks and a Victorian pedestrian bridge. A 19th-century oyster boat has been thrown on its side and converted into a raw bar, shucking East Point bivalves, crab claws and crudo. Along with the raw bites, chef John Parlatore (Fig & Olive) offers fennel-crusted upstate veal chop, whole-roasted porgy and a 28-day aged rib eye from the kitchen's giant wood-burning oven. Beverage options include draft beers (Empire IPA, Kelso Pilsner), whiskey slugs (Four Roses Single Barrel, Lagavulin 16-year) and cocktails: The Dead Reckoning is made with mescal, Velvet Falernum, lime, banana, parsley and honey. 175-177 E Houston St between Allen and Essex Sts (646-837-6100)
Reichenbach Hall Midtown office workers can fill up on German suds and sausages at this sprawling beer garden, from Willy and Keith Reichenbach (Hop Devil Grill, David Copperfield's). The 5,000-square-foot hall-outfitted with communal tables, handcrafted stools and iron chandeliers-honors the beer-loving siblings' German heritage. Nab a seat at the wood-paneled bar for a Deutsch-leaning selection of 14 drafts (Spaten Oktoberfest, Hofbrau Original and a house pale lager), along with a rotating selection of schnapps and European wines. Drawing from childhood meals at their grandparents' house, the Queens-born duo put together a menu of traditional bierhaus bites, including cheese-stuffed sausages and a giant soft pretzel paired with chicken-liver mousse and obatzda (a cheese-and-beer dip). 5 W 37th St between Fifth and Sixth Aves (212-302-7744)
Rhong Tiam Supreme Burger Truck Andy Yang takes to the street for his latest venture-a roving truck serving Thai-inspired burgers. Look for combinations inspired by the flavors of Indonesia, Malaysia and China: General Tso (chili, steamed broccoli), Green Curry Aioli (basil, eggplant relish, pineapple) and the Yang (caramelized mushrooms and onions, sriracha aioli). He also doles out light bites from the sleek black-and-red truck, including curry chicken-stuffed empanadas, Peking-duck rolls and papaya slaw. To drink: Thai tea, root beer and a choice of three shakes (chocolate Nutella, green-tea strawberry and salted caramel vanilla). For locations, visit twitter.com/rhongtiam (401-287-4379)
River Styx The Greenpoint waterfront gets an infusion of Mediterranean dining with this 74-seat restaurant, from the crew behind Roebling Tea Room. Chef Dennis Spina crafts a menu highlighting sustainably sourced seafood, including a shellfish stew, and a giant raviolo topped with Taleggio, ramps and bottarga. He also spins thin-crust pizzetas from a red wood-fired oven in the open kitchen. Shore-inspired accents fill the 1,900-square-foot room, including a colorful tiled floor, glass light fixtures and sandy pink wall. Former Isa bartender Dmitri Bartlett mans the marble-topped bar, pouring all-natural European wines and Tiki cocktails, like a serrano-infused tequila and rye-whiskey-and-applejack sour. 21 Greenpoint Ave between the East River and West St, Greenpoint, Brooklyn (718-383-8833)
Sweet Science Taking over a Graham Avenue corner, Matthew Maddy (Weather Up) slings elevated bar bites, craft beers and cocktails at this white-tiled Bushwick gastropub. Teaming with two fellow Brooklynites (Flatbush Farm's Damon Gorton and James Freeman from Clem's), Maddy enlists chef Christopher Daly to run the kitchen, serving shrimp cocktail alongside tomato-orange sangrita; tempura-fried pickles with a balsamic reduction; and a burger topped with maple-glazed pineapple and an egg. Sidle up to the horseshoe-shaped wooden bar for draft brews (Breckenridge Agave Wheat, Radeberger Pilsner), wallet-friendly cans (Red Stripe, Tecate) and cocktails, many made with Jamaican grapefruit soda Ting, including the gin-based Crooklyn. 135 Graham Ave at Johnson Ave, Bushwick, Brooklyn (347-763-0872)
You might also like
---