Restaurant and bar openings: May 30-June 5, 2013
The Musket Room, Omar's and more launch in Gotham.
By Christina Izzo and Patty Lee Tue May 28 2013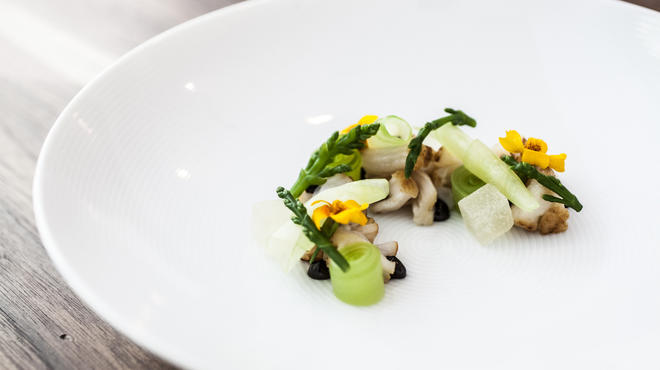 Scallops at the Musket Room Photograph: Krista Schlueter
The following venues are expected to open by June 5th. Always call ahead, as openings can be delayed.
Anassa Taverna Greek native Nikos Karvelas (of Athens fine-dining spot Varoulko) reps his heritage at this bi-level seafood taverna. Exposed-brick walls and white leather banquettes line the 3,000-square-foot corner restaurant, which hawks traditional evil-eye baubles and komboloi worry beads in the front. The menu features grilled dishes, like swordfish kebabs with split-pea mousse, lavraki (sea bass) and capers, and Maine lobster with lemon sauce. Choose from more than 85 wines, including bottles by Hellenic producers Domaine Gerovassiliou and Biblia Chora. 200 E 60th St at Third Ave (212-371-5200)
Brasserie Cognac East Alain Ducasse alum Florian V. Hugo honors his Provence roots at this UES spin-off of midtown's Brasserie Cognac. The bi-level restaurant evinces a split personality: The first floor is outfitted in traditional bistro decor (red leather banquettes, vintage mirrors), while the second skews modern (purple walls, silver chandeliers). Daily specials are scrawled on a winding staircase covered in black chalkboard paint. Hugo dispatches classic brasserie fare—niçoise salad and fillet au poivre, plus sweet and savory soufflés. Post up at the five-seat brass bar for 50 varieties of cognac (Rémy Martin, Leopold Gourmel) and three French beers on tap (a Jenlain blond and two Pietra ales). 963 Lexington Ave at 70th St (212-249-5100)
Bún-Ker An Eleven Madison Park alum dishes out seafood-leaning Vietnamese (chili mackerel banh mi, turmeric salmon on vermicelli) at this 24-seat den in Queens. 46-63 Metropolitan Ave between Onderdonk and Woodward Aves, Ridgewood, Queens (718-386-4282)
Del's NYC Newport, RI, transplant Cameron Crockford brings his favorite summer drink—a beloved frozen lemonade produced by Rhode Island company Del's—to New York City. From this roving green Chevy, you'll find two standbys: the classic lemon, laced with chunks of frozen citrus peels, and sweet watermelon. For locations, visit twitter.com/delsny
Don Nico's This shipping-container-turned-takeout-counter doles out Mexican snacks (flautas, tacos, tostadas) and five flavors of Jarritos soda. Albee Sq between Bond St and DeKalb Ave (718-288-0107)
Fletcher's Brooklyn Barbecue The Gowanus 'cue cafeteria launches a seasonal smoked-meat spin-off at Hudson River Park. The meat-slicing duo of Bill Fletcher and Matt Fisher serve their barbecue as sandwiches (chicken with Brooklyn white sauce; pork with vinegar and slaw), as well as rotating specials, including a BBQ hot link in a Martin's potato bun with peppers and onions, and tri-tip tacos with pico de gallo and red onion. Each order comes with house-cured fridge pickles and potato chips. The stand, housed inside a recycled shipping container, is part of a 170,000-square-foot open-air market on Pier 57, which also features vendors like Van Leeuwen ice cream, Butcher's Daughter and Cold Process Coffee. Hudson River Park at Pier 57 between 14th and 15th Sts (347-763-2680)
Harlem Shake Stop rolling your eyes—there are no brain-melting viral videos to be found at this Harlem burger-and-shake shack. Instead, the teal-and-tin den takes its name from the real Harlem Shake, the '80s dance created by a local known as Al B. Such old-school nods don't stop at the name: From the soul classics coming through the speakers to the vintage Jet covers lining the bathroom walls, the joint evokes a mid-20th-century dinette. Slip into a vinyl booth under a neon "burger" sign for a griddle-pressed Hot Mess (double cheeseburger with pickled-cherry-pepper–bacon relish) or Jerk Fry (topped with jerk-seasoned fries and smoked jerk mayo). Condiments are made in house, like the cherry-pepper–bacon relish that coats the deep-fried Sonoran Dog. Also on offer: patty melts, fried-chicken sandwiches and sweet-potato fries crisped in beef tallow. From the retro Coke machine behind the counter come regional sodas like Carolina Cheerwine and Vernors Detroit ginger soda, while shakes are hand-spun with Blue Marble ice cream, in flavors such as red velvet, salted caramel and peanut butter. Draft beers including Kelso Recessionator Dark Amber and 21st Amendment Watermelon Wheat are available, as well as bottles of Sugar Hill, Mother's Milk Stout and Red Stripe. 100 W 124th St between Malcolm X Blvd (Lenox Ave) and Adam Clayton Powell Jr. Blvd (Seventh Ave) (646-508-5657)
Jinya Ramen Bar Slurp tonkotsu (pork bone) ramen at the first NYC outpost of this Tokyo minichain. 24 Greenwich Ave between Charles and W 10th Sts (646-329-6856)
Loli's Taqueria Jose and Giovanni Ventura—the brothers behind Casa Ventura—ply locavore tacos and organic sangria at this bright Park Slope nook. A chalkboard touts seasonal ingredients: carrots and onions from Dagele Brothers Produce in Florida, NY; honey and eggs from upstate's Finster Honey Farms. The menu is divided into two sections: Mexican-style street tacos (braised beef tongue with radish; pork with sour orange and achiote), and more eclectic tacos, such as roasted beets with queso fresco or jerk tiger shrimp with mango-mint salsita and pineapple slaw. Along with the tacos, the brothers whip up Latin American staples like tortas, tostadas, ceviche and enchiladas. Grab a cherrywood stool at the marble-topped bar for tortilla chips and roasted tomato salsa to accompany a cold one; cervezas also skew local, with Captain Lawrence Pale Ale and Brooklyn Brewery Lager on tap. Meanwhile, sangrias come in seasonal flavors: strawberry, peach-and-grape and toasted coconut. 396 Sixth Ave between 6th and 7th Sts, Park Slope, Brooklyn (718-715-0392)
Milk & Honey Café Ditmas Park java fiends can get a caffeine boost at this second coffeeshop from the owner of nearby Qathra Café. The 1,000-square-foot room—filled with reclaimed-wooden tables and steel stools—boasts a 35-seat bar, where baristas make pour-overs from Counter Culture blends with a Chemex or Hario V60 brewer. Espressos are pulled from a top-of-the-line La Marzocco Strada. To eat: a selection of Balthazar pastries and house-made sandwiches and salads, filled with herbs grown along a planter-lined wall. 1119 Newkirk Ave at Westminster Rd, Ditmas Park, Brooklyn (718-513-0441)
The Musket Room From Mexican to Malaysian, New Yorkers have a world's worth of cuisines at their fingertips, yet New Zealand fare is as scarce as on-time subways. Auckland native Matt Lambert (Public, Saxon + Parole) aims to change that with this rustic Nolita den, decked out with lime-washed exposed brick and midcentury brass chandeliers. Lambert's contemporary menu melds his French training with the Asian influences of his hometown: fried bone marrow with citrus and uni; slow-poached Ora king salmon with quinoa, wasabi and roe; and venison saddle spiked with gin, fennel, lychee and licorice. Desserts include Kiwi standbys like passion-fruit pavlova with salted clotted cream and baba au rhum with ginger-lime cotton candy. Snack on foie gras bonbons at the 20-foot-long walnut-timber bar, where New Zealand's sole master sommelier, Cameron Douglas, curates a program of Australian and New Zealander wines. 265 Elizabeth St between E Houston and Prince Sts (212-219-0764)
OddFellows Ice Cream Co. Former wd~50 pastry chef Sam Mason—of BK dive Lady Jay's and artisanal condiment company Empire Mayonnaise—returns to his sweet roots with this 20-seat ice cream parlor in Williamsburg. Inspired by old-school soda fountains, Mason fills the lofty beige room with vintage accents, including a chalkboard menu, custom wooden stools and dangling schoolhouse lights. A rotating selection of 12 ice creams—served in cups or hand-rolled cones—showcases his avant-garde repertoire with flavors like corn bread and chorizo-caramel (the eccentric combos inspired the shop's name), along with more familiar options such chocolate chunk and burnt marshmallow. Nab a seat at the red-topped counter for house-made sodas and thick shakes spun from the daily offerings. 175 Kent Ave between North 3rd and 4th Sts, Williamsburg, Brooklyn (347-599-0556)
Omar's Omar Hernandez (the Lion, Hotel American) has a fitting job title: ambience director. At his eponymous restaurant-cum-supper-club, the nightlife fixture conjures old-school members-only dens like '60s-era Annabels in London. The 4,000-square-foot space—in a historic Gold Coast brownstone—is divided into two areas: a restaurant called La Ranita in front, and a private dining room in back. Fine-dining vet Kenny Cuomo (Blue Hill, Per Se) helms the Art Deco–style restaurant, dispatching New American plates with Mediterranean touches. Slip past the white marble bar to the mirrored dining room in back, and sink into a saddle leather banquette for sweetbreads with mushroom escabèche and ramps; charred mackerel with pipirrana and saffron crumble; and coffee-rubbed pork loin with chicory and sunchokes. Cocktails also have a seasonal edge: The Dahlia stirs vodka with passion fruit, cardamom and star anise, while the gin-based Sardinia has blood orange, grapefruit, lemon and fennel. The invite-only supper club features a fireplace-lit library bar, a solarium and a wine cellar. There, Cuomo supplies a "spontaneous tasting menu," at-whim American dishes tailored to diners' preferences. 23 W 9th St between Fifth and Sixth Aves (212-677-5242)
SmorgasBar Smorgasburg expands with a boozy seasonal offshoot at the South Street Seaport, outfitted with a 300-seat beer garden and eight 'burg vendors. From Memorial Day weekend through October, a dozen market favorites—including Brooklyn Oyster Party, Asia Dog, Landhaus and Pizza Moto—hawk their goods at a Front Street marketplace. Two makeshift bars—set inside and atop old shipping containers—service the 300-seat beer garden, pouring brews like Captain Lawrence Kölsch and Sixpoint Sweet Action, as well as wines and cocktails. Bartenders fizz up vodka, tequila, bourbon or rum with Brooklyn Soda Works pop (grapefruit-jalapeño-honey). Slushies from Kelvin Natural Slush Co. also get spiked with hooch for an adult icy treat. Front St between Beekman and Fulton Sts (no phone)
Xi'an Famous Foods Food & Drink Award winner Jason Wang expands his Chinese chainlet to midtown, with this 18-seat outpost. Like its sister locations, this fifth branch showcases the mouth-tingling cuisine of Xi'an—once the starting point of the Silk Road—with a short menu of hand-pulled noodles and cumin-spiced lamb burgers. Chow down at a wooden counter in the back as a hi-def TV plays clips of Wang and his father stretching noodles. 24 W 45th St between Fifth and Sixth Aves (no phone)
You might also like
---