Smoked-meats glossary: Must-know BBQ terms
Learn how to talk 'cue like a true pit master with our smoked-meats glossary, packed with in-the-know BBQ vocab.
By Christina Izzo Tue May 28 2013

Know Mr. Brown from Mrs. White? A smoke ring from a sugar cookie? With TONY's handy smoked-meats glossary, you'll be talking 'cue like a true barbecue pit master in no time.

RECOMMENDED: Guide to the best BBQ in NYC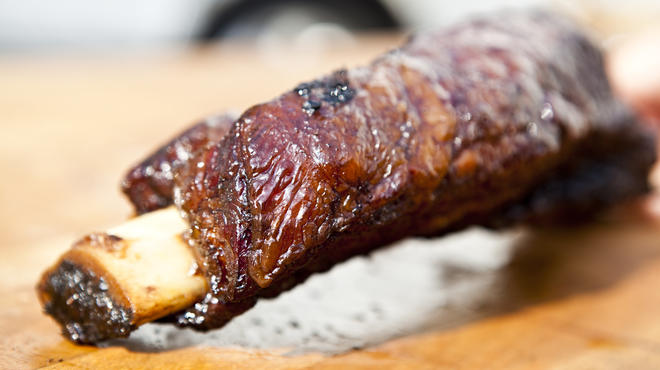 Beef Rib at SmokeLine Photograph: Jessica Lin
Black and blue
Red meat that's charred on the outside and "blue" (or very rare) on the inside

Cadillac cut
A term used in barbecue competitions for a cut of rib that goes all the way down to the adjacent bone on each side, resulting in a large, meaty piece. Also known as the Hollywood cut.

Egghead
A pit master who uses the Big Green Egg ceramic grill (affectionately known as Humpty) exclusively

Fat cap
The thick layer of fat between the meat and the skin

GBD
Golden brown and delicious—the motto for good barbecue

Knife and fork
Objects that are never allowed near ribs

Lump
The favored charcoal of serious 'cuers, lump contains only burning wood, with no additives or by-products like sawdust. It burns hotter and longer and has a flavorful smoke.

Maillard reaction
The chemical reaction between amino acids and sugars that browns a food's surface, giving barbecue its crackling bark

Mr. Brown
The browned, rub-seasoned crust that forms on the outside of barbecued meat

Mrs. White
The fatty, moist inside of barbecued meat

Mop
A thin sauce often brushed onto meat

Naked
Meat cooked sans pan or foil on the grill

Polypitist
A pit master with more than one BBQ pit in his or her backyard

Reverse sear
Cooking over indirect heat to gently raise the temperature of the meat's center

Skin 'n' trim
To prepare a slab of ribs: Excess fat, loose flaps of meat and the thick membrane on the concave underside are cut away.

Smoke ring
The moneymaker pink layer near the meat's surface, resulting from a chemical reaction to wood smoke

Sugar cookie
A sweet, crunchy bit of surface fat embedded with spices

Texas crutch
Aluminum foil wrapped around meat with a little liquid (water, juice, beer) to prevent dryness and accelerate the cooking process

Whitebone
A sign that ribs have been overcooked. If you pull on two adjacent ribs and one "whitebones," the meat pulls off the bone, leaving it white
You might also like
---
Food & Drink events calendar
@TimeOutNewYork
Subscribe to Time Out New York on Spotify for playlists and recommendations from our Music team.


Check out New York's best restaurants, hottest street style, cool apartments and more.