Where to eat and drink in NYC post-Hurricane Sandy
Looking for a spot serving food and drinks after Hurricane Sandy? Use this NYC neighborhood guide to find out which restaurants and bars are open near you.
By Time Out editors Wed Oct 31 2012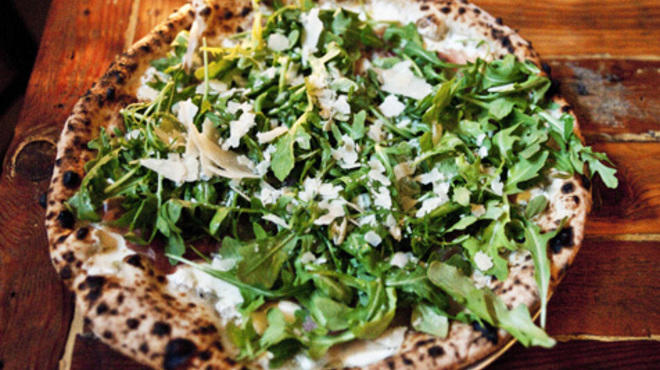 Photo: Noah Fecks
Hurricane Sandy's record-breaking wrath may have knocked out much of New York's power, but Gotham's hunger abides. These restaurants and bars are bravely throwing open their doors in the hurricane's immediate aftermath. Remember to tip your servers, baristas and bartenders generously—many have gone without much-needed wages for a few days.
RELATED: Three ways you can help the NYC food industry after Hurricane Sandy
Got a tip on spots open in your 'hood? Send us a line at food.ny@timeout.com or tweet @thefeednyc.
MANHATTAN

CHINATOWN
A-Wah

Bacaro (Tue 6)

Nom Wah

Noodle Village
WEST VILLAGE

Barbuto

Barraca
Bosie Tea Parlor

Coppelia (starting at 5pm on Sat 3)

Ditch Plains

Empellon Taqueria

El Toro Blanco

En Japanese Brasserie

Fedora

Il Buco Alimentari & Vineria
Joseph Leonard

Joe

Kin Shop

Left Bank

Little Owl

Minetta Tavern

Perilla

Perla

Pizza Roma

Recette

The Spotted Pig (drinks only)
CHELSEA

The Americano

Co.

Colicchio & Sons

Grand Sichuan

Hill Country

HogPit

Melt Shop

Morimoto

The Red Cat

Pounds & Ounces

Txikito
SOHO

Balthazar
City Winery (limited hours)

The Dutch

508 GastroBrewery

Hundred Acres

Miss Lily's Favourite Cakes

Osteria Morini

Pegu Club
NOLITA

Balaboosta
Socarrat Nolita

EAST VILLAGE
Booker and Dax

Cienfuegos

Crif Dogs

Death & Company

Empellon Cocina (Tue 6)

Everyman Espresso

Forcella

Gin Palace

Hearth

Hecho en Dumbo

Idle Hands Bar

Jimmy's No. 43

The Library at the Public Theater

Lil Frankie's

Macaron Parlor

Maharlika

Mayahuel

Mermaid Inn

Momofuku Noodle Bar

Momofuku Ssam Bar
Motorino

Northern Spy

Panya Bakery

PDT

Peels

Porchetta

Porsena

Pouring Ribbons

RedFarm

Saxon + Parole
Zerza

LOWER EAST SIDE

Asia Dog

Caffé Vita

Cowboy Pizza

Essex Street Market

Experimental Cocktail Club

Freemans

'inoteca

Katz's Delicatessen

The Meatball Shop

Mezetto

Mission Chinese Food

Pig and Khao

Pok Pok Phat Thai

Pushcart Coffee

Russ & Daughter's

Sauce

Via Tribunali
wd~50

MURRAY HILL
The Cannibal

Middle Branch

FLATIRON/GRAMERCY

ABC Kitchen

Gramercy Tavern

i Trulli

Ilili

Maialino

NoMad

No. 7 Sub

Num Pang

Shake Shack

Union Square Cafe

BATTERY PARK CITY

Blue Smoke

North End Grill
Shake Shack

MEATPACKING DISTRICT
Scarpetta

TRIBECA

Bouley

The Harrison

Landmarc

Locanda Verde

Nobu 57

MIDTOWN WEST

A Voce Columbus

Bar Americain

Benares

Benoit

The Breslin Bar and Dining Room

Center Bar

Lamb's Club
Momofuku Milk Bar

Shake Shack

Victor's Café

MIDTOWN EAST

Amma
Crave Fishbar

Four Seasons Restaurant

Melt Shop

The Smith

Quality Meats

Smith & Wollensky
Maloney & Porcelli

UPPER WEST SIDE

A.G. Kitchen

Landmarc at Time Warner Center

Fishtag

Kefi

Nice Matin

French Roast

Le Monde

Deluxe

Mermaid Inn

Momofuku Milk Bar

HELL'S KITCHEN

Ardesia

Kyotofu

Firebird

Pizzarte

Satori Lounge in the Santuary Hotel
5 Napkin Burger

Nizza

Marseille

Schmackary's

Réunion Surf Bar

HARLEM

Dinosaur Bar-B-que

Red Rooster Harlem

UPPER EAST SIDE

Felice Wine Bar

Maison Kayser

Neely's Barbecue Parlor

David Burke at Bloomingdale's

David Burke Townhouse

Num Pang

Park Avenue

The Post House

Cafe Grazie

Café D'alsace

Fishtail
Untitled (Thu 1)
ROOSEVELT ISLAND
BROOKLYN

RED HOOK

Defonte's

DUMBO

Gran Electrica

Hillside

reBar

Vinegar Hill House

Wild Rise

WILLIAMSBURG

The Drink

Donna

Nitehawk Cinema

Parish Hall

Mable's Smokehouse & Banquet Hall

The Meatball Shop

Maison Premiere

Momofuku Milk Bar

The Shanty

BUSHWICK

Northeast Kingdom

983 Brooklyn

Roberta's

GREENPOINT

Paulie Gee's

No. 7 Sub

BOERUM HILL

Mile End

COBBLE HILL

La Vara

Sahadi's

DOWNTOWN BROOKLYN

Colonie

Shake Shack

CARROLL GARDENS

Bien Cuit

Marco Polo

Momofuku Milk Bar

PARK SLOPE

Bark Hot Dogs
Blue Sky Bakery

Flatbush Farm

Franny's

Hungry Ghost

Pork Slope

Talde

Terroir Park Slope

Thistle Hill Tavern

Va Beh'

FORT GREENE

Lulu & Po

Madiba

No. 7

CLINTON HILL

Speedy Romeo

BEDFORD-STUYVESANT

Brooklyn Tap

QUEENS

LONG ISLAND CITY

Corner Bistro
Dutch Kills

ASTORIA

Pachanga Patterson

Vesta Trattoria
You might also like
---
Write your own review