Best Halloween stores in NYC for costumes, makeup and decorations
Whether you want to transform yourself into a hideous zombie, or a leopard-print sex kitten is more your style, these Halloween stores should do the trick.
By Jennifer Einhorn and Lisa Ritchie Wed Oct 2 2013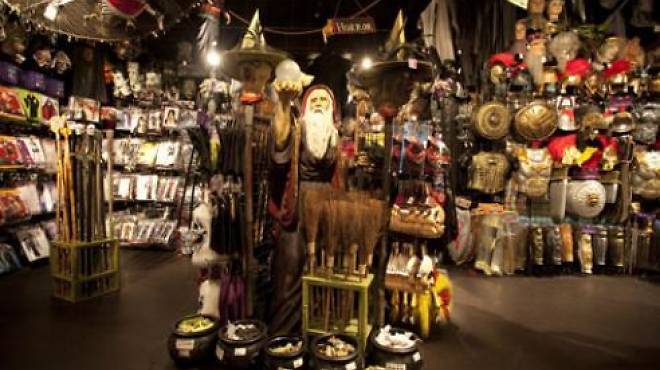 Halloween Adventure NYC
Best Halloween stores 2011
Best Halloween stores 2011

Abracadabra Superstore
Even the most uninspired Halloween party attendee will be able to muster up some enthusiasm over the 100,000-plus items in stock. "Our staff helps customers all the time with picking out costumes," owner Robert Pinzon says. "Sometimes they'll even leave with something totally different than what they came for." Hot items include a ninja master ($75), samurai swords (start at $12) and fog machines (start at $35 to rent). Of course, there's always the seductive Alice in Wonderland ($75). If clothes aren't really your thing, body painting is $400 and up, with makeup artists available Friday to Monday on Halloween weekend (reservations recommended). 19 W 21st St between Fifth and Sixth Aves (212-627-5194, abracadabrasuperstore.com)

RECOMMENDED: All Halloween, NYC coverage

Creative Costume Company
Broadway and theater buffs should head to Creative Costume for exaggerated gear sure to win major props—if not bucks—at this year's party. "We'll even do alterations on all our costumes for no extra cost," owner and Halloween enthusiast Linda Carcaci says. In addition, their rentals have extended return dates up to one week later (normally the policy is 48 hours), so you can cram in seven days' worth of partying. Popular period costume rentals range from $295 to $350, including Pan Am stewardesses ($175), showgirls (starting at $225) and a Marie Antoinette pannier with wig (starting at $350). Classy couples who want to forgo Pauly D and Snookie can choose from Gomez and Morticia Addams ($225 each) or Jessica and Roger Rabbit ($275 each). And for less adventurous trick-or-treaters, they offer the typical devil, angels and toga costumes made with high-quality fabrics ($50–$95). 242 W 36th St between Seventh and Eighth Aves (212-564-5552, creativecostume.com)

Every Thing Goes Thrift & Vintage
If you're looking for something more surprising than a French maid uniform or poodle skirt, take the ferry to this vintage shop where you'll find unique wares at cheap prices. "People come to mix and match pieces and create their own look," owner Peggy Wonder says. For example, pick up a vintage wedding gown ($25--$60) and splatter it with fake blood to create a zombie bride. There are tons of accessories and makeup in the store to help you turn any idea into a reality. "We're here to help people put components together to create the look they're going for," says Wonder. And because the stock is full of actual clothing (not that flimsy nylon crap), there's a good chance you'll be able to wear your outfit—or part of it—past October. 140 Bay St between Central Ave and Victory Blvd, Staten Island (718-273-7139, etgstores.com/clothing)

Field the Fantasy
Patricia Field is best known for her styling work on Sex and the City, but she's been dressing New Yorkers in out-there threads from her namesake boutique for more than 40 years. Field is celebrating Halloween by transforming her Greenwhich Village shop into costume central. Stop by and peruse sexy polka-dot pinup-girl corsets ($36) or Flashdance-inspired outfits ($68). Don't forget to nab fun separates, including Katy Perry--esque sequined shorts ($84), statement-making tie-dye shades ($20) and studded belts from the first SATC movie ($120). Go all out on Monday 31 by taking advantage of the professional services offered: There's hair styling ($75--$200), makeup application ($150) and wig consultations from stylist Codie Ravioli ($50--$150), who will whip your hairpiece into shape. 302 Bowery between Bleecker and E Houston Sts (212-966-4066, patriciafield.com). Thu 28, Sun 31 11am–10pm; Fri 29, Sat 30 11am–11pm.

Frank Bee Costume
Get something for you, your child, your beau and even your pet at this 54-year-old Halloween mecca brimming with costumes for all sizes. The staff is helpful, and the racks are stuffed with options catering to all your gory or sexy needs. Even though skimpy costumes are always a best-seller, owner Wayne Baker tries to maintain a family-friendly vibe. "We try to keep things sexy, but not overrevealing; though it's harder now that we're getting in sexy Dorothy and Tinman costumes!" Pick up popular Marvel hero costumes like Iron Man ($70--$80), a sexy hula dancer ($70), an Angry Bird ($50-$70) or strap-on miniature mailman that rides on your puppy's back ($20). If you think you can pull it off, there are Lady Gaga wigs and accessories ($15–$20). And get 15 percent off when you mention this TONY story! 3435 E Tremont Ave at Bruckner Blvd, Bronx (718-823-9792, costumeman.com)

Halloween Adventure
The costumes here tend to fall under nerdy, antiquated themes like medieval, renaissance, historical, horror and gothic. But it's not just LARPers who can shop here: Try out the off-the-shoulders frilly village wench costume ($70) that's a little sexy but implies that you have a grasp on history. 104 Fourth Ave between 11th and 12th Sts (212-673-4546, newyorkcostumes.com)

Ricky's NYC
For reliable last-minute shopping, head into one of the many Ricky's outposts and pop-up shops around the city and stock up with reasonably priced gear. Ricky's is perfect if you want to keep with the zeitgeist—there's an angry airline steward outfit ($20), Jersey Shore getups ($60) and Avatar costumes ($40–$50). Locations throughout the city; visit rickyshalloween.com

Screaming Mimi's
Thanks to a staff made up almost entirely of stylists, you'll be in good hands at this high-end vintage shop, which is not typically geared toward assembling Halloween masterpieces. "We'll dress you up head to toe," owner Laura Wills says. "This is the place to come for hip outfits and a stand-out costume." The boutique is transformed into a Halloween showcase for the month of October, with costume categories separated into sections like vintage Girl Scout uniforms (starting at $55), '80s prom dresses (starting at $68), elaborate sequined vintage marching band outfits ($125) and an eclectic mix of rock & roll attire, including Kiss masks and pieces that will perfect your Lady Gaga or Katy Perry getup. For less pricey picks, check out their under-$40 rack filled with hot garments and accessories. Considering fashion icons like Chlo Sevigny and Anne Hathaway have been spotted sifting through the racks, you know you'll be heading out for weekend parties looking good. 382 Lafayette St between West 4th and Great Jones Sts (212-677-6464, screamingmimis.com)
Best Halloween stores 2011
---
Events calendar for New York City
For its debut exhibit, City Lore revisits the stre...

In 1968, the legendary New York Times photographer...

Last spring, American Patchwork & Quilting magazin...
22

more events »
Time Out videos
---
---
@TimeOutNewYork
Subscribe to Time Out New York on Spotify for playlists and recommendations from our Music team.


Check out New York's best restaurants, hottest street style, cool apartments and more.