Hula hooping
Spin your way into shape.
By Time Out editors Tue Aug 18 2009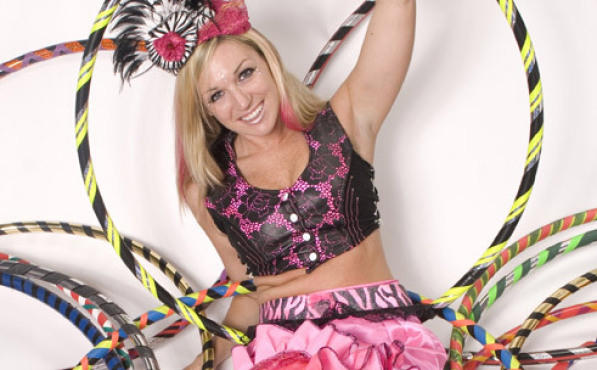 Photograph: Jolie Ruben
What's all the hoopla about?
Hooping performer and instructor KaytiBunny first learned her craft while living in the original House of Yes artists' loft in Brooklyn, where her circus-performing roommates taught her the basics. But don't look to her for elementary-school-style hula hooping: Instead of using those plastic hoops that spin around twice and land at your feet, Kayti handcrafts her own out of weighted polyethylene tubing and loans them to students during the lesson (you can also purchase one from her for around $30).
Take me through a sample class.
Kayti greets each of her students with a hug, decked out in bunny ears and sparkly makeup. "I live my lifestyle in feathers and glitter," she says. The hour-long lesson begins with full-body stretches using a hoop, followed by a few warm-up twirls. Each class covers a different, impromptu topic—past lessons have focused on "isolations," during which you hold the hoop out in front of you, parallel to your body, and spin your wrist to turn the hoop in circles. Hoopers receive individual attention to ensure they're picking up the skill. "My mission is to inform people how to lead a happier, healthier life with the hoop as a catalyst," she says. After doling out a homework assignment, Kayti launches into a finale performance, effortlessly twirling her hoop on every possible appendage.
Sounds fun, but am I going to feel the burn?
A scientist from the American Council on Exercise recently reported that hooping blasts 200 calories every half hour. The low-impact cardio workout may also boost core strength, balance and flexibility, and helps whittle down your middle—your sore abs the next day let you know it worked. "It's perfection in an exercise," says Kayti. "Instead of running on the treadmill, you're spinning in circles!"
Sign me up!
Kayti's classes ($10) are held Thursdays (6--7pm) at the Trapeze Loft (91 North 1st St between Berry St and Wythe Ave, Williamsburg, Brooklyn; 917-415-7544, thetrapezeloft.com) and other locations around the city; for schedule information, visit bunnyhoops.com, or e-mail kaytibunny@gmail.com to book a class or private lesson.—Celia Shatzman
related