We got issues: Frizzy curls
Devachan salon teaches senior associate editor Lisa Freedman how to banish straightening irons from her life and embrace her naturally curly hair.
By Time Out editors Wed Jun 10 2009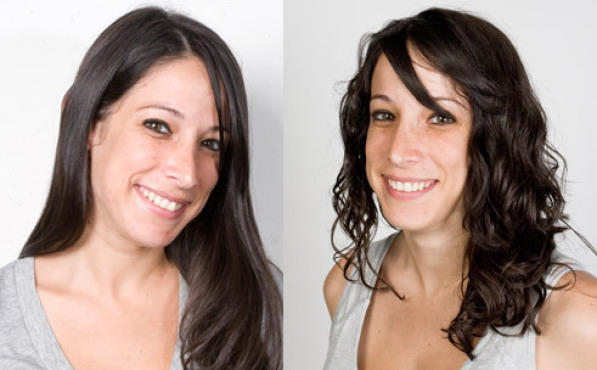 Who: Lisa Freedman, 26, senior associate editor
Why: I'm 100 percent Jewish. And I look it. In addition to the stereotypical genetic misfortunes I may have inherited, I'm also cursed with frizzy, inconsistently curly locks. After years of schoolyard torture, I was introduced to a ceramic-plate straightener and have since become its slave. For the past ten years I'd devote an hour to blow-drying and straightening my hair every time I washed it (every three days because of said time-consuming process). I've tried a million different curl creams that promise results, only to see none. I was desperate to find a wash-and-go method, so TONY sent me to Devachan (425 Broome St at Crosby St; 212-274-8686, devachansalon.com), the salon for gals with curly hair. Apparently their no-poo (as in, no shampoo) policy allows curls to maintain the moisture they need to look pretty. "I haven't washed my hair in over 20 years," founder Lorraine Massey tells me as I admire her corkscrews. Looking around, I see endless stalls filled with girls with amazing curls. Shit, if I can leave looking half as good as they do, I'll be happy.
What she did: With my hair unwashed (going on Day Two) and dry, Lorraine began to cut, explaining that it's important to do it dry so she can see how the curls fall naturally. She trimmed each curl (or frizzy strand) individually rather than sweeping straight across. Then I was given a no-poo wash with their special sulfate-free cleansing cream, an intense scalp massage and a leave-in conditioning treatment—with my rinser explaining each step along the way (she actually quizzed me later!). I was moved to a salon chair where I flipped my sopping wet head over my knees and was schooled on the proper technique for scrunching, which required a massive amount of gel. Crap, it's gonna be crispy, I thought. They put me under one of those grandmalike drying devices and a few minutes later, I found myself with my head over my knees again. My hair was dry, and they showed me how to fluff it so it looks full and noncrispy. Cuts start at $95—and all the products they used are on sale in store and online—but I was told this session should last me well past the end of summer.
The results: I left that day looking 95 percent as good as my Devachan peers. And though it feels weird leaving the house with wet hair in the mornings, I haven't touched my straightener since May 15.
NEXT Need a new style
Overview | Need a new style | Neglected locks | Color abuse | Salon phobia
Unruly curls | Dry, no definition | Frizzy curls