Best by-the-hour hotels
From the luxurious to the sleazy, we've unearthed the city's best places for a quick rendezvous.
By Sarah Theeboom Mon Oct 18 2010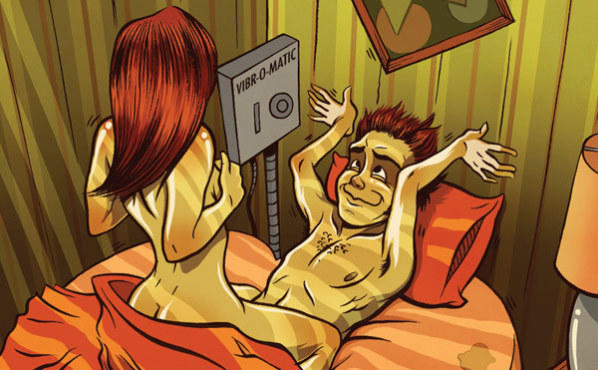 Waldorf-Astoria
Too classy to rent by the hour, the Park Avenue palace opens vacant rooms for day use until 6pm. The cost depends on the type of room and availability, but don't expect a price much lower than $300. However, you can rest assured that your Franklins are buying you both a luxurious bed and maximal discretion. 301 Park Ave between 49th and 50th Sts (212-355-3000, waldorfnewyork.com)
Skeeze factor: low
Manhattan at Times Square Hotel
This hotel is perfect if you're having a nooner on the sly: Meet in crowded Times Square and escape for a few hours into this upscale former Sheraton. Vacant rooms can be hired until 5pm for a flat rate of $140. There's no room service, but make use of the heated indoor swimming pool and fitness center to get your money's worth—if you haven't burned enough calories for one day. 790 Seventh Ave at 51st St (212-581-3300, themanhattanattimessquarehotel.com)
Skeeze factor: low
Herald Square Hotel
This budget boutique hotel offers Manhattan's best value—$65 for
three hours in a basic but clean and comfortable room. Even better, the "short stay" rate is valid from 8am until midnight, making a romantic tryst possible at almost any time of day or night. Bookings are on a walk-in basis and subject to availability. Other benefits include a laundry with a clothes press (in case you're looking a bit disheveled) and minimal chance of being recognized by the nonlocal clientele. 19 W 31st St between Fifth Ave and Broadway (212-279-4017, heraldsquarehotel.com)
Skeeze factor: moderate
Liberty Inn
There's no pretense here: This motel proudly proclaims multiple adult channels on the set and special vibrating pads to assist in your favorite "exercise activities." Two hours at any time of day or night will cost a reasonable $60, and bookings are available on a walk-in basis. The bare-bones rooms are spartan but clean and designed with nookie in mind: You'll find mirrors, mood lighting and—for an extra $15—a jacuzzi. Be aware that it's a well-known love hotel on an empty block, so there's no denying your intentions if spotted. 51 Tenth Ave at 14th St (212-741-2333, libertyinnnyc.com)
Skeeze factor: moderate
Kew Motor Inn
Queens has no shortage of cheap, short-stay motels, but this one has a proud couples-friendly heritage dating back to 1969 and is something of a local legend. The manager claims that celebrities frequented it in its heyday, and we can definitely imagine some '70s porn parties taking place here. The awesomely kitschy suites have mirrored walls and themes such as Arabian Nights and Oriental Delight. Costs vary by room but start at $51 for three hours, $55 for four and $65 for five. 139-01 Grand Central Pkwy at Union Turnpike, Jamaica, Queens (718-969-3000, kewmotorinn.com)
Skeeze factor: moderate
St. Marks Hotel
This shady East Village motel has an air of infamy. Known as a hangout for hookers and unsavory characters in the '70s and '80s, these days the budget hotel more often hosts young travelers making use of the cheap rates. Although the staff is reticent to disclose it, the hourly rate is $60 for two hours and $30 for each additional hour. Be prepared to pay cash up front for a basic, functional room (all it has is a bed and a bathroom) and for someone to knock on your door when your time's up. 2 St. Marks Pl at Third Ave (212-674-0100, stmarkshotel.net)
Skeeze factor: high
Days Inn Brooklyn
You get what you pay for at this budget motel: It's in an industrial stretch of Brooklyn, the rooms are small, and the service and cleanliness levels fluctuate. (Bedbugs have even been reported on bedbugregistry.com.) On the redeeming side, since it's part of a family-friendly, national chain, you'll be spared the usual crowd of an hourly motel; most short-stay guests are travelers on extended layover from the airport. It's also cheap—three hours will cost you $50 on weekdays and $60 on weekends—and in a part of town where you're (almost) guaranteed to get away scot-free. 437 39th St between Fourth and Fifth Aves, Sunset Park, Brooklyn (718-853-4141, daysinn.com)
Skeeze factor: high
Friendly Motor Inn
This motel's dodgy reputation speaks for itself, but so do its cheap rates. Four hours will cost you a measly $30, while a full weeknight will only set you back $69; at those prices you may want to spring for a jacuzzi room ($55 for four hours, $150 overnight during the week). Then again, you might not: The jacuzzi rooms are so popular that the hotel has a no-reservations policy on the weekends. 1119 E Gun Hill Rd at Yates Ave, Bronx (718-655-6500)
Skeeze factor: very high
Hilton New York
The Hilton is another high-end hotel that offers day rates on empty rooms until 6pm (subject to availability on the day). The significant discount—up to 50 percent off the nightly rate—will come in handy, since rooms start at $329. Don't be surprised to see corporate high-flyers resting up between meetings or wealthy ladies on break from a shopping spree. For extra anonymity (and the pretense of respectability), book over the phone and check in and out electronically using a kiosk. 1335 Sixth Ave at 53rd St (212-586-7000, hilton.com)
Skeeze factor: low
Manhattan Broadway Hotel
While a small, dark, smoky-smelling room at this (nonsmoking) hotel would provide a thoroughly unpleasant overnight stay, for a few hours it does the trick. Cleanliness can be an issue—the linens, while freshly laundered, are a little stained and the walls have visible marks. On the plus side, the staff is helpful and the midtown location is good for office workers wanting to slip out for some afternoon delight. Two hours will set you back $65, but if you lose track of time, each additional hour is only $10 more. 273 W 38th St at Eighth Ave (212-921-9791, nymbhotel.com)
Skeeze factor: low
Users say
503 Service Unavailable
No server is available to handle this request.