The details
Here's what you need to know---plus deals and special events.
By Ethan LaCroix Wed Jul 20 2011
---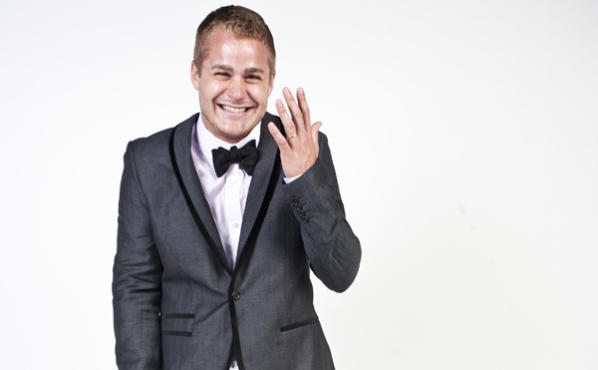 Photograph: Jolie Ruben
Nuts and bolts

The big weekend came and went! But much of the information below still applies. City clerk offices are likely still overwhelmed, and, as always, you should have your paperwork in order before showing up. Check the links below for additional details.
 
Before you get married or can request a civil marriage in New York, you'll need to apply for a marriage license. 

Marriage slots at the City Clerk's offices throughout the five boroughs on Sunday, July 24, will be distributed via a citywide lottery (you'll need a license application to apply; see above). You must enter by Thursday 21 at noon. Winners will be informed by e-mail or phone no later than noon on Friday 22.

Be sure to request a judicial waiver when entering the lottery. State law usually requires a 24-hour waiting period between completing your marriage-license application process and actually getting hitched. A judicial waiver lets you do it right away.

Not interested in the mayhem or didn't get through the lottery? Here's information on how you can obtain a civil marriage throughout the year. 

Make sure you know what you're getting into. The New York Civil Liberties Union has compiled an extensive FAQ list about the Marriage Equality Act. 
Deals and packages
Times Square
Want to start your married life in the heart of the city? The Times Square Alliance has rounded up some pretty sweet deals to celebrate LGBT marriage equality. Click around their site for discounts on Broadway shows, special hotel packages, a TD Bank promotion aimed at first-time home buyers, and much more. For more information, go to timessquarenyc.org. 
Vice Merchants
Don't spend your honeymoon on the same boring old sheets: Through August 23, you can score 20 percent off all orders from high-end, limited-edition bedding maker Vice Merchants. Or you can send in your funny, wild, romantic or generally amazing engagement story, and the staff of Vice Merchants will pick ten winners to receive a set of "Poppy Playground" sheets. To order, go to vicemerchants.com. For the 20 percent discount, enter code EQUALITY when ordering. To enter the engagement-story contest, e-mail contests@vicemerchants.com.
The Spotted Pig
April Bloomfield & Ken Friedman's gastropub is offering a complementary round of sparkling wine to same-sex couples who have tied the knot. Just bring proof of marriage and the bubbly will flow. For more information, go to thespottedpig.com.
The Muse New York
The swanky midtown hotel is offering a "Free to Be Just You and Me" honeymoon package. You'll get deluxe suite accommodations; red, white or bubbly wine tasting in the NIOS restaurant; an in-room couples' spa treatment; matching leopard-print robes; and breakfast in bed. To reserve, go to themusehotel.com and use code NYWED. Valid through February 2012. 
Prospect Park
To celebrate the passage of the Marriage Equality Act, Prospect Park is offering a 10 percent discount on all events at the Picnic House booked before September 5 and taking place before July 1, 2012. The boathouse is honoring 2011 prices for morning ceremonies through the end of June 2012—which saves you $250. Or you could just pay $25 (required for all gatherings of more than 25 people in city parks) and get hitched in less-protected locales within the park. For more information and to help ,plan your celebration in the park, go to prospectpark.org, call 646-393-9031 or e-mail ckuhn@prospectpark.org.

Ace Hotel
For the remainder of 2011, the Ace is offering 15 percent off the food-and-beverage minimum for same-sex weddings throughout the hotel—including at the Breslin Bar & Dining Room and the John Dory Oyster Bar. Additionally, the hotel is waiving the room-rental fee for its event space, the Liberty Hall, offering half-price rooms and suites for marrying couples and "many" rounds of free wine. This is a big one. Book now. For more information or to make reservations, go to acehotel.com or call 646-214-5764. Be sure to mention that you're a same-sex couple to score this deal.

Manhattan Mini Storage
Combining households? Manhattan Mini Storage wants to help with three months of free storage for LGBT couples who get hitched this week. Reps from the company will be at City Hall in Manhattan starting at 10am on Sunday 24. For more information,  go to manhattanministorage.com or call 212-STORAGE. For updates, check the company's Facebook and Twitter pages.

The Fire Island Pines
The Fire Island Pines is offering a variety of all-inclusive themed packages for folks who want to get married in summer-party central.  Choose from the romantic Sunset and Stars (includes a sunset ceremony on the beach, a candlelight reception, and discounted rates for friends and family at the Hotel Ciel), the kitschy Invasion (includes a private ferry from Sayville with a drag-queen crew, and a reception at the Blue Whale with drag entertainment for you and your guests) and the sexy Classic Pines (includes a ceremony at High Tea with undies-clad bartenders, and a honeymoon suite at the Hotel Ciel, complete with a wedding-night stripper). For more information or to make reservations, contact Rob Rawlins at the Hotel Ciel, 631-597-6500, ext 35; for information on the Fire Island Pines, go to thepinesfireisland.com.
Pastor Phil Trzynka
The Lutheran officiant at the Lower East Side's Trinity Church is performing free ceremonies (normally $500) for gay couples through June 2012; keep in mind, the service also includes required counseling sessions to be sure you don't hurry down the aisle without thinking it through. Since you're getting his services free, consider making a donation to Trinity's soup kitchen. For more information, go to trinitylowereastside.org.
The London NYC
Honeymoon in style at this Manhattan luxury hotel. The hotel's "Celebrate Love" package, inspired by the passage of the Marriage Equality Act, features a stay in the London Suite, an in-room couples massage, specialty cocktails and canapes delivered to your room, and two complemintary plush robes. Book here to get signature chocolates exclusive to TONY readers. Stay by September 5th and book by September 1st based on availability; for more information go to thelondonnyc.com.
Red Rose & Lavender
Williamsburg florist (and former club kid!) Kimberly Sevilla is offering 10 percent off flowers for the first ten LGBT couples to contact her about arrangements for their wedding. For more information, go to roseredandlavender.com, e-mail lavender@roseredandlavender.com or call 718-486-3569.
Events
Pop-up Chapel
At the Columbus Circle entrance of Central Park, the organizers of the Pop-Up Chapel will be marrying two dozen couples, passing out free cupcakes and inspiring general merriment. Slots for ceremonies are filled, but you can still swing by for the celebration. For updates and details, go to popupchapel.com or check out the chapel's Twitter and Facebook pages.
Free marriage ceremonies in Washington Square Park
Ministers and licensed wedding officiants Annie Lawrence and Will Mercer will be hitching couples all day in Washington Square Park—just a few blocks from the site of the Stonewall riots. You can sign up for your own ceremony by e-mailing Rev. Annie (revannielawrence@gmail.com) or Rev. Will (revwillmercer@gmail.com), or just swing by to soak up the good vibes. Ceremonies performed near Fifth Ave and Washington Sq North, Tue 26 9am--5pm

Wedding Expos
The Rainbow Wedding Network is hosting not one but two gay-wedding expos in the city in the next month (August 4 in Staten Island and August 6 in Manhattan). Expect many, many more gay-wedding expos in the months to come.