XL Nightclub
A promoter dream team opens a new boîte.
By Ethan LaCroix Tue Aug 23 2011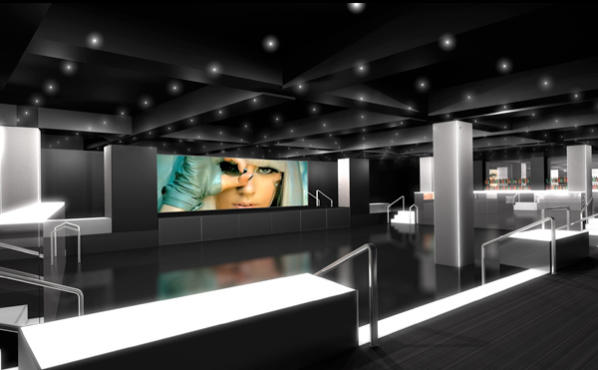 XL Nightclub at the Out NYC Hotel (rendering)
In early 2012, the Out NYC, a straight-friendly hotel for gays, will open in the far-west reaches of Manhattan. The homo playground will include 105 guest rooms, a 24-hour restaurant and—as of this fall—XL Nightclub, a new 14,000-square-foot bote. The club is a collaboration between '90s megastar promoters John Blair and Beto Sutter, and the gay-nightlife team of the moment, Tony Fornabaio and Brandon Voss (a.k.a. FV Events), who are also behind the weekly parties Club 57 and Rockit. Voss gave us the lowdown on what to expect at XL.
Are you aiming XL more at visitors or locals?
It is absolutely designed to attract locals. We will obviously cater to hotel guests, but this project is designed to be the premier gay destination for both New Yorkers and tourists.
It's open seven nights a week, which is a lot of time to fill for a club. What kind of bashes do you think you'll throw?
We plan to have parties catering to college kids, Broadway boys, Latinos, pop-music fans—and we'll have big-name house-music DJs. There will be something for everybody—some nights will be more wild than others. The lounge will also be open every day for those looking for a more mellow bar, and the cabaret will have live performances.
The hotel is a bit off the beaten path—almost at the Hudson River. Do you think the location will have an impact on New Yorkers venturing out?
It's not the heart of Hell's Kitchen, but it's certainly close enough to the thousands of boys that call the neighborhood home. I'd argue the location is almost perfect.
XL Nightclub at the Out NYC, 510 W 42nd St between Tenth and Eleventh Aves (xlnightclub.com). Opens this fall.
Read more
Interview: Julie Atlas Muz
See all of fall's best things to do
Users say