The 50 best love songs ever made
Are you ready to fall head over heels with the best love songs of all time? Cupid has you in his sights, people.
By Time Out contributors, edited by Sophie Harris Mon Feb 10 2014
---
More Time Out music lists
---
Users say
how is "wonderful tonight" by Eric Clapton, not even on the list. It should be Number 1!!
I don't know how the Association "Never My Love" did not make the list, but Kanye did. 
How in the world did Kanye West make the top 50? I almost ditched the entire list after seeing that on the first page, I feel sorry for whatever woman falls in love with the man who thought a song with lyrics like "I wanna f**k you hard on da sink, then I wanna give ya somethin ta drink" is even remotely romantic. Why no country songs? Just off the top of my head, I cross my heart, by George Strait comes to mind and there are literally hundreds of other country songs that are MUCH better than Kanye's drug induced rabble, this is a disgrace.
Listen to Time Out's 50 best love songs playlist on Spotify
Read more music features
These New Yorkers, who both recently launched new solo ventures, get together for a chat on their home turf.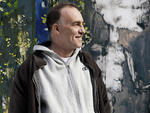 The Lounge Lizard, Jim Jarmusch star and all-around NYC alt legend gets a tribute worthy of his multimedia brilliance
Get ready for a busy season this fall, with shows from arena heavy-hitters to indie gems
See more in Music