Backstage with...Adam Green
By Jay Ruttenberg Wed May 7 2008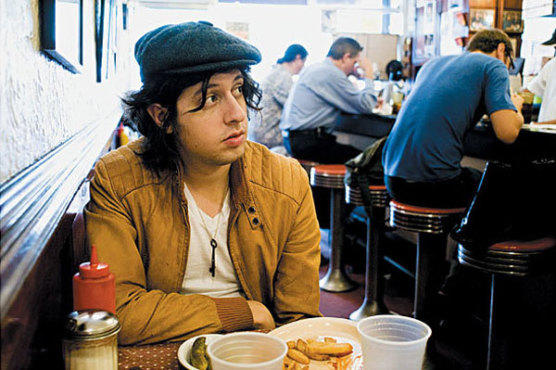 Photograph: Pieter M. Van Hattem
You're in Germany right now, where you're a big star. Is it liberating to be famous in a country from which you are so personally disconnected?
Yeah, it's endlessly entertaining. I was thinking of writing a novel about it—I was gonna set it in the Middle Ages. The Moldy Peaches had a moderate following in Europe because we toured here. But as a solo performer, Germany was certainly the first place to embrace my delusion.
It seems like an odd country to embrace you. Your music is funny and lyrically centered—very Jewish.
You want to know some Jewish family history? One of my distant cousins played the maître d' in the Marx Brothers movie Room Service. Another wrote a biography of Mendelssohn. And my great-grandmother was engaged to Franz Kafka.
Did Franz get cold feet?
Sure he did. My great-great-grandfather held a meeting between Franz and the rest of the family in regards to his alleged advances on another woman. He felt interrogated, and such was the inspiration for The Trial. Supposedly, my great-great-grandfather is the judge in The Trial and my great-grandmother is the chick. [Pause] Looking at a picture of my great-grandmother, I would be hard-pressed to consider her a chick. But I guess she was. She used to beat my head open when I would drink Coca-Cola out of a can. Like I was a barbarian.
When I interviewed the Moldy Peaches years ago, you and Kimya Dawson told me that Kimya used to be your babysitter. I thought you were putting me on, but it's more or less true.
The first meeting we had was at an open mike started by goth girls in my middle school. I was 12 and Kimya was, like, 30. [Laughs] We both took note of each other. The next summer, we started writing songs. She would come over and record in my basement. My parents had to deal with the fact that I had this weird old friend person. It became easier when they realized she could become my babysitter. She would take me to concerts in the city. It's strange, but I believe that's part of what makes the Moldy Peaches unique.
In the wake of the Moldy Peaches' Billboard success with the Juno soundtrack, I imagine a lot of people would like to see you reunite.
And you can probably deduce that we would never get together at a time when people expected us to. Kimya and I talk now more than ever, though. I'm a big fan of her music.
The band stopped playing together in 2002, just when things had really heated up for music in New York. It seemed like you were just on the brink.
Yeah, but that's my own cross to bear. [Laughs] I think that's just part of my personality—just to be a motherfucker.
Adam Green plays the Town Hall May 10, 2008. Sixes & Sevens is out now on Rough Trade.