Bobby Bare Jr.
The Nashville singer sets his priorities with two career-topping albums.
By Jay Ruttenberg Mon Sep 20 2010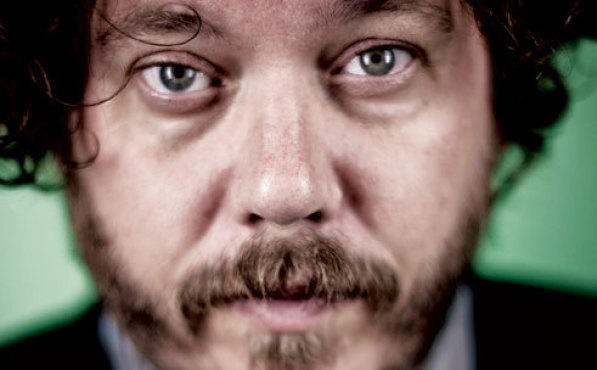 Photograph: Joshua Black Wilkins
On June 28, the day of his 44th birthday, Bobby Bare Jr. was headed to New York to play a pair of shows when, en route to Nashville's airport, his girlfriend began having contractions. "I thought this was very rude and inconsiderate of her," he says, his voice awash in sarcasm. "It just blew everything." The couple rushed to the doctor, then to the hospital, and by noon the next day, their baby boy, Shelby Booker Bare, had entered the world.
Heartwarming moment or not, Bare is a hardened showbiz veteran. So the following morning, the musician kissed his day-old son farewell, left the hospital and hopped a plane to New York—where he sits still for an interview while waiting to open a show for Alejandro Escovedo. "After being up all night changing the first doody diapers, it was hard getting up at 6am to leave," Bare says. "But I have child support for my two previous children. My girlfriend wishes I were home—but she wants to have bills paid, too."
Bare's hair is a tousle of unwashed curls; his sleepless eyes rest atop raccoon bags. Nonetheless, he speaks with razor-sharp focus, punctuating sentences with thunderous blasts of laughter. Documentarians follow his every turn for a forthcoming film; Bare, strumming a guitar, pays them no heed.
His professionalism is not surprising. Bare famously made his recording debut at age five, when he sang "Daddy What If" with his father—the commanding country baritone increasingly billed as Bobby Bare Sr. Written by the late Renaissance man Shel Silverstein, a frequent Bare Sr. collaborator, the song earned the father-son team a Grammy nomination for 1974's Best Country Duo or Group Performance. "It's as if my dad were an astronaut and said, 'Do you want to go to the moon today?' " the singer raves. "Most kids grow up wanting to be their dads. Mine just happened to have a really awesome job."
In his adult career, Bare Jr. has pursued his own path: It's safe to assume that he's the only indie-rocker to have once lost a Grammy to the Pointer Sisters. Despite a long discography, 2010 is shaping up as Bare's banner year. In June, Sugar Hill released Twistable, Turnable Man, a Silverstein tribute album produced by the two Bares, with a vocal lineup that includes Todd Snider ("A Boy Named Sue"), Black Francis ("The Cover of the Rolling Stone") and Andrew Bird ("The Twistable, Turnable Man Returns"). "A Shel tribute had to be done, because he's so important as a songwriter—and most people don't even know that he wrote songs," Bare explains. "And if anybody was gonna do it, it was gonna be me and Dad. He was Dad's best friend, and he critiqued every song I wrote until he died."
Now, Bare has unveiled A Storm, a Tree, My Mother's Head, a handsome solo album that includes contributions from his father (who cowrote two songs with Junior), indie-pop singer David Vandervelde (who coproduced) and four fifths of My Morning Jacket, here transformed into Bare's backing group. "If you want to sound like your favorite band," the singer reasons, "just hire 'em."
The album was created in a harrowing period, during which Bare got divorced, found new love, and nearly lost his mother after a tree crashed through his parents' ceiling and fell on her head as she watched television. (She recovered.) Yet while the record is at times sorrowful, it never sounds whiny—and is often quite funny. "Slash walks in with an overweight Madonna," Bare sings in "Rock and Roll Halloween." "Hooker nurse, hooker cop, please, please dance with me."
"Rock and Roll Halloween" is the song that most conspicuously betrays Silverstein's tutelage. But what of his father's mark? That, perhaps, is more manifest. "I was telling everybody [at the hospital] I had to leave this morning," Bare recounts. "My dad said, 'It's 44 years ago when you were born. Your mother had you, and I drove to the Dunbar Caves the next day.' So the day after I was born, my dad got in his Town Car and drove off to play a show. He had the baby. And left the next day."
Bobby Bare Jr. plays Maxwell's Sat 25 and Mercury Lounge Mon 27.
Buy music by Bobby Bare Jr. on iTunes
See more recommended shows