Bushwick Book Club
Brooklyn's Goodbye Blue Monday hosts a monthly series devoted to literary music.
By Sophie Harris Thu May 28 2009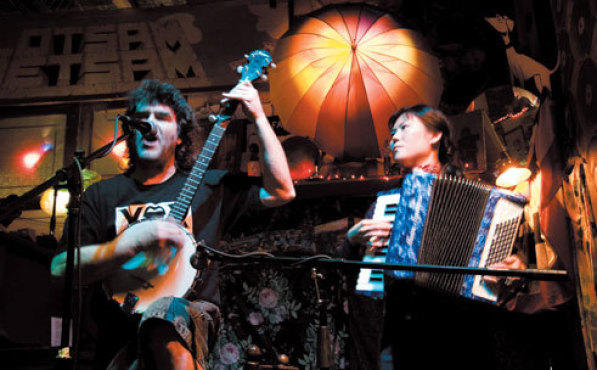 CLEVER BOOKING Eclectic locals tackle heady themes for an attentive throng. Photograph: Caroline Voagen Nelson
"I didn't practice with my high heels on," says the woman seated awkwardly at the piano. "Aw, fuck!" The troubled performer—zebra kneesocks, high heels and all—is Susan Hwang, founder of the relatively new but already popular Bushwick Book Club, a monthly meet-up at Goodbye Blue Monday, a cult drinkery just around the corner from the Kosciuszko Street subway stop. The venue is completely given over to eccentricity, a sort of twinkling junk-shop-cum-caf-cum-bar. It's hardly surprising, then, that GBM's supposed book club is actually a musicians' gathering, for which Hwang chooses a book each month and invites artists to create a song inspired by the text.
The first tome to be celebrated in song was Kurt Vonnegut's Breakfast of Champions (whose alternate title, fittingly, is Goodbye Blue Monday), followed by Raymond Carver's What We Talk About When We Talk About Love (Jeffrey Lewis was among the performers that week), then kids' fave James and the Giant Peach, by Roald Dahl. The book during my visit sounds alarmingly heavy: It's Milan Kundera's existential classic, The Unbearable Lightness of Being. Yikes. But Hwang allays any anxiety with the promise of themed snacks—namely, "duality cake" (a heavy chocolate cake with light whipped cream) and "betrayal punch" (the lead character in Lightness is an epic womanizer).
A J train rumbles overhead, the venue shakes, and the shelves rattle. At Goodbye Blue Monday, antiques sit among armless Kewpie dolls, old signs and faded parasols. That same crazy variety is what you see onstage at Book Club. Some musicians show real songwriting skill. Other performances are totally unpredictable—Andrea, for instance, is a sturdy, square-set figure who takes the stage with a little ukulele, only to start singing a delicate, spindly song in German. Some artists ruminate on the subtleties of the book ("I wondered if Toms ever had any remorse?" Josh ponders aloud); others bluntly tell the story, a real bummer if you haven't finished the book. And some performers are just plain silly. Rachel and Dan wear fancy dress and plink out a kids' party--style rhyming song. "It was our rebellion against the book," Dan explains afterward, grinning.
Why does he think this format works so well? "Everyone likes a good reason to write a song," Dan says. "Some people work well on a commission, on a deadline. And this has a real homework feeling—rushing to get your song done spurs people creatively to be inventive and free." Plus, he says, with everyone working from the same text, it's amazing to see what a wide variety of interpretations participants come up with.
"Of course," Hwang confides after the show, "you don't know what people are gonna do, and they're performing brand-new songs. Sometimes you're flabbergasted with how amazing people are. And other times you're like, What the hell are people doing?" (A woozy-looking young man overhears Hwang and chips in: "If you can survive it, it's worth it!")
The owner of the venue, Steve Trimboli, nods in agreement. If Trimboli looks like he's seen it all before (he resembles a rugged Murdock from The A-Team), that's because he has. In the '80s, he set up the Scrap Bar, a basement dive made from bits of found metal, which became MTV's unofficial hair-metal home after a young Guns N' Roses stopped by one night. (Trimboli's writing the filth-strewn memoirs of that joint on the GBM Web site now.) He moved into what is now GBM when it was just an empty warehouse. "I thought, I'll open it up as a store. Then a coffeehouse. And then I'll get a wine license and people will stay!"
Stay they did; GBM hosted one of the first Vampire Weekend gigs a couple years back; now bands of every kind use it to rehearse and perform. The club even offers yoga classes—Hwang's idea.
"This place would not have happened if I didn't just say yes to everything," Trimboli says. "It makes me really smart. If you just let things happen—I mean, we've had some of the most extraordinarily bad shows ever. But also, magic happens at other times." You might encounter some this month when the Bushwick Book Club will tackle Watchmen. Later in the year: the Bible. How Hwang is going to theme-snack those is anyone's guess.
Bushwick Book Club takes on Watchmen at Goodbye Blue Monday Tue 2.