Dirty Projectors' brand new sound
New York's most ambitious band goes pop.
By Sophie Harris Tue Jun 2 2009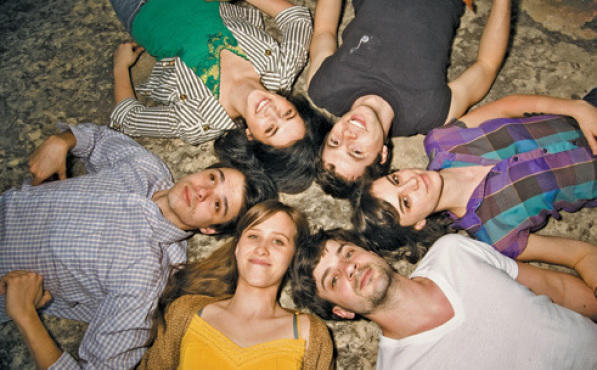 TOTALLY FLOORED David Longstreth (right) and crew, Dirty Projectors Photograph: Sarah Cass
"It's like a different language!" an overexcited fan yelled during a Dirty Projectors show in London in 2007, to cheers of agreement. But the singer, David Longstreth, looked taken aback. "I remember that time, because I didn't know what to say in response to it," Longstreth recalls over an iced coffee in a sunny Brooklyn caf. "It's really, totally a goal of mine to take simple elements and combine them in a way that feels new. And the people that I admire musically and in art are people who've found a way to do that."
Longstreth is here to talk about the new Dirty Projectors album, Bitte Orce; and it's a happy twist indeed that through his musical striving and seeking, Longstreth now collaborates with two of the artists he most respects: Bjrk and David Byrne. "My mom and dad," he says with a half laugh. "No, it's cheesy to think in those terms. But there is a symmetry in having the opportunity to work with both of them, because they both are people I've admired since I've been writing music."
With Byrne, Dirty Projectors recorded "Knotty Pine" for the recent compilation Dark Was the Night; as a collaborator, Longstreth describes the Talking Heads icon as totally confident, "so much so that he's just like a window. He's like, 'Okay, I'll do that!'?" Two weeks after our conversation, Bjrk would be joining Dirty Projectors in Longstreth's specially composed score at a Housing Works benefit. Has Longstreth grown so self-assured that it doesn't feel weird to be working with one of his idols? "For me, it's more like, Fuck! I have to finish the music," he says, laughing. "Bjrk is a very trusting collaborator. And I'm just going for it with this."
The idea of Longstreth going for it is hardly a new one; part of what makes him so compelling is how far he'll stretch to create something new: Take for example The Getty Address, a 2005 concept album loosely strung around Don Henley and Aztec mysticism. Then came 2007's Rise Above, a breathtaking reworking of Black Flag's bleak punk opus, Damaged, that brought to mind African highlife, R&B and metal, but somehow didn't sound like any of them. It was, quite simply, a different language.
Emotionally, however, Rise Above was hard work to tour. "It was really close to insanity—to be singing these perfect, pithy encapsulations of fear and nihilism, almost biblical shit..." Longstreth starts laughing. "I think I just quoted Ghostbusters with 'biblical shit'! But going into that zone every night was so heavy."
It was also hard work for the band, not least for Amber Coffman and Angel Deradoorian, who were expected to sing intricate, syncopated vocals, usually in opposition to their complicated guitar and bass parts. "To see the girls locked into it, blankly reciting this thing..." Longstreth trails off, frowning. The next Dirty Projectors opus had to be lighter; Bitte Orca is, in Longstreth's words, springy and "more in the vein of love." Recorded in Portland, Oregon, where a friend is developing an arts space in a huge old laundry factory, Longstreth used the acoustics to amplify elements of each band member's personality. "I liked the idea of turning their characters into instruments" he says. Coffman's high, bright voice fits the staccato R&B love song "Stillness Is the Move," while Deradoorian takes the quieter "Two Doves."
But amid all the intertwined beats, the light and shade, can Longstreth maintain such a crazily high degree of concentration while also letting his soul soar? A good question, he says. "Everybody's always like, 'On the one hand there's technique and on the other hand there's music that you respond to emotionally,' " Longstreth notes. "But they're one and the same in, say, [John] Coltrane's music. I really like the vibe of transcendence through effort—like, epic striving, in a silly, romantic way. Connecting with a sublime feeling is wrapped up in concentration for me."
And as complex as it is, the lightness of Bitte Orca translated beautifully in the show with Bjrk two weeks later, via glimmering vocals and delicate Spanish guitar. The levity was evident offstage too; at the after-show party in the glass penthouse of an LES hotel, Longstreth could be found deejaying—spinning Amerie's "Just One Thing," his hands in the air, looking sweaty and overjoyed. Not that complicated after all.
Dirty Projectors play Central Park SummerStage Fri 5.