Fifth Annual Record Store Day
Vinyl junkies, rejoice!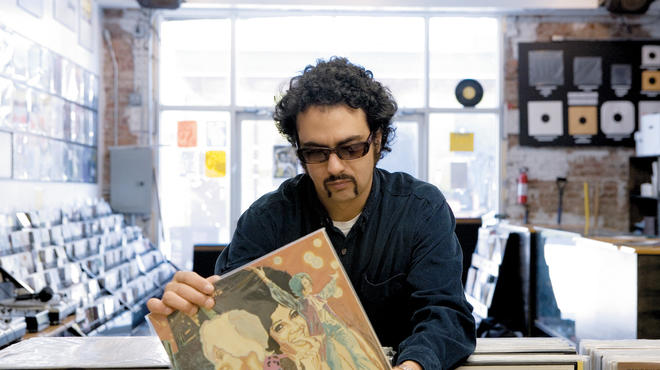 Academy Records Annex Photograph: Michael Kirby
If the sound of a needle hitting a record gives you shivers, you're probably already gearing up for Saturday, when rarities and one-offs by folks like Bill Evans, Florence and the Machine, and Animal Collective will be available in record stores only. Real ones. With front doors and everything. Look for soon-to-be-released gems including the 25th-anniversary edition of Paul Simon's signature Graceland and vinyl reissues of Uncle Tupelo favorites, as well as limited-edition recordings like Death Cab for Cutie's Codes and Keys Remix EP. For a complete list of Record Store Day releases, visit recordstoreday.com, and be sure to check out the extended store hours, live in-store performances and special stock available at these local indie hot spots.
Academy Annex
96 North 6th St between Berry St and Wythe Ave, Williamsburg, Brooklyn (718-218-8200, academyannex.com)
–Extended hours: 10am–9pm
–Record Store Day releases available
Academy LPs
415 E 12th St between First Ave and Ave A (212-780-9166, academy-lps.com)
–Staff will play records all day long
–In-store performance by Parisian hip-hop artist Onra

Academy Records & CDs
12 W 18th St between Fifth and Sixth Aves (212-242-3000, academy-records.com)
–Unveiling a brand-new 45rpm section

Bleecker Street Records
239 Bleecker St between Carmine and Leroy Sts (212-255-7899,
bleeckerstreetrecordsnyc.com)
–Extended hours: Call on Friday to find out opening and closing times
–Record Store Day releases available

Co-Op 87
87 Guernsey St between Nassau and Norman Aves, Greenpoint, Brooklyn (347-294-4629, coop87.org)
–Open 24 hours
–Stocking limited-edition Record Store Day releases

Generation Records
210 Thompson St between Bleecker and W 3rd Sts (212-254-1100, generationrecords.com)
–Extended hours:10am–11pm
–Record Store Day releases available
–DJ sets and live bands, including the Paul Collins Beat and Supertouch

Halcyon
57 Pearl St at Water St, Dumbo, Brooklyn (718-260-9299, halcyonline.com)
–Records Store Day releases available
–Limited-edition singles, albums and box sets
–DJ sets by DJ Domewrecka! (noon–2pm), $mall ¢hange (4–6pm), the Dahkter (6–8pm) and Free Magic (8–10pm)

Kim's
124 First Ave between 7th and 8th Sts (212-533-7390, mondokims.com)
–Extended hours: 8am–midnight
–Record Store Day releases available
–5pm: Singer-songwriter Mike Wexler plays selections from Dispossession, just released on Mexican Summer; DJ Rama opens

Other Music
15 E 4th St between Broadway and Lafayette St (212-477-8150, othermusic.com)
–Extended hours: 11am–8pm
–DJ sets by Four Tet (2pm), Black Dice (3pm), Ex Cops (4pm), Psychic Ills (5pm), the Men (6pm) and Wild Nothing (7pm)

Permanent Records
181 Franklin St between Green and Huron Sts, Greenpoint, Brooklyn (718-383-4083, permanentrecords.info)
–Extended hours: 11am–8pm
–Record Store Day releases available
–Giveaways for earliest customers, including full-length LPs from regular stock
–Performances by Greenpoint soul band Mattison (sets at 1 and 5pm) and Sub
Pop's Memoryhouse (3pm)

Sound Fix
44 Berry St between North 11th and 12th Sts, Williamsburg, Brooklyn (718-388-8090, soundfixrecords.com)
–Extended hours: 10am–9pm
–Overflowing stock
–7:30pm: Performance by Mates of State
—Nina Stoller-Lindsey