Interview - Steve Hogarth of Marillion
Marillion frontman Steve Hogarth ponders the demands of crowd-funding and the merits of cult status.
By Steve Smith Tue Jun 12 2012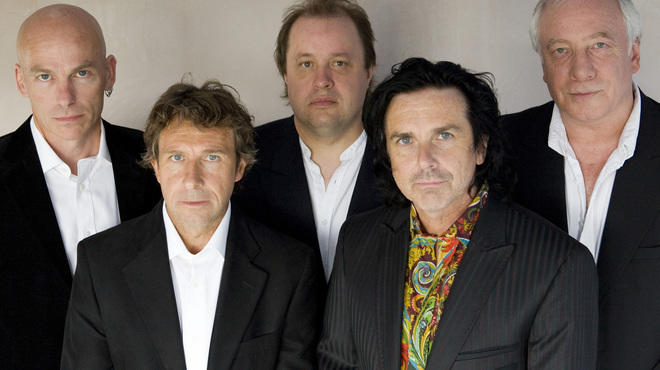 Marillion Photograph: Jill Furmanovsky
You recently released a beautiful side project with Porcupine Tree keyboardist Richard Barbieri, Not the Weapon But the Hand. What sparked that outing?
You have to go back 15 years to when I first made a solo album, Ice Cream Genius. That was an attempt to explore whatever I could that was not Marillion, and an attempt to remind, if anyone needed reminding, that there was more to me than being the singer in this band. I immediately went to Clem Burke from Blondie and asked him if he would drum on it, and then Dave Gregory from XTC and Richard Barbieri from Japan. And Chucho Merchan, who was working with the Eurythmics at the time, played bass. I was very fortunate to run into [Porcupine Tree leader] Steve Wilson during the process of setting that up, and he played my demos to Richard Barbieri. Richard came in and played synthesizers on my solo album, and we became good friends.
He sent me an email one day, about two years ago, and said, "You don't fancy making an album, do you, just the two of us?" And it was a great moment for me, because back in the '80s I used to listen to Japan, Tin Drum, and I really appreciated Japan for what they were, which was this collection of musicians who'd completely redefined themselves and their own instruments. They were just shockingly innovative and one of my favorite '80s bands—and the '80s was my favorite decade, anyway.
It's a very different record, different to just about anything except possibly Richard's own solo work. You can immediately identify him…he's one of the few synthesizer players and programmers who has completely, totally and utterly a sound of his own. A dark magic in everything he does, there's this magical darkness—so I just tried to pour light all over it.
You do a lot of stylistic stretching on the album. Are those things that you only feel free to do outside of Marillion, or is that the kind of research and development that you would consider bringing back into the studio?
If you'd have asked me a few months ago, I'd have said, Yeah, sure, I'm going to try all this experimental stuff on the new Marillion album. But I'm currently putting down lead vocals for it, and there isn't really the room, to be honest. With so many people expressing themselves at once, it starts to become a bit claustrophobic if I try and stick 15 voices on it and two people whispering and someone making a speech and a wall of other people muttering. [Laughs]
When you're in the studio, is there a Marillion cop who says, "Oh, no, that's not Marillion?"
There used to be, back in…I'd have to go back quite a way. But, I mean, it was a very white band when I joined, and so the black influences—it's not like they weren't allowed, it's just that nobody felt that they could go there. And bit by bit we took black influences into the music, which…it's kind of weird that we wouldn't, because it all came from there in the first place, let's face it. Even the whitest bands on earth, like Pink Floyd, are wrapped around what is essentially a blues guitarist, Dave Gilmour.
I was given the freedom day one to pull the thing toward myself—they said, do what you do and we'll do what we do and we'll see what happens—and in pulling Marillion in the direction of myself, they were inevitably pulled towards my own influences, which are quite black. So then gospel happened, and dub happened. It got into all that dark, weird stuff in Brave, and then Afraid of Sunlight became a very American sounding album. Maybe not sounding like American people, but rich with American themes.
The references to Elvis Presley and O.J. Simpson, and at least one song that sounds very much like Phil Spector.
Absolutely. We very carefully and deliberately crafted that to make it as Spectorish as we could, just as we introduced the Beach Boys elements in "…Surf…"
Oh, "Cannibal Surf Babe," sure.
[Long pause] Not many people say, "Oh, 'Cannibal Surf Babe,' sure" in regular conversation! [Laughs]
You're doing two nights in New York. Are the sets going to be different?
There won't be one song played on night one that's played on night two. There will be no songs in common. There will be two completely different set lists, with no songs in common. So if you miss one night, you've missed a whole show.
Are you showing off any of the new songs?
Yeah. I can't promise how many, but it'll be more than zero.
More than zero and less than the whole album, start to finish.
Definitely less than the entire album. We wouldn't dare do the entire album, because we live in an age now where it would be on YouTube and there would be no point releasing it, then. [Laughs]
Write your own review