Interview: The Rockettes
Radio City's high-kicking troupe chats about its new numbers, getting in sync and---what else?---Christmas.
By Amanda Angel Sat Dec 10 2011
Photograph: David Rosenzweig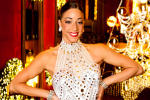 Katie Hamrah
, 24; Middlesex, NJ
Sixth season
When did you first feel like you were really a part of the Rockettes?
Every year it's different, because you have to find your vibe with everybody. The first time I felt I was part of the line was in dress rehearsal. We all just jelled.
What is your favorite number?
I still love "Let Christmas Shine," at the end when we're covered in Swarovski crystals. You feel glamorous. The show has changed throughout the years, but we're still the Rockettes—it's still a glamorous job.

Has being in the early cast changed your sleep schedule?
I've become a morning person. Our earliest show is 9am, and the latest for our cast is 2pm. But we perform at night one day a week, so each cast gets a day off. [The evening cast has Tuesday off] so we [perform] four shows on Tuesdays. We just power through those days.

Was it more difficult preparing for the show with the new 3-D number this year?
It was so much fun to be the first ones to do it. [On] the first night I was looking out to the crowd during the 3-D live scene, and everyone had their 3-D glasses on. I forgot that everyone would be wearing them, and I felt like I was actually in the video game.
---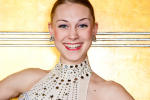 Audrey Thelemann
, 18; Frederick, MD
First season 
You went to the Rockettes Summer Intensive earlier this year. Did you think you would be dancing at Radio City Music Hall this season?
They surprised me at the summer program with the job. If I didn't have that experience, I wouldn't have known too much going into rehearsal. In the summer program they give you a taste of everything. The Rockettes have their own terminology—whether you're arching the line [putting the arch of your foot along guides running across the stage] or toeing the line [putting your toe to the line].

Have you been able to show off to your family and friends?
After the show, you can walk out into the audience to meet friends and family members, sign them up for a backstage tour and take them backstage to see the animals. The people who take care of the animals during the nativity scene sometimes bring other animals from their farm upstate. Earlier this year there was a baby kangaroo.

Is it hard for people to find you in the kick line?
My friend said that he was watching another girl instead of watching me because he was looking for the smallest girl in the cast. But I'm not the smallest. We're all very different in size, but we all look the same when we line up and kick our legs to the same height.
---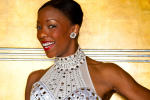 Danelle Morgan
, 26; Highland Park, NJ
Sixth season
How do you stay energized through the four-month run?
Nutrition and rest are huge for us. When we're not doing the show, we're making sure we're eating and sleeping. We're just doing so many shows that our muscles need to recoup, our immune systems, too. [Our lives are] sleep, eat, do shows.
Does Christmas ever get old for you?
We've been doing Christmas since we started rehearsals in September, but how could you not love Christmas? We get to see Santa every day. Our job is to dance on the stage at Radio City—[there's] not much to complain about.

SEE THE SPECTACLE! Radio City Music Hall, 1260 Sixth Ave at 50th St (radiocitychristmas.com). Schedule varies; $45--$250. Through Jan 2.