Janelle Monáe
The young superstar builds to escape velocity on her new album.
By Steve Smith Tue Oct 15 2013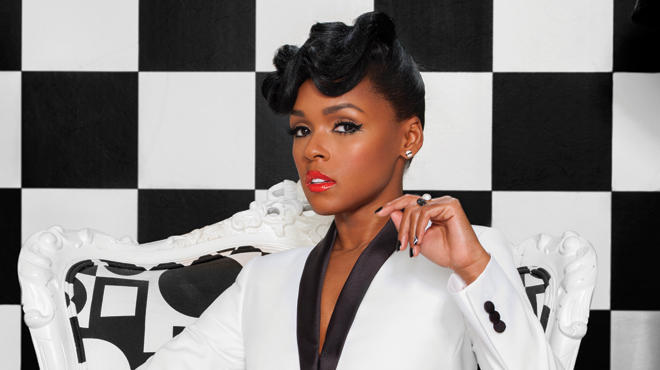 Janelle Monáe Photograph: Marc Baptiste
"I began to dream about a world where every day was like anime and Broadway, where music fell from the sky and anything could happen," Janelle Monáe informed the world in her first official record-company bio, circulated by Atlantic in 2008. Just five years later, the petite dynamo from Kansas City, Missouri, hasn't just seen her dream come true, but has worked damn hard to make sure that it has. A seasoned fabulist at the tender age of 27, Monáe has secured her stardom at a bewildering speed, rocketing from promising upstart and SummerStage opening act to ubiquitous presence and Apollo Theater headliner.

Chalk up Monáe's meteoric ascent to the tenacity and focus of the supremely ambitious and genuinely driven. The Electric Lady, her new LP, continues the loosely knit saga of Cindi Mayweather, an android cast in messianic terms. It's grandiose science fiction, sure; still, you can't miss tense undercurrents of isolation, discrimination and persecution swirling throughout Monáe's concept. Following in the African-American escapist footsteps of Sun Ra and George Clinton, Monáe couches messages of deliverance in trappings so mad-funky fantastical that they disarm opposition—but what you notice most, hearing her go toe-to-toe with Prince, Miguel, Erykah Badu and Solange on The Electric Lady, is how effortless she makes it all seem.

Janelle Monáe plays the Apollo Theater Fri 18.
They're so unusual: Unique, and playing this week
Price band: 2/4
Critics choice
Still quirky after all these years, Cyndi Lauper celebrates the 30th (!) anniversary of her smash debut, She's So Unusual.
The idiosyncratic indie-rock tale-spinner and erstwhile Fiery Furnace makes the CMJ rounds behind her latest, Personal Record.
Fiery, poetic and uncompromising, Graves howls over the singsong sludge of Syracuse punk band Perfect Pussy, one of CMJ's most promising new acts.
285 Kent Ave, (at South 1st St), 11211
Fri Oct 18
More info
---
You might also like
---
Live music calendar for New York City
While some pegged Miley Cyrus as the black sheep o...

One of Norway's foremost avant-garde festivals con...

Theater review by David Cote. Public Theater (see ...
41

more events »
Time Out videos
---
---
@TimeOutNewYork
Subscribe to Time Out New York on Spotify for playlists and recommendations from our Music team.


Check out New York's best restaurants, hottest street style, cool apartments and more.