(Le) Poisson Rouge
A forward-thinking venue seeks to showcase disparate musical styles under one roof.
By Time Out editors Wed Jun 11 2008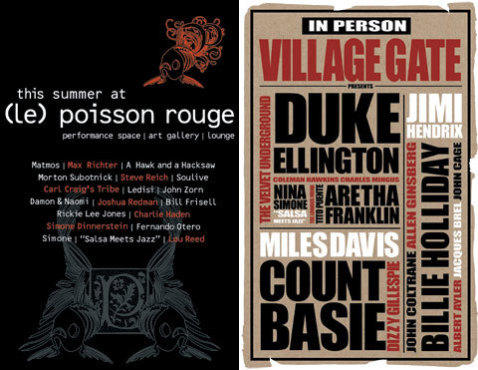 Then (left), Now (right)
Time Out Ratings :
<strong>Rating: </strong>0/5
THE PROJECT
From the late 1950s until 1993, the Village Gate was at the intersection of jazz, soul, blues, rock, salsa, classical and folk music. Name a sterling player in any style, and chances are he or she stopped in at the Gate: Miles Davis, Nina Simone, John Cage and Aretha Franklin (whose first New York concert was at the venue); and then there's Jimi Hendrix, Allen Ginsberg, Jim Morrison and Bob Dylan (who wrote "A Hard Rain's A-Gonna Fall" in the club's basement in 1962). In the 40 years that neighborhood icon Art D'Lugoff ran the corner spot, you could expect to hear any genre on any night, and often more than one on the same bill.
Finally, a group of NYC musicians is picking up that melody once again with (Le) Poisson Rouge, a venue with a mission to fuse all kinds of sounds. "It is this same broad, multigenre musical aesthetic of the Village Gate that LPR seeks to revive and make new in its concert programming," says co–music director Ronen Givony, noting that D'Lugoff will even continue to present his popular "Salsa Meets Jazz" series.
These posters, created by the club and TONY, reflect that artistically planned eclecticism, with one recalling the greats who made the walls vibrate at the Gate in the past, and the other displaying the next-greats who are set to shake them again at LPR this summer.
—Billie Cohen
(Le) Poisson Rouge, 158 Bleecker St at Thompson St (212-228-4854, lepoissonrouge.com).