Live at TONY: Braid
The '90s post-hardcore faves stopped by our office in advance of two local reunion gigs.
By TONY Music Thu Aug 9 2012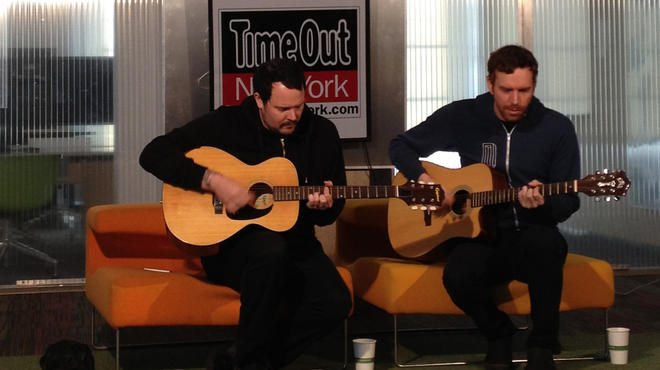 Braid Photograph: Lauren Reddy
As you can read in this week's TONY, Braid started out in early-'90s Illinois, playing the kind of arty, dynamic post-hardcore that would later be snazzily dubbed second-wave emo. The band recorded three underground classics—1998's Frame & Canvas is the standout—before breaking up in 1999. But 2011 found the quartet reconvening for a new EP, Closer to Closed, followed up by this summer's reunion jaunt. Cofrontmen Chris Broach and Bob Nanna stopped by the TONY office to perform two Frame & Canvas tunes: "Never Will Come for Us" and "A Dozen Roses"; if you like what you hear, catch the band live tonight at Bowery Ballroom or Saturday at Music Hall of Williamsburg.
Share your thoughts