Live preview: Controlled Bleeding
A consummately unpredictable band issues its latest challenging dispatch.
By Hank Shteamer Mon Aug 8 2011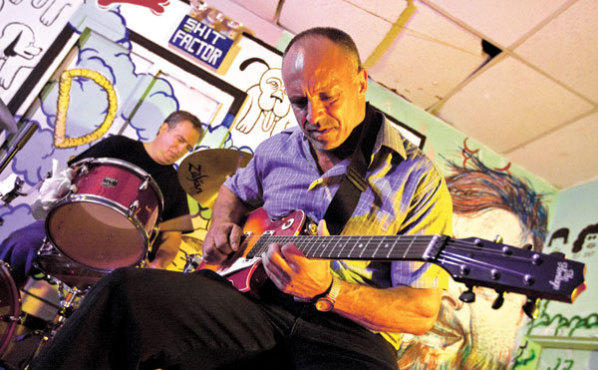 Controlled Bleeding Photograph: Gregory R. Cristman
If ever a band was screaming out for a box set, it's Controlled Bleeding. Since its late-'70s formation, the wildly experimental outfit has issued innumerable releases in whatever medium made sense at the time. Further vexing to the would-be discographer: The nature of Controlled Bleeding's music has been as much of a grab bag as its format. Throw on 1990's Trudge and you'll get old-school industrial, menacing yet danceable; spin Shanked and Slithering, released in 2005 on the discerning noise imprint Hospital Productions, and you'll enter a wind tunnel of in-the-red cacophony.
The new Controlled Bleeding disc, Odes to Bubbler, which the band celebrates at the Acheron, showcases still another side of the project: loopy punk fusion, as though the Ventures had honed their surf-style instrumentals at CBGB, or Neu! had gone No Wave. Completists will note that Bubbler reunites guitarist Paul Lemos (the sole Controlled Bleeding mainstay) and early drummer Anthony Meola, but novices should feel free to gloss over the context and press play. With a catalog this vast, there's no right or wrong way in.
Buy music by Controlled Bleeding on iTunes