Live preview: Elbow
The British band with the big heart hits NYC.
By Sophie Harris Mon Sep 19 2011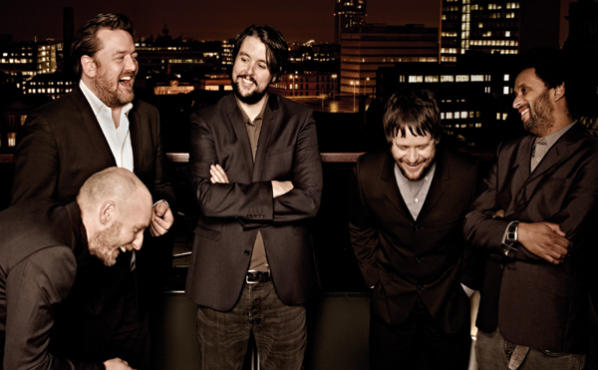 Elbow Photograph: Hamish Brown
English people love Elbow. Granted, this is not a wholly reliable endorsement, given that Brits also have a predilection for binge drinking and desserts made of lard. But go a little deeper, and what really rings true of the English sensibility is a kind of weird, gray-skied eccentricity, a rain-soaked romanticism that's at the heart of Elbow's music.
Briefly: The group formed at school in Ramsbottom (yes, there really is such a place), in the north of England, in the '90s, and released its first album in 2001. Velvet Underground hero John Cale championed the band, as did Michael Stipe, and Elbow finally hit the U.K. mainstream with 2008's garlanded The Seldom Seen Kid—a huge-hearted, love-struck effort. Non-Brits will likely recognize tracks from Hollywood movie trailers, but not much else: Elbow's big moment has yet to arrive in the U.S., possibly because the band seems too British (a fate shared by the Kinks and Blur).
Elbow is often compared to Coldplay, but Chris Martin's songwriting is the lyrical equivalent of the euro—transferable in most any country. Guy Garvey, on the other hand, makes no attempt to play down his Northern accent and sings of what he sees. Sometimes the detail is parochial and kitchen-sinky, but more often than not, Garvey's lyrics glide into the universal, as on new album Build a Rocket Boys! Recalling a teenage tumble in a field, he thinks of the birds: "Do they keep those final kisses/In their tiny, racing hearts?" And that, in the end, is what makes Elbow an English gem anyone might treasure.
Follow Sophie Harris on Twitter: @SophieMeve
Buy Build a Rocket Boys! on iTunes