Live preview: Sharon Jones and the Dap-Kings
Celebrating a decade, the soul combo and its home-base label keep vintage sounds alive.
By Marley Lynch Wed Nov 23 2011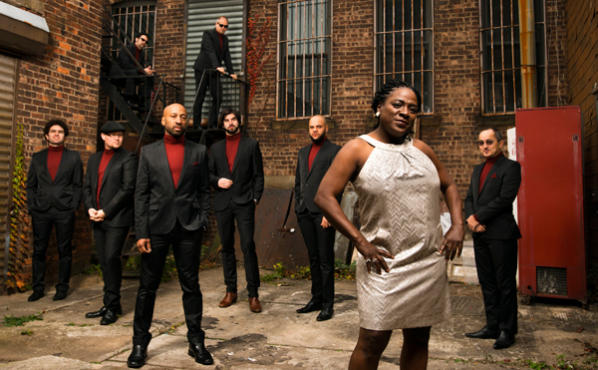 Sharon Jones & the Dap-Kings Photograph: Jacob Blickenstaff
However consummate and devoted they might be, those among the recent upsurge of soul revivalists—Fitz and the Tantrums, Aloe Blacc, Mayer Hawthorne—would no doubt sacrifice their collections of assiduously crate-dug singles to write a song as authentic and raw as those that Sharon Jones and her mighty Dap-Kings have unleashed. The nine-piece band's success is intrinsically tied to its label, Daptone Records, which celebrates its tenth anniversary with these four sold-out shows.
Located in a Bushwick townhouse, the Daptone headquarters comprise an analog-recording studio and an LP-packed office built by family and friends—Jones contributed to the electrical work. The label was founded by two Dap-Kings, saxophonist Neal Sugarman and bassist-bandleader Gabriel Roth (alias Bosco Mann), who writes most of the band's songs and produces them all. Daptone released its first record in 2001, the super-solid Dap-Dippin', which was also the Dap-Kings' debut.
From there, the outfit released three full-lengths and toured relentlessly; Jones, who had worked previously as a wedding singer and a prison guard at Rikers, found herself playing with icons like Lou Reed and David Byrne and singing backup on Amy Winehouse's Back to Black. With Daptone at its helm, the glorious ensemble boldly cleared a path for the retro acts mentioned earlier. But unlike those diligent upstarts, Jones and her collaborators do more than bring vintage sounds to the iPod-wearing masses; like the soul heroes of decades past, they remind us of how hard life once was while finding out how good it can be.
Follow Marley Lynch on Twitter: @marleyasinbob
Buy music by Sharon Jones and the Dap-Kings on iTunes